• Georgia Moffett is an English actress born in 1984 and best known for roles in "The Bill", "Merlin", and "Doctor Who".

• She has a net worth of over $400,000, shared with her husband, actor David Tennant, who has a net worth of over $7 million.

• She first appeared on TV in "Peak Practice" and has since appeared in "Where the Heart Is", "The Last Detective" and "Fear, Stress & Anger".

• She is married to former "Doctor Who" actor David Tennant, with whom she has four children, one of whom is adopted by David.

• She has appeared in "White Van Man", "The Five(ish) Doctors Reboot", "96 Ways To Say I Love You" and "In the Dark", and is a frequent charity worker with Straight Talking.

Known for movies
Short Info
| | |
| --- | --- |
| Spouse | David Tennant |
| Fact | She is the daughter of Peter Davison and Sandra Dickinson. ("Moffett" is her father's actual name, "Davison" being his stage name). |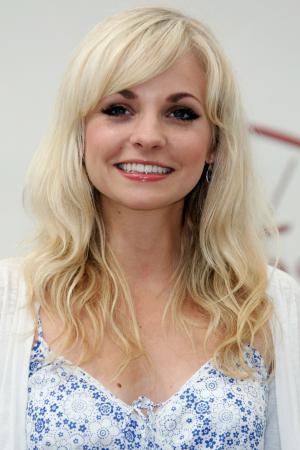 Who is Georgia Moffett?
Georgia Elizabeth Moffett was born on 25 December 1984, in London, England, and is an actress, best known for her roles in shows such as "The Bill", and "Merlin", in which she played Lady Vivian. She also played The Doctor's clone daughter named Jenny in a "Doctor Who" episode.
The Net Worth of Georgia Moffett
Georgia Moffett has a net worth of over $400,000. She also shared her net worth with her husband, actor David Tennant, who has a net worth estimated to be over $7 million.
Early Life, Education, and Career Beginnings
Georgia grew up in a family of actors, with both of her parents established in their respective careers. Her father goes by the name Peter Davison as a stage name, while her mother is actress Sandra Dickinson; at a young age, she became determined to follow her parents' footsteps. She studied at St. Edward's School, an independent boarding school located in Oxford, with around 60 students in attendance.
Following the completion of her education, she made her debut on television, playing the role of Nicki Davey in the series "Peak Practice", a drama show set in a fictional town, and following the story of doctors who live and work there. After working on several dramas, she then had the role of Alice Harding in "Where the Heart Is", a role which she held from 2004 to 2005; the drama focuses on the lives of nurses who work in the Yorkshire town of Skelthwaite. She then worked with her father on projects such as "The Last Detective", and "Fear, Stress & Anger".
Rise to Prominence
In 2007, Moffett made first stage appearance at the London Menier Chocolate Factory in a production of "Total Eclipse". A year later, she guest-starred in the long-running TV series "Doctor Who", playing the engineered daughter of the Tenth Doctor, the role which would lead her to meet David Tennant. Incidentally, her father portrayed the Fifth Doctor during the 1980s. During the same year, she also starred in the BBC 3 spin-off entitled "Spooks: Code 9", which is about a group of new MI5 recruits who follow different rules.
In 2010, Georgia lent her voice to the animated show "Doctor Who: Dreamland", the third animated serial based on the "Doctor Who" franchise, and starring David Tennant, reprising his role as the Tenth Doctor; she played the character Cassie Rice in the project. Following that role, she appeared as Lady Vivian in "Merlin", before joining the cast of the medical series "Casualty" portraying the character Heather Whitefield. She did not stay long however, as her character was written-off and killed during the second episode.
She then continued her stage work with four performances in the play entitled "Hens", and would later appear in a cameo in "Thorne: Sleepyhead".
Latter Career
In 2011, Georgia was cast as the character Emma in the sitcom entitled "White Van Man" which followed the story of a man who has to take over the handyman business of his father. While the sitcom had one of the highest rated launches of a sitcom on BBC 3, it aired for just two seasons before it was cancelled. She then debuted on stage in the West End play entitled "What the Butler Saw", which ended a month early due to poor reviews as well as poor ticket sales.
Two years later, she became a producer in the "Doctor Who" homage web series called "The Five(ish) Doctors Reboot", which marked one of the first projects that credited her as Georgia Tennant. It is a comedy spoof which her father Peter Davidson directed. Former Doctor actors appear in the special including Sylvester McCoy, Paul McGann, Colin Baker, David Tennant, and Matt Smith; she appeared in the special alongside her two children while pregnant. One of her recent projects is "96 Ways To Say I Love You" in 2015, appearing alongside her husband, and which aired during the London Independent Film Festival.
After a few years away from work, she made her acting return in the miniseries "In the Dark" in 2019.
Personal Life and Social Media
In 2011, several UK newspapers reported that Moffett had become engaged to former "Doctor Who" actor David Tennant – a few months later, their daughter was born, and they married later in the year. They now have two more children, and in 2019, it was announced in "The Late Late Show with James Corden" that she was pregnant with their fourth.
She also has a child from when she was 17 years old, born out of a brief relationship with a university student, who was adopted by her husband with him now carrying his last name; she appeared with her eldest son in the show "Four Weddings" – her eldest child intends to follow in the footsteps of his mother and adoptive father, attending drama school while also making a few television appearances locally.
While the couple have a lot of attention around them, they prefer not to talk about their personal life or relationships during interviews. Her husband expressed himself as an occasional churchgoer, crediting religion for helping shape his character.
Moffett has frequently worked with charity Straight Talking, which aims to help spread the word about teenage pregnancy.
General Info
| | |
| --- | --- |
| Full Name | Georgia Moffett |
| Height | 1.57 m |
| Profession | Actor |
| Education | St Edward's School, Oxford |
Family
| | |
| --- | --- |
| Spouse | David Tennant |
| Children | Ty Tennant, Doris Tennant, Olive Tennant, Wilfred Tennant |
| Parents | Peter Davison, Sandra Dickinson |
| Siblings | Louis Moffett, Joel Moffett |
Accomplishments
| | |
| --- | --- |
| Movies | Agatha Christie's Marple: Why Didn't They Ask Evans?, Tom Brown's Schooldays |
| TV Shows | White Van Man, Spooks: Code 9, Fear, Stress & Anger, Where the Heart Is, Bonkers |
Social profile links
Facts
| # | Fact |
| --- | --- |
| 1 | In spring 2010 she got her then-boyfriend's name ("david" in lowercase letters) tattooed on her right forearm. Several months later she fell pregnant with his child, during the pregnancy they became engaged and moved in together, marrying a year later.. |
| 2 | Gave birth to her 4th child at age 30, a daughter named Doris, in November 2015. Child's father is her husband, David Tennant. |
| 3 | In 2014 she produced and starred in a short film, '96 Ways To Say I Love You' (written and directed by her best friend Daisy Aitken, and starring her husband David Tennant). The 11-minute short screened out of competition as part of the London Independent Film Festival, screening at a 52-seat screening room at the Shortwave Bar and Cafe in Bermondsey in East London in April 2015. |
| 4 | In September 2014 Moffett's name was included in the master list of celebrity nude photos hacked and released via the website 4chan, the list included one solo photo of Moffett and three photos of Moffett with an "unidentified blond man.". |
| 5 | She is the daughter of the Peter Davidson (The Fifth Doctor) and the wife of David Tennant (The Tenth Doctor). |
| 6 | She is married to ex-Doctor Who star David Tennant. |
| 7 | In 2012 Moffett quit acting and became a stay-at-home mother. In 2013 her close friend Chris Brassington announced he and Moffett were planning to write a movie script together. Moffett has continued to pursue acting, appearing in an episode of Casualty in 2014, and starring in her own short film, written and directed by her best friends. |
| 8 | Gave birth to her 3rd child at age 28, a son named Wilfred Tennant on May 2, 2013. Child's father is her husband, David Tennant. |
| 9 | (December 30, 2011) Married her boyfriend of 3 years & father of her 9-month-old daughter David Tennant following a year-long engagement. |
| 10 | Gave birth to her 2nd child at age 26, a daughter named Olive Tennant on March 29, 2011. Child's father is her boyfriend (now husband), David Tennant. |
| 11 | In 2012 she changed her child actor son's name by deed poll from 'Tyler Moffett' to 'Ty Tennant' (Tennant being her husband's stage name). |
| 12 | Gave birth to her 1st child at age 17, a son named Tyler Peter Moffett on March 27, 2002. Child's father is her now ex-boyfriend. A boy was adopted by her now husband David Tennant in September 2011. |
| 13 | Stepdaughter of Elizabeth Heery. |
| 14 | In 2012, she made her West End debut, playing a secretary the main character tries to seduce and then has committed as insane, in the play "What the Butler Saw". Her husband, David Tennant, acted in the same play 17 years, earlier. The 2012 production was not a critical or commercial success and was canceled two months into its run. |
| 15 | Has a tattoo of a star on her arm. |
| 16 | She was born the day before her parents' sixth wedding anniversary. |
| 17 | After David Troughton, she is the second child of an actor who played the Doctor (Peter Davison) to have a speaking role in Doctor Who (1963) and/or Doctor Who (2005). She, the Doctor's daughter, played the titular part in Doctor Who: The Doctor's Daughter (2008) with David Tennant. |
| 18 | She is the daughter of Peter Davison and Sandra Dickinson. ("Moffett" is her father's actual name, "Davison" being his stage name). |
Pictures
Movies
Actress
| Title | Year | Status | Character |
| --- | --- | --- | --- |
| Joan of Arc: God's Warrior | 2015 | TV Movie documentary | Joan of Arc |
| 96 Ways to Say I Love You | 2015 | Short | Olive |
| Holby City | 2004-2014 | TV Series | Briony Whitman / Emma Lenton |
| Casualty | 2007-2014 | TV Series | Heather / Briony Whitman / Elaine Walker |
| The Five(ish) Doctors Reboot | 2013 | TV Movie | Georgia Moffett |
| White Van Man | 2011-2012 | TV Series | Emma |
| Thorne: Sleepyhead | 2010 | | Sophie Holland |
| Playhouse: Live | 2010 | TV Series | |
| Merlin | 2009 | TV Series | Lady Vivian |
| Doctor Who: Dreamland | 2009 | TV Mini-Series | Cassie Rice |
| The Bill | 2002-2009 | TV Series | Abigail Nixon |
| Agatha Christie's Marple | 2009 | TV Series | Frankie Derwent |
| Spooks: Code 9 | 2008 | TV Series | Kylie |
| Doctor Who | 2008 | TV Series | Jenny |
| My Family | 2008 | TV Series | Penny Bishop |
| The Last Detective | 2007 | TV Series | Tanya |
| Fear, Stress and Anger | 2007 | TV Series | Chloe Chadwick |
| Bonkers | 2007 | TV Series | Debbie Hooper |
| Where the Heart Is | 2004-2005 | TV Series | Alice Harding |
| Like Father Like Son | 2005 | TV Movie | Morag Tait |
| Tom Brown's Schooldays | 2005 | TV Movie | Sally |
| The Second Quest | 2004 | TV Movie | Sandra Biggs |
| Peak Practice | 1999 | TV Series | Nicki Davey |
Producer
| Title | Year | Status | Character |
| --- | --- | --- | --- |
| You, Me and Him | 2017 | producer - as Georgia Tennant post-production | |
| The Exit | 2016 | Short producer - as Georgia Tennant | |
| 96 Ways to Say I Love You | 2015 | Short producer - as Georgia Tennant | |
| The Five(ish) Doctors Reboot | 2013 | TV Movie producer - as Georgia Tennant | |
Self
| Title | Year | Status | Character |
| --- | --- | --- | --- |
| Merlin: Secrets & Magic | 2009 | TV Series documentary | Herself |
| Four Weddings | 2009 | TV Series | Herself |
| Doctor Who Greatest Moments | 2009 | TV Mini-Series documentary | Jenny |
| Doctor Who Confidential | 2008 | TV Series documentary | Herself |
| Loose Women | 2007 | TV Series | Herself |
| Richard & Judy | 2007 | TV Series | Herself |
| GMTV | 2004 | TV Series | Herself |
Archive Footage
| Title | Year | Status | Character |
| --- | --- | --- | --- |
| Doctor Who | 2008 | TV Series | Jenny |
Source:
IMDb
,
Wikipedia