• Tavis Smiley is an American author, talk-show host, and former PBS host
• He was raised by a single mother in Bunker Hill, Indiana and attended Indiana University, Bloomington
• He has hosted multiple radio shows and talk-shows, such as the "The Tavis Smiley Show" and "Smiley & West"
• He has authored 15 books, including "Just a thought: The Smiley Report", "Keeping the faith: Stories of love, courage, healing, and hope from Black America", and "Accountable: Making America as good as its promise"
• As of April 2022, Tavis is 57 years old, and his net worth is estimated at more than $4 million.

Known for movies
Short Info
| | |
| --- | --- |
| Net Worth | $10 million |
| Date Of Birth | September 13, 1964 |
| Fact | Received a star on the Hollywood Walk of Fame at 6270 Hollywood Boulevard in Hollywood, California on April 24, 2014. |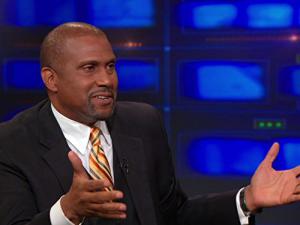 Who is Tavis Smiley?
Tavis was born in Gulfport, Mississippi USA, on 13 September 1964 – his zodiac sign is Virgo, and he holds American nationality. He's an author and talk-show host, while he's probably known best for two things: hosting "The Tavis Smiley Show" on National Public Radio between 2002 and 2004, and for having been fired from Public Broadcasting Service (PBS) because of sexual harassment.
Early life and education
Tavis was raised an only child in Bunker Hill, Indiana, solely by his mother Joyce Marie Roberts who was either 18 or 19 when she gave birth to him; his father didn't want and wasn't ready to have a child, and thus wasn't around while Tavis was growing up.
He learned about his biological father's identity when he was around 10 years old. Tavis' mother married non-commissioned US Air Force officer Garnell Smiley on 13 September 1966, and they had three children together; after Joyce's sister was murdered, the family took in four of her five children.
Tavis' mother was deeply religious, and they went to New Bethel Tabernacle Church at least once a week; Tavis and his half-siblings weren't allowed to go to theatre or listen to secular music, while they were allowed to watch only the TV shows which Joyce believed to be family-friendly. He was a rather problematic child and didn't care much about religion, while he became interested in politics when he was 13 years old, after having attended a US Senator Birch Bayh fundraiser.
Tavis studied at Maconaquah High School, which was made up of 98 percent white students, according to him; he was on the school's debate team and the student council, although his parents were skeptical about all non-church activities. Upon matriculating in 1982, Tavis began attending Indiana University, Bloomington, and during his second year there became director of minority affairs, business manager of the dormitory and member of the student senate.
He quit college in 1985 and moved to Los Angeles, California in search of a job; he returned to college 15 years later, and graduated with a Bachelor's degree in public affairs from Indiana University in 2003.
Tavis' career
Upon his move to Los Angeles, Tavis began working for Mayor Bradley as an administrative assistant, and in 1991, he ran for a seat on the Los Angeles City Council, finishing fourth of 15 candidates.
He was then hired by the radio station KGFJ and became a commentator, hosting the one-minute daily segment "The Smiley Report". Tavis then began co-hosting a local talk-show about race and politics, and his work attracted the attention of people working for the magazine "Los Angeles Times". Around half a year later, he moved to Montreal, Quebec, Canada but returned to Los Angeles after a couple of months.
In 1996, Tavis joined the "Tom Joyner Morning Show" as a frequent commentator, and the same year saw him become the host of the show "BET Tonight"; he interviewed many celebrities and political figures, but was fired in 2001, after having sold an exclusive interview to ABC News without having previously offered it to BET. The interview in question was with Sara Jane Olson, who was an alleged member of the American left-wing organization United Federated Forces of the Symbionese Liberation Army; Tavis revealed that he had initially tried to sell the interview to CBS but after they passed on it, he sold it to ABC.
He was then hired at National Public Radio (NPR) and hosted "The Tavis Smiley Show" until December 2004, when he quit NPR and joined its rival Public Radio International in 2005, and went on to host his "The Tavis Smiley Show" until 1 January 2018, when he was accused of sexual harassment. Between 2010 and 2013, he co-hosted "Smiley & West" together with American philosopher and political activist Cornel Ronald West.
He began hosting the late-night talk-show "Tavis Smiley" on PBS in 2006, but was fired during the Me Too movement in 2017, when his female employees accused him of sexual harassment.
An investigation conducted by PBS revealed that Tavis was verbally abusive, and had engaged in sexual relationships with several of his subordinates, and he was thus suspended indefinitely. Tavis went on to sue PBS but lost the case, and was ordered to pay them $2.6 million in damages.
Tavis is today hosting his talk-show on the radio station KBLA.
Tavis' books
Tavis has published 15 books, his first came out in 1993 entitled "Just a thought: The Smiley Report".
He published "Keeping the faith: Stories of love, courage, healing, and hope from Black America" in 2004, and "Accountable: Making America as good as its promise" in 2009, while his three most recent books were all published in 2016, entitled "The Covenant with Black America – ten years later", "50 for your future: Lessons from down the road", and "Before you judge me: The triumph and tragedy of Michael Jackson's last days".
Love life and wife
Tavis prefers to keep details of his love life to himself, and hasn't spoken of any women or men whom he has perhaps been with. This is why there are various rumors circulating the internet, concerning his past and present affairs, as well as his sexual orientation.
Some of his fans believe him to be bisexual, and this to be the reason why he avoids talking about his love life; a fan has claimed that Tavis was in a relationship with a non-celebrity American man in 2013 and 2014, and that he had seen the two spending time together on multiple occasions, but no evidence has been provided to support these claims.
There are also those who claim that Tavis is perhaps a married man today, but that he prefers to keep his wife away from the media's attention; this hasn't been confirmed either.
As of April 2022, Tavis seems to be single, hasn't married and doesn't have children.
Hobbies and other interests
Tavis is quite active on Instagram, and seems to be enjoying the attention which he's receiving from his close to 10,000 followers; he's uploaded more than 600 pictures onto the network, most of which serve to announce his upcoming interviews.
He's passionate about travelling, and his career has taken him to various US states, while Tavis has also vacationed in a couple of European and South American countries; his dream travel destination is London, England.
Although he was physically quite active in his 20s and 30s, and had multiple training sessions at the gym every week, Tavis rarely works out nowadays; he does, however, occasionally play tennis and golf with his friends.
He's a fan of Hollywood movies, and some of his favorite actors and actresses are Nicholas Cage, Tom Hanks and Julia Roberts, while a couple of his favorite movies include "Gone in 60 Seconds", "Saving Private Ryan", and "The Runaway Bride".
Age, height and net worth
Tavis' age is 57. He has short black hair and brown eyes, his height is 6ft (1.85m) and he weighs around 175lbs (80kgs).
As of April 2022, his net worth has been estimated at more than $4 million.
General Info
| | |
| --- | --- |
| Full Name | Tavis Smiley |
| Net Worth | $10 million |
| Date Of Birth | September 13, 1964 |
| Height | 1.85 m |
| Profession | Journalist, Screenwriter, Television producer, Entrepreneur, Film producer, Author, Film director, Talk show host, Commentator, Philanthropist, Actor, Advocate, Businessperson |
| Education | Maconaquah High School, Indiana University Bloomington |
| Nationality | American |
Family
| | |
| --- | --- |
| Parents | Joyce Marie Roberts, Emory Garnell Smiley |
Accomplishments
| | |
| --- | --- |
| Awards | NAACP Image Award for Outstanding Literary Work, Nonfiction, NAACP Image Award – President's Award, NAACP Image Award for Outstanding Literary Work - Instructional |
| Nominations | Goodreads Choice Awards Best Memoir & Autobiography |
| Movies | Sinister, Stand, Barack Obama: The Power of Change, The Covenant |
Social profile links
Facts
| # | Fact |
| --- | --- |
| 1 | Received a star on the Hollywood Walk of Fame at 6270 Hollywood Boulevard in Hollywood, California on April 24, 2014. |
| 2 | Attended Indiana University Bloomington. |
| 3 | Distant cousin of T.D. Jakes and James Wheaton. |
| 4 | Is a member of Kappa Alpha Psi Fraternity. |
Pictures
Movies
Producer
| Title | Year | Status | Character |
| --- | --- | --- | --- |
| Stand | 2009/I | Documentary executive producer | |
| State of the Black Union: Jamestown - Memorable Moments | 2007 | TV Movie executive producer | |
| State of the Black Union: Jamestown - The Next 400 Years | 2007 | TV Movie executive producer | |
| State of the Black Union: Jamestown - The First 400 Years | 2007 | TV Movie executive producer | |
| All-American Presidential Forums on PBS Moderated by Tavis Smiley | 2007 | TV Movie executive producer | |
| Tavis Smiley | 2004 | TV Series supervising producer | |
Actor
| Title | Year | Status | Character |
| --- | --- | --- | --- |
| PoliticKING with Larry King | 2015 | TV Series | |
| Sinister | 2012/I | | Anchor |
| American Dreams | 2004 | TV Series | Thurgood Marshall |
| Any Day Now | 2001 | TV Series | |
| The Parkers | 2000 | TV Series | Tavis Smiley |
Writer
| Title | Year | Status | Character |
| --- | --- | --- | --- |
| Stand | 2009/I | Documentary written by | |
Miscellaneous
| Title | Year | Status | Character |
| --- | --- | --- | --- |
| P.O.V. | 2012 | TV Series documentary godfather - 1 episode | |
| I'm Carolyn Parker | 2011 | Documentary godfather | |
Director
| Title | Year | Status | Character |
| --- | --- | --- | --- |
| Stand | 2009/I | Documentary | |
Thanks
| Title | Year | Status | Character |
| --- | --- | --- | --- |
| Sinister | 2012/I | the filmmakers wish to extend their personal thanks for their contributions and support to the making of this movie | |
Self
| Title | Year | Status | Character |
| --- | --- | --- | --- |
| The Daily Show | 2014-2016 | TV Series | Himself |
| PoliticKING with Larry King | 2016 | TV Series | Himself - guest |
| The Wendy Williams Show | 2011-2016 | TV Series | Himself |
| Democracy Now! | 2005-2016 | TV Series | Himself |
| This Week | 2012-2016 | TV Series | Himself - Powerhouse Roundtable Panelist / Himself - Roundtable Panelist / Himself - Roundtable Panalist |
| Face the Nation | 2012-2015 | TV Series | Himself / Himself - Panelist / Himself - PBS |
| Entertainment Tonight | 2015 | TV Series | Himself |
| In Depth | 2015 | TV Series | Himself - Interviewee |
| Nathan East: For the Record | 2014 | Documentary | Himself (as Travis Smiley) |
| Dancing with the Stars | 2014 | TV Series | Himself - Contestant |
| Good Morning America | 2014 | TV Series | Himself - Guest |
| Hannity | 2013 | TV Series | Himself |
| Piers Morgan Tonight | 2011-2013 | TV Series | Himself |
| Keep the Promise: The Global Fight Against AIDS | 2013 | Documentary short | |
| Tavis Smiley Reports: Education Under Arrest | 2013 | TV Movie | Himself - Host |
| The Tonight Show with Jay Leno | 2007-2012 | TV Series | Himself |
| Larry King Now | 2012 | TV Series | Himself - Guest |
| Today | 2012 | TV Series | Himself |
| Soulacoaster: R Kelly Interview with Tavis Smiley | 2012 | TV Movie | Himself |
| The High Bar | 2012 | TV Series | Himself - Guest |
| The O'Reilly Factor | 2012 | TV Series | Himself |
| Last Call with Carson Daly | 2012 | TV Series | Himself - Guest |
| Fox and Friends | 2012 | TV Series | Himself |
| The Colbert Report | 2012 | TV Series | Himself - Guest / Co-Author, The Rich and the Rest of Us |
| Real Time with Bill Maher | 2004-2012 | TV Series | Himself |
| Urban Style | 2007-2011 | TV Series documentary | Himself - Guest |
| Meet the Press | 2008-2011 | TV Series | Himself - Author, 'Fail Up' / Himself |
| Tavis Smiley Reports: Too Important to Fail | 2011 | TV Movie | Himself - Host |
| Fear of a Black Republican | 2011 | Documentary | Himself - Interviewee |
| Problema | 2010 | Documentary | Himself |
| Tavis Smiley Reports | 2010 | TV Movie | Himself |
| Redemption of the Welfare Queen | 2009 | Documentary | Himself (voice) |
| Still Bill | 2009 | Documentary | Himself |
| PBS Special Report: Health Care Reform | 2009 | TV Movie | Himself |
| Stand | 2009/I | Documentary | Himself |
| Larry King Live | 2008-2009 | TV Series | Himself / Himself - Guest Host |
| Barack Obama: The Power of Change | 2008 | Video documentary | Himself |
| 9th Annual State of the Black Union: Memorable Moments | 2008 | TV Movie | Himself |
| 9th Annual State of the Black Union: Building Blocks for America | 2008 | TV Movie | Himself |
| 9th Annual State of the Black Union: Breaking New Ground | 2008 | TV Movie | Himself |
| The Boondocks | 2008 | TV Series | Himself |
| Tavis Smiley Presents: The Road to Health - Obesity & Our Children, Part 1 | 2007 | TV Special | Himself - Host |
| The Game | 2007 | TV Series | Himself |
| Charlie Rose | 2007 | TV Series | Himself - Guest |
| Everybody Hates Chris | 2007 | TV Series | Himself |
| Jimmy Carter Man from Plains | 2007 | Documentary | Himself |
| State of the Black Union: Jamestown - Memorable Moments | 2007 | TV Movie | Himself |
| State of the Black Union: Jamestown - The Next 400 Years | 2007 | TV Movie | Himself |
| State of the Black Union: Jamestown - The First 400 Years | 2007 | TV Movie | Himself |
| All-American Presidential Forums on PBS Moderated by Tavis Smiley | 2007 | TV Movie | Himself |
| Tavis Smiley Presents: The Road to Health - Obesity & Our Children, Part 2 | 2007 | TV Special | Himself - Host |
| Hardball with Chris Matthews | 2006 | TV Series | Himself |
| Live from Lincoln Center | 2005 | TV Series | PBS Host |
| Letter to the President | 2005 | Video documentary | Himself |
| 36th NAACP Image Awards | 2005 | TV Special | Himself |
| The Late Late Show with Craig Kilborn | 2004 | TV Series | Himself |
| Jeopardy! | 2004 | TV Series | Himself - Guest Contestant |
| One Special Moment | 2001 | TV Movie | Himself |
| 31st NAACP Image Awards | 2000 | TV Special | Himself |
| 30th NAACP Image Awards | 1999 | TV Special | Himself |
| For Your Love | 1999 | TV Series | Himself |
| BET Tonight with Ed Gordon | 1998 | TV Series | Host (1998-2001) |
| The Roseanne Show | 1998 | TV Series | Himself |
| The Light | | Documentary filming | Himself |
| Tavis Smiley | 2004-2016 | TV Series | Himself - Host / Himself -Host |
| Extra | 2016 | TV Series | Himself |
| Conan | 2016 | TV Series | Himself - Guest |
Archive Footage
| Title | Year | Status | Character |
| --- | --- | --- | --- |
| Have I Got News for You | 2016 | TV Series | Himself |
| Katt Williams: 9 Lives | 2010 | Video documentary | Himself |
| The O'Reilly Factor | 2008 | TV Series | Himself |
| 60 Minutes | 2000 | TV Series documentary | Himself - Commentator (segment "Tom Joyner") |
Awards
Won Awards
| Year | Award | Ceremony | Nomination | Movie |
| --- | --- | --- | --- | --- |
| 2014 | Star on the Walk of Fame | Walk of Fame | Television | On April 24, 2014. At 6270 Hollywood Blvd. |
| 2000 | President's Award | Image Awards | | |
Source:
IMDb
,
Wikipedia