• Linden Ashby is a popular American actor, best known for his role in the 1995 movie "Mortal Kombat".
• He was born in Atlantic Beach, Florida and studied at Fort Lewis College.
• His early TV roles include "Loving", "Adam-12", and "Melrose Place".
• He is married to fellow actress Susan Walters, with whom he often shares the screen.
• Linden Ashby has an estimated net worth of $8 million.

Known for movies
Short Info
| | |
| --- | --- |
| Spouse | Susan Walters |
| Fact | Studied acting with Sanford Meisner at The Neighborhood Playhouse in New York for two years. |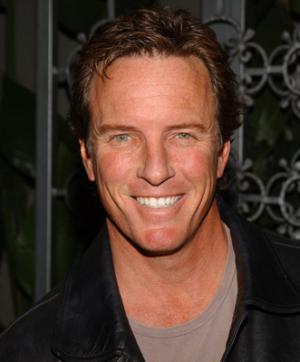 Linden Ashby is a popular American actor, whose fame rose after his appearance in the legendary "Mortal Kombat" movie in 1995. Later he starred in multiple successful TV series, including "The Young and The Restless", "Teen Wolf" and many others.
Early life and family
Clarence Linden Garnett Ashby III was born on 23 May 1960, in Atlantic Beach, Florida USA – he holds American nationality and his zodiac sign is Gemini. His mother is Eleanor Johnson Ashby, who worked as Executive Director at "Leadership Jacksonville", which is a nonprofit organization specialized in providing leadership coaching and trainings; Eleanor retired on 1 July 1998. His father is Clarence Linden Garnett Ashby Jr. – he worked as a pharmaceuticals manufacturer.
From his early years Linden was interested in sports and martial arts, however, he shared that from an early age he understood he wouldn't make sports his profession: 'I knew I was never going to make a living surfing, skateboarding or certainly not playing soccer. If I could have, I would have. But those guys are on a whole different level', he said in his interview with Digital Journal in 2013. Nevertheless, Linden spent his childhood at the beaches of Northern Florida, surfing since he was nine years old, and was even invited to participate in the East Coast Championships when he was studying in high school.
Educational background
Linden studied at the private Bolles Schoolto in Jacksonville, Florida. After his matriculation in 1978, he enrolled at Fort Lewis College (which is in fact one of the branches of the Colorado State University), located in Durango, Colorado.
However, he studied there for only a year and a half, dropping out from his college to pursue his career in acting, even though he did quite well in his studies of psychology and business. Linden graduated from The Neighborhood Playhouse, New York, getting deeper into acting under the supervision of Sanford Meisner for two years.
Career
First steps
Soon after his graduation, Linden got his first role in the soap opera "Loving" in 1983. He portrayed the character of Curtis Alden (being the second actor to do it), and then shared that starting one's acting career with working in a soap opera means a lot for an actor, due to a special rhythm and discipline on the set of such projects: 'Doing a soap is almost like doing a stage play that's being televised. You do the whole scene. Doing a soap opera is soooo nerve-racking but great for you as an actor at the same time'.
Linden also mentioned that he thought Liam Hemsworth also became a good actor because he started his acting career playing in Australian soap operas, getting used to working a lot. From 1987 Linden could be seen in such TV series and films as "1st & Ten", "Werewolf" and "Poor Little Rich Girl: The Barbara Hutton Story".
Among his other early appearances on TVwere "Adam-12" (1989 – 1991), in which Linden got the main role of Officer Honeycutt, "Mr. and Mrs. Bridge" (1990) and "Fifteenth Phase of the Moon" (1994). In 1994 Linden started appearing in the night-time TV series "Melrose Place", landing the role of Charles Reynolds. However, later he got the role of Dr. Brett 'Coop' Cooper, joining the recurring cast of Season 6.
Mortal Kombat and other successful projects
For some of his fans, Linden will always be Johnny Cage, a struggling Hollywood actor, who decided to compete in the Mortal Kombat tournament to prove himself (and his agents) that he is worth working with. The movie based on the video game plot was a massive success, though Linden landed his role of Johnny Cash occasionally – Brandon Lee, who was scheduled to play the character, but unfortunately died in 1993 suddenly shot on the set. Linden admits "Mortal Kombat" was a real departure for him: 'I had a fighting background. I boxed and studied martial arts. It was just the right place at the right time. The right project. All the pieces came together and we created this thing', he reflected in his interview to Digital Journal. "Mortal Kombat" also helped Bridgette Wilson and Robin Shou, who played Sonya Blade and Liu Kang respectively, to develop their further acting careers.
Linden was then cast in such series and films as "Murder She Purred: A Mrs. Murphy Mystery" (1998), "CSI: Crime Scene Investigation" (2002) and "The Young and the Restless" (2003 – 2004) – appearing in 55 episodes as Cameron Kirsten, sharing the screen with his wife, Susan Walters, who played the role of Diane Jenkins.
Latest movies and series
Linden never stopped working hard, landing more and more roles, minor and major. He played Detective Michael Morrison in "Wild Things" mini-series (2004 – 2005), the role of Chase in "Resident Evil: Extinction" (2007) and appeared as Vance Wilder Sr. in "National Lampoon's Van Wilder: Freshman Year" (2008). Later he could be seen in such films as "Iron Man 3" (2013), "Beta Test" (2016) and "Authentics" (2019).
However, his biggest success of the later years was his starring in the MTV series "Teen Wolf" (2011 – 2017), in which Linden landed the role of Sheriff Noah Stilinski. The supernatural drama about teenagers of Beacon Hills attracted millions of viewers, and Linden was even nominated for the Saturn Award as Best Supporting Actor in a Television Series in 2017 for his performance in the show.
Concurrently Linden could be seen in such TV films as "Gabe the Cupid Dog" (2012), "Lifeline" (2012) and "A Daughter's Revenge" (2018). The list of his latest works includes the "Trinkets" series (2019 – 2020), in which Linden has the recurring role of Whit Foster, and "Escaping My Stalker" (2020), in which Linden works as an actor, portraying Larry, and also as a director.
Personal life, wife Susan Walters
Linden met Susan Walters on the set of "Loving" series in 1983. She already had a regular role in the soap opera, and Linden was invited as a guest actor to appear in a couple of episodes. However, his performance was highly appreciated by the creators of the series, and he joined the regular cast in 1985. The couple supports the legend that as soon as Susan saw Linden for the first time, she told her make-up artist that he was the man she was going to marry.
Even though it looked like a joke, and Susan and Linden didn't communicate much until 1985 when Linden joined the cast as a regular, the situation turned out to become serious, and after three days and spending time together after work, they moved in together, and five months later they married on 21 April 1986. In 1991 Susan gave birth to their first daughter, Frances Grace, and in 1992 their second daughter, Savannah Elizabeth, joined the family.
They often visit Susan's parents, who live in Georgia.
Who is Susan Walters?
Susan Walters is a Hollywood actress, who was born on 28 September 1963, in Atlanta, Georgia. A former model, Susan started her acting career after becoming 1981 Miss Teen All American. She understood that modelling wasn't she could do for the rest of her life, and started attending castings and auditions. She got the role of Lorna Forbes Perelli in "Loving" in 1983, in which she starred until 1986. Then she could be seen in such series as "The Facts of Life", "Who's the Boss" and "Hotel". She played Priscilla Beaulieu Presley in "Elvis and Me" and Mary Beth Sutton in "Dear John". She often shared the screen with her husband, appearing in such series as "Melrose Place", "The Young and the Restless" and "CSI: Crime Scene Investigation".
From 2011 to 2017 Susan became on-screen wife to her own husband, landing the role of Natalie Martin. She has recently appeared as Diane Hunter in "The Fosters" (2018) and as Carley Emerson in "Murdered at 17" (2018).
Hobbies, favorite things and interesting facts
Linden did boxing and martial arts from an early age. When he turned 21, he was already a master of Karate, Kung Fu and Tae Kwon Do. Linden shares that he feels happy when he spends his spare time with his family in the woods, having a barbeque or just camping. He also likes cycling with his wife, and shares these happy moments on his Instagram account. Linden admitted he suffered serious panic attacks before casting and auditions, and sometimes even had to leave the set without performing anything, as he couldn't deal with his nerves.
However, he found a way to calm down in such situations: 'I overcame it. I just did. I don't know if I just stopped putting that much importance on it or I put it in a better place <…> I had the knowledge that if I got the job it would change my life. If I didn't get the job I would still be here'. Linden likes relaxing in the evenings after work with a bottle of beer.
Whenever he wants to spend his spare time doing sports, he prefers scuba diving, golf, hunting or horse riding, and he also plays tennis. Linden has a personal plane which is called "Piper Lance", has six seats and is currently parked at Van Nuys Airport – hHe enjoys travelling and likes visiting Europe.
That was a lot tonight. #GameofThrones pic.twitter.com/EWHBHfSl7A

— Linden Ashby (@lindenashby) May 13, 2019
Linden also owns two horses named Pearl and Goldie, and two dogs. Linden speaks a little French. He also really enjoys using Twitter, as it gives him a chance to chat with his fans and followers.
Appearance
Linden has short half grey half light brown hair; he has blue eyes. Linden is 5ft 11ins (1.82m) tall and weighs around 180lbs (82kgs).
Net worth and salary
As of 2020, Linden Ashby's net worth is estimated to be around $8 million.
General Info
| | |
| --- | --- |
| Full Name | Linden Ashby |
| Height | 1.82 m |
| Profession | Actor, Martial Artist |
| Education | Fort Lewis College, Neighborhood Playhouse School of the Theatre, Bolles School |
| Nationality | American |
Family
| | |
| --- | --- |
| Spouse | Susan Walters |
| Children | Grace Ashby, Savannah Ashby |
| Parents | Garnett Ashby, Eleanor Ashby |
Accomplishments
| | |
| --- | --- |
| Movies | Mortal Kombat, Resident Evil: Extinction, Beta Test, Anacondas: Trail of Blood, Mean Girls 2, Wyatt Earp, Wild Things: Diamonds in the Rough, Impact Point, Wild Things 2, Against the Dark, Van Wilder: Freshman Year, Sniper 2, 8 Seconds, The Rival, A Killer Upstairs, Mr. and Mrs. Bridge, Prom Night, ... |
| TV Shows | Melrose Place, Spy Game, Teen Wolf, The War Next Door |
Social profile links
Quotes
| # | Quote |
| --- | --- |
| 1 | Only be an actor if you can't be happy doing anything else. I don't think you should be an actor if you want to be actor. I think you should be an actor if you have to be an actor. |
| 2 | I've done so many Lifetime movies; at this point, I'll be going through airport security, and the lady there will be like, 'I took the weekend off and I saw four of your movies.' And I say: 'You've been watching Lifetime, right?' |
| 3 | You bring a little bit of yourself into every character you play. We're multifaceted creatures. |
| 4 | I started out in theater, and then I got a job on a soap in New York. With a soap opera, its every day, all year long - there's no downtime, and you're shooting a show a day. |
| 5 | I started out with a business and psychology major, and then I started doing plays and concentrating more and more on theater. I dropped out of college and moved to New York and studied theater at The Neighborhood Playhouse. I did that for a couple of years and then got an agent. |
| 6 | I love the show 'It's Always Sunny in Philadelphia;' that's probably a guilty pleasure! I laugh so hard. |
| 7 | Why are people always shooting zombies? Why not just chop their heads off? How can zombies get you if you have a good sword? |
Facts
#
Fact
1
Studied acting with Sanford Meisner at The Neighborhood Playhouse in New York for two years.
2
Linden has been a student of martial arts on and off since he was 21 with a lot of time off. He's mostly studied Karate, with some Tae Kwon Do, and some Chinese styles thrown into the mix.
3
Replaced Brandon Lee in the role of Johnny Cage in Mortal Kombat (1995) due to Brandon's sudden death in 1993.
4
Has his own 6-seat plane "Piper Lance", currently housed at Van Nuys Airport.
5
Some of his hobbies include golf, tennis, windsurfing, scuba diving, horseback riding and hunting.
6
He's been surfing since he was 9. He actually grew up right on a beach in Northeast Florida. He even surfed competitively back in high school

he was invited to the East Coast Championships three times.

7
Graduated from Bolles High School, a private school located in Florida.
8
Attended Fort Lewis College (a branch of the Colorado State University) in Durango. He majored in business and psychology before dropping out Junior year to become an actor.
9
Two daughters with wife actress Susan Walters: Grace Ashby (born June 1991) and Savannah (born November 1992).
Pictures
Movies
Actor
| Title | Year | Status | Character |
| --- | --- | --- | --- |
| Teen Wolf | 2011-2017 | TV Series | Sheriff Noah Stilinski Deputy Noah Stilinski |
| Beta Test | 2016/I | | Kincaid |
| Grape | 2013 | Short | Grayson |
| Army Wives | 2009-2013 | TV Series | Dr. Dan Seaver / Dr. Koe |
| The Perfect Boss | 2013 | TV Movie | Cameron Finney |
| Iron Man Three | 2013 | | Commander |
| Gabe the Cupid Dog | 2012 | | Jerry |
| Necessary Roughness | 2011 | TV Series | Liam Dermer |
| Field of Vision | 2011 | TV Movie | Ron Dixon |
| Franklin & Bash | 2011 | TV Series | Evan Porter |
| Mean Girls 2 | 2011 | TV Movie | Rod Mitchell |
| Marry Me | 2010 | TV Mini-Series | Mr. Grafton Robert Grafton |
| The Gates | 2010 | TV Series | Ben McAllister |
| Accused at 17 | 2009 | | Detective Reeder |
| Stripped Naked | 2009 | Video | Howie Preston |
| The Joneses | 2009 | | Golfer 3 |
| Van Wilder: Freshman Year | 2009 | Video | Vance Wilder Sr. |
| Drop Dead Diva | 2009 | TV Series | Parker Wellner |
| Hunger | 2009/I | | Grant |
| Anacondas: Trail of Blood | 2009 | TV Movie | Jackson |
| Against the Dark | 2009 | Video | Cross |
| Days of Our Lives | 2008 | TV Series | Paul Hollingsworth |
| Impact Point | 2008 | | Detective Adams |
| Dead at 17 | 2008 | TV Movie | Curt Masterson |
| Prom Night | 2008/I | | Uncle Jack Turner |
| Resident Evil: Extinction | 2007 | | Chase |
| My Neighbor's Keeper | 2007 | TV Movie | Mike Harding |
| Eyes | 2005-2007 | TV Series | Michael Tobin |
| Plot 7 | 2007 | | Richard McCarthy |
| The Rival | 2006 | TV Movie | George Miller |
| Last Exit | 2006 | TV Movie | Scott Burke |
| Maid of Honor | 2006 | TV Movie | Richard Wynn |
| CSI: Miami | 2005 | TV Series | Steven Hardy |
| Sub Zero | 2005 | Video | Soloman Davis |
| A Killer Upstairs | 2005 | TV Movie | Lyle Banner |
| Wild Things: Diamonds in the Rough | 2005 | Video | Detective Michael Morrison |
| The Young and the Restless | 2003-2004 | TV Series | Cameron Kirsten |
| Wild Things 2 | 2004 | Video | Detective Morrison |
| The Company You Keep | 2003 | | Harry |
| Shrink Rap | 2003 | | Brian |
| Outrage | 2003 | | Det. Webster |
| Fits and Starts | 2002 | | |
| Sniper 2 | 2002 | Video | McKenna |
| CSI: Crime Scene Investigation | 2002 | TV Series | Detective Drew Wolf |
| Whacked! | 2002 | | Bolen |
| The Agency | 2001 | TV Series | |
| Facing the Enemy | 2001 | | Griff McCleary |
| Time of Her Time | 2000 | | Sergius O'Shaughnessy |
| Tick Tock | 2000 | | Travis Brewer |
| Dangerous Attraction | 2000 | | Neil / Dan Paterson |
| The War Next Door | 2000 | TV Series | Kennedy Smith |
| Where the Truth Lies | 1999 | TV Movie | Carter Tamiran |
| Judgment Day | 1999 | Video | Dr. David Corbett |
| The Wonderful World of Disney | 1998 | TV Series | Dr. Blair Bainbridge |
| Love Boat: The Next Wave | 1998 | TV Series | Lt. Joe Spenser |
| Beauty | 1998 | TV Movie | Mark Kramer |
| The Lake | 1998 | TV Movie | Dr. Jeff Chapman |
| Shelter | 1998 | | Jimmy Parker |
| Spy Game | 1997-1998 | TV Series | Lorne Cash |
| Blast | 1997 | | Jack Bryant |
| The Beneficiary | 1997 | TV Movie | Jimmy Price |
| Dark Angel | 1996 | TV Movie | Harry Foley |
| Cadillac Ranch | 1996 | | Beau |
| Mortal Kombat | 1995 | | Johnny Cage |
| Green Dolphin Beat | 1994 | TV Movie | Dave Henderson |
| Wyatt Earp | 1994 | | Morgan Earp |
| 8 Seconds | 1994 | | Martin Hudson |
| Slaughter of the Innocents | 1993 | | Officer Olmon |
| New Year | 1993 | TV Movie | Jimi Hartman |
| Fifteenth Phase of the Moon | 1992 | TV Short | Jason |
| Inside Out III | 1992 | Video | Jerry Van Anthony (segment "Tango") |
| Into the Sun | 1992 | | Dragon |
| The New Adam-12 | 1989-1991 | TV Series | Officer Honeycutt |
| The Perfect Bride | 1991 | TV Movie | Ted |
| Equal Justice | 1991 | TV Series | Charles Bercik |
| Mr. & Mrs. Bridge | 1990 | uncredited | |
| MacGyver | 1990 | TV Series | Brett Reynolds |
| Hardball | 1990 | TV Series | |
| Night Angel | 1990 | | Craig |
| China Beach | 1989 | TV Series | Phillip |
| Poor Little Rich Girl: The Barbara Hutton Story | 1987 | TV Movie | Lance Reventlow - Adult (parts 5-6) |
| Werewolf | 1987 | TV Series | Linden Ashby (Victim 2 in VW) |
| 1st & Ten: The Championship | 1987 | TV Series | Mike Cooper |
| Loving | 1983 | TV Series | Curtis Alden #4 (1989) |
| Dead Mule Suitcase | | | Harvey |
Thanks
| Title | Year | Status | Character |
| --- | --- | --- | --- |
| Mortal Kombat: Deadly Alliance | 2002 | Video Game special thanks: artistic contribution | |
Self
| Title | Year | Status | Character |
| --- | --- | --- | --- |
| The Players: The Cast of 'Extinction' | 2008 | Video documentary short | Himself |
| E! True Hollywood Story | 2003 | TV Series documentary | Himself |
| Table for Two | 1999 | TV Series | Himself |
| Mortal Kombat: Behind the Dragon | 1995 | TV Movie documentary | Himself |
| Mortal Kombat: Behind the Scenes | 1995 | Video documentary short | Himself |
| The Jimmy Star Show with Ron Russell | 2016 | TV Series | Himself - Guest |
| Celebrity P.O.V. | 2015 | TV Series documentary | Himself |
| Wolf Watch | 2014 | TV Series | Himself - Guest |
| Band of the Sand: Actors Unite | 2008 | Video documentary short | Himself |
| Beyond Raccoon City: Unearthing 'Resident Evil: Extinction' | 2008 | Video documentary short | Himself |
Archive Footage
| Title | Year | Status | Character |
| --- | --- | --- | --- |
| Resident Evil: The Final Chapter | 2016 | | Chase (uncredited) |
| Guilty Pleasures: Courtroom Dramas | 2005 | Video | Carter Tamiran |
Awards
Nominated Awards
| Year | Award | Ceremony | Nomination | Movie |
| --- | --- | --- | --- | --- |
| 2013 | Festival Award | World Music and Independent Film Festival | Best Lead Actor in a Short Film | Grape (2013) |
| 2005 | Soap Opera Digest Award | Soap Opera Digest Awards | Favorite Villain | The Young and the Restless (1973) |
Source:
IMDb
,
Wikipedia