Known for movies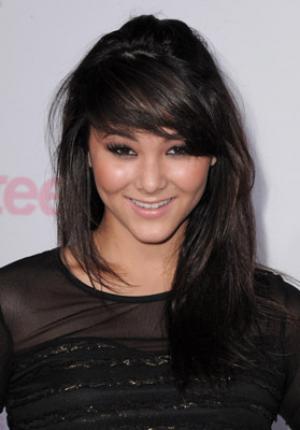 Who is Fivel Stewart?
Fivel Stewart is an American actress, mixed martial artist and is best known to the world as Ella in the horror action-adventure film "Hansel & Gretel: Warriors of Witchcraft" (2013), and also as Izzie in the TV comedy-drama series "Atypical" (2018-2019), among other roles that she has acquired so far in her career.
Fivel Stewart Wiki- Bio, Age, Childhood
Born Trent Heaven Stewart on the 4th November 1996 in Beverly Hills, California USA, she is the daughter of the famous stuntman, actor, and producer Nils Allen Stewart, and his wife Renee Steward. She has three siblings all of who are involved in the entertainment industry – Booboo Stewart is an award-winning actor; stuntwoman-actress and special effects artist Maegan Stewart; and actress Sage Stewart.
Of Scottish, Russian, and Blackfoot Native American ancestry from her father's side, and having Chinese, Japanese, and Korean roots from her mother, she joined the entertainment world at the young age of seven. She hasn't speak of her education, but has learned martial arts since she was five years old, focusing on Karate, and was inducted into the Black Belt Junior Hall of Fame in 2003, having previously won the 2002 and 2003 World Championship in Martial Arts.
Career Beginnings
Fivel – as she likes to be called, rather than by her real name – made her acting debut in 2004 in the role of Betty in the TV horror-drama mystery series "Dante's Cove", and the same year also featured in the romantic comedy film "Yard Sale". In 2005 she appeared in the action film "Pit Fighter", on which her father worked on as a stunt coordinator. In the years to come, Fivel didn't have much success as an actress, but pursued her musical interest with the bands 5L and My Allowance.
Then in 2013, she was selected for the role of Ella in the horror action-adventure film "Hansel & Gretel: Warriors of Witchcraft", starring with her brother Booboo Stewart.
Rise to Stardom
The role of Ella put her on the list of Hollywood's popular personalities, and the same year she featured in the adventure drama film "Isolated" (2013) and in 2014 appeared in the drama film "Like a Country Song", starring Billy Ray Cyrus and Jennifer Taylor.
She teamed up once again with Booboo Stewart for the films "Hope Bridge", and "The Last Survivors", while most recently, Fivel started portraying Izzie in the TV comedy-drama "Atypical", starring Jennifer Jason Leigh, Keir Gilchrist and Bridgette Lundy-Paine. She is currently working on several projects, including the films "The Never List" and "Devilwood", and TV series "The Girls of St. Joan" and "Close Up", among other projects.
Fivel Stewart's Brother, Booboo Stewart
Born as Nils Allen Stewart Jr. on the 21st January 1994, in Beverly Hills, California, Booboo started his career at the age of nine, making his first on-screen appearance in 2003 in the TV series "Steve Harvey's Big Time Challenge" (2003). He continued with minor roles until 2011, when he was selected for the part of Seth in the fantasy romantic drama film "The Twilight Saga: Eclipse", reprising his role in the sequels "The Twilight Saga: Breaking Dawn Part 1", and "Breaking Dawn Part 2".
Booboo has made around 100 film and TV appearances, and other notable roles include winning the Best Actor Award for his work as Nick in the film "White Frog" in 2012, and as Warpath in the film "X-Men: Fays of Future Past" in 2014. He also has a Best Ensemble Cast Award from the Northeast Film Festival, which he shares with other stars of the "American Satan" film from 2017. Booboo Stewart's net worth is estimated to be around $4 million as of early 2020.
Booboo is currently single, but in the past, he dated such stars from the show business as Megan Trainer, among others.
Fivel Stewart Net Worth, Height, Weight, Body Statistics, and Appearance
Fivel is a world star and a role model to many young women; her success has only increased her wealth, and according to sources, her net worth is as high as $1 million, as of early 2020. Fivel Stewart stands at 5ft 5ins (1.65m) tall, while she weighs around 121lbs ~ 55kgs.
#IG | Fivel posted on instagram pic.twitter.com/8tCrS9mXUS

— Fivel Stewart Updates (@fivelupdates) December 6, 2019
Her vital statistics are currently unknown, though Fivel possesses a slim figure. Her eyes are dark brown, and she also has dark brown hair.
Fivel Stewart Personal Life, Dating, Boyfriend
Little is known about Fivel's personal life. According to sources, Fivel is in a romantic relationship with actor Andrew Kai with whom she worked in the TV series "Atypical". The two have been together since 2018 but haven't talked about any future plans. Fivel has shared pictures from her adventures with friends and family, among numerous other posts on her Instagram account.
General Info
| | |
| --- | --- |
| Full Name | Fivel Stewart |
| Profession | Stunt Performer, Martial Artist |
| Nationality | American |
Family
| | |
| --- | --- |
| Parents | Nils Allen Stewart, Renee Stewart |
| Siblings | Booboo Stewart, Sage Stewart, Maegan Stewart |
Accomplishments
| | |
| --- | --- |
| Movies | Hansel and Gretel, Pit Fighter, Jake Stevens: The Last Protector |
Social profile links
Facts
| # | Fact |
| --- | --- |
| 1 | She is of Scottish, Russian, and Blackfoot Native American descent on her father's side and Chinese, Japanese, and Korean descent on her mother's side. |
| 2 | Called by the name Fivel simply because she liked it better than her given birth name, Trent. |
| 3 | Younger sister of Booboo Stewart and Maegan Stewart |
| 4 | From a true show business family. Daughter of multi-hyphenate, legendary stuntman-actor-producer-and more Nils Allen Stewart and part-time actress Renee Steward. Sister of actor-singer/composer-stuntman-producer Booboo Stewart, stuntwoman-actress-special effects artist Maegan Stewart and actress-singer Sage Stewart. |
| 5 | She is a 2002 and 2003 World Champion in Martial Arts |
| 6 | She was inducted into the Black Belt Junior Hall Of Fame in 2003 |
Pictures
Movies
Actress
| Title | Year | Status | Character |
| --- | --- | --- | --- |
| Hidden Valley the Awakening | 2017 | pre-production | Beth |
| American Satan | 2017 | post-production | Goth girl |
| The Girls of St. Joan | 2016 | TV Series pre-production | FIA (2017) |
| Lowlifes | 2017 | | |
| Lab Rats: Elite Force | 2016 | TV Series | Reese |
| Hope Bridge | 2015 | | Stephanie |
| The Last Survivors | 2014 | | Pia |
| Like a Country Song | 2014 | | Nikki |
| Freeze | 2013 | Short | Fivel |
| Isolated | 2013/I | | Ambassador for Peace |
| Hansel & Gretel: Warriors of Witchcraft | 2013 | | Ella |
| Logan | 2010 | | Leader of Clique Girls |
| Mercy | 2008 | Short | Audra |
| Blue Dolphin Kids | 2006 | TV Series | |
| State's Evidence | 2006 | | Student (uncredited) |
| The O.C. | 2006 | TV Series | 11-Year-Old Girl |
| Dante's Cove | 2004-2006 | TV Series | Betty |
| Pit Fighter | 2005 | | Lucinda |
| Yard Sale | 2004 | | Chrissy Deavers |
Music Department
| Title | Year | Status | Character |
| --- | --- | --- | --- |
| Hidden Valley the Awakening | 2017 | additional music provider pre-production | |
| Book of Fire | 2015 | additional music provider | |
| Hope Bridge | 2015 | additional music provider | |
| An Evergreen Christmas | 2014 | additional music provider | |
| Hansel & Gretel: Warriors of Witchcraft | 2013 | composer: additional music | |
| White Frog | 2012 | additional music provider | |
Soundtrack
| Title | Year | Status | Character |
| --- | --- | --- | --- |
| Hansel & Gretel: Warriors of Witchcraft | 2013 | performer: "Run Away" / writer: "Run Away" | |
| White Frog | 2012 | courtesy: "Just So Right" / performer: "Just So Right" | |
Stunts
| Title | Year | Status | Character |
| --- | --- | --- | --- |
| Tales of Halloween | 2015 | stunt double: Sage stewart | |
| How I Survived the Zombie Apocalypse | 2009 | Short stunt performer | |
| Zoom | 2006 | stunt double | |
| The Kings of Babylon | 2005 | TV Special documentary stunts | |
Writer
| Title | Year | Status | Character |
| --- | --- | --- | --- |
| Freeze | 2013 | Short story / writer | |
Composer
| Title | Year | Status | Character |
| --- | --- | --- | --- |
| Freeze | 2013 | Short | |
Producer
| Title | Year | Status | Character |
| --- | --- | --- | --- |
| Lowlifes | 2017 | associate producer | |
Miscellaneous
| Title | Year | Status | Character |
| --- | --- | --- | --- |
| White Frog | 2012 | dancer | |
Self
| Title | Year | Status | Character |
| --- | --- | --- | --- |
| TinaQ's Celebrity Interviews | 2012 | TV Series | Herself |
| On the Spot Interviews | 2012 | TV Series documentary short | Herself |
| Teens Wanna Know | 2012 | TV Series | Herself - Guest |
| KARtv | 2011-2012 | TV Series documentary | Guest Singer / Guest Pop Star |
| Just Yell Fire: Campus Life | 2012 | Documentary | Herself |
| 80th Annual Hollywood Christmas Parade | 2011 | TV Movie | Herself |
| 13th Annual Young Hollywood Awards | 2011 | TV Special | Herself |
| 2011 3D Creative Arts Awards | 2011 | TV Special | Herself |
| Piper's Picks TV | 2010 | TV Series | Herself - Guest |
| Piper's QUICK Picks | 2010 | TV Series | Herself - Guest |
| Diversity News TV | 2009 | TV Series | Herself |
| Blue Dolphin Kids | 2006 | TV Series | Herself - Host / Herself |
Source:
IMDb
,
Wikipedia