• Born in Mexico City and holds both Mexican and American nationality
• Attended Catholic elementary and high schools before graduating with a Bachelor of Arts degree in communications from Universidad Iberoamericana and a Master's degree in International Studies from the University of Miami
• Best Spanish-language news show host in the US; has interviewed world leaders and covered significant events
• Hosts his own show "Real America with Jorge Ramos" and has won a Maria Moors Cabot Prize for Excellence in Journalism, 8 Daytime Emmy Awards, and an Ondas Award for International Career in Journalism
• Has a net worth of over $14 million.

Known for movies
Short Info
| | |
| --- | --- |
| Date Of Birth | March 16, 1958 |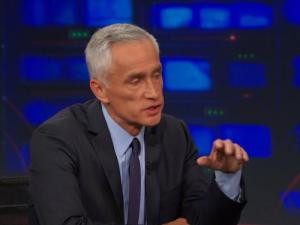 Who is Jorge Ramos?
Jorge Gilberto Ramos Avalos was born in Mexico City, on 16 March 1958 – his zodiac sign is Pisces, and he holds both Mexican and American nationality. He's a journalist and author, and is believed to be the best Spanish-language news show host in the US, and is often referred to as 'The Walter Cronkite of Latin America'. For those not familiar with Walter Cronkite, he was an American broadcast journalist who was the anchor of "CBS Evening News" between 1961 and 1981, and was believed to be 'the most trusted man in America'.
Early life and education
Jorge was raised in Naucalpan, Mexico City alongside his sister Lourdes Ramos, by their Roman Catholic father who was an architect, and their mother whose name remains undisclosed.
Jorge attended several Catholic elementary and high schools, and has stated that he was abused by priests teaching at those schools. He was interested in many activities while growing up, and preferred to spend his spare time outdoors, mostly because he enjoyed playing soccer and basketball with his friends.
Upon matriculating in 1975, Jorge enrolled at Universidad Iberoamericana, from which he graduated with a Bachelor of Arts degree in communications in 1979; he continued his education at the University of Miami, from which he graduated with a Master's degree in International Studies in 1983.
In 2007, Jorge was conferred with an honorary Doctor of Letters by the University of Richmond.
Career as a journalist
Upon graduating with a Bachelor's degree, Jorge was employed at XEW-TV, the flagship TV station of the multimedia mass media company Televisa, hosting their show "60 Minutes"; he quit the job after having produced a story which criticized Mexico's government, but was censored by XEW-TV.
Jorge began working at KMEX-TV in Los Angeles, California in 1984, and three years later was promoted to host the morning show "Mundo Latino"; since 1987, today numbering 35 years, he has been anchoring the nightly Spanish-language show "Noticiero Univision".
In 1989, Jorge reported on the fall of the Berlin Wall, and the following years saw him cover numerous important events, such as the Salvadoran Civil War which lasted for 12 years, the Gulf War in 1990 and 1991, and the dissolution of the Soviet Union around the same time.
Jorge was there to cover the September 11 attacks in 2001, when two planes hijacked by Islamist terrorists were crashed into the World Trade Center in New York City; two other planes were also hijacked, one of which hit the Pentagon in Arlington, Virginia, while the second crashed in Shanksville because of a passenger revolt.
During the War in Afghanistan, which lasted from 2001 to 2021, Jorge travelled there on his own as his network wouldn't send him.
Jorge has interviewed many world leaders, including the former US presidents George W. Bush, Bill Clinton and Barack Obama, as well as the former Venezuelan president Hugo Rafael Chavez Frias, the President of Nicaragua Jose Daniel Ortega Saavedra, and the Cuban revolutionary and lawyer Fidel Alejandro Castro Ruz.
Jorge's today writing for a bilingual newspaper which is being published internationally, and can be seen making guest appearance in many MSNBC and CNN shows; polls have revealed that he's the most influential and trusted Hispanic in America, and is even more popular than the Colombian singer-songwriter Shakira amongst the Latino audiences.
Since 6 September 2018, he has been hosting his own show "Real America with Jorge Ramos".
Questioning the former US President Donald Trump
On 25 August 2015, Jorge attended Trump's news conference in Dubuque, Iowa – he had previously studied past conferences, and learned that Trump had always refused to answer questions which he didn't like, and would simply choose another reporter to ask the next question.
Knowing this, when it was time for Jorge to ask a question, he didn't let Donald not answer it, and was thus removed from the conference room by Donald's Head of Security Keith Schiller.
Jorge was allowed to re-enter 15 minutes later, and got into a heated argument with Donald over immigration policies; Jorge also went on to state that Trump was spreading hate with his mass deportation calls.
Inspired by this conference, Jorge created the documentary movie "Hate Rising"; it took him nine months to make it, during which he travelled around the US, and interviewed members of many hate groups, including neo-Nazis and Ku Klux Klan.
Awards and accolades
Jorge has won a Maria Moors Cabot Prize for Excellence in Journalism, as well as eight Daytime Emmy Awards.
He appeared on the cover page of the magazine "Time" in 2015, and in the same year won an Ondas Award for International Career in Journalism.
Love life and wife
Jorge prefers to keep the details of his love life to himself, but it's still widely known that he has been married twice. He married Gina Montaner sometime in the '80s, who's probably known best for being the daughter of Carlos Alberto Montaner, the exiled Cuban author and journalist; Gina gave birth to their daughter Paola in 1988, but they divorced in 1990. Paola was then raised in Spain by her mother.
Jorge exchanged vows with Lisa Bolivar in 1992, in a private ceremony held at the Cathedral of San Juan Bautista in Puerto Rico. Lisa gave birth to their son Nicolas, but she and Jorge divorced in 2005.
Jorge then went on to date the Mexican actress Anabell Gardoqui de la Reguera, and since 2011, he has been in a relationship with Chiquinquirá Delgado, a famous Venezuelan TV host and actress.
As of March 2022, Jorge's in a relationship with Chiquinquirá Delgado, has been married twice, and has two children, one with each of his former wives.
Hobbies and interesting facts
Jorge's an agnostic, which is a term used for people who believe that the existence of God cannot be known; he has been criticized for this, mostly because he was raised Roman Catholic.
Jorge seems to enjoy the attention which he's receiving from his more than a million followers on Instagram, and has thus uploaded over 1,000 pictures, most of which feature him covering various events.
He's a philanthropist, and has donated money to various charity organizations, but mostly to those which aim to help underprivileged children.
Jorge's into travelling, and his career has taken him all around the world, while his dream travel destination seems to be Berlin, Germany.
He likes to watch movies in his spare time – his favorite actor is Richard Gere, while a couple of his favorite movies include "Gone in 60 Seconds", "Hachi: A Dog's Tale' and "Pretty Woman".
Age, height and net worth
Jorge's age is 64. He has short brown hair and brown eyes, his height is 5ft 9ins (1.75m) and he weighs around 155lbs (70kgs).
As of March 2022, Jorge's net worth has been estimated at more than $14 million.
General Info
| | |
| --- | --- |
| Full Name | Jorge Ramos |
| Date Of Birth | March 16, 1958 |
| Height | 1.73 m |
| Profession | Journalist, Author |
| Education | Universidad Iberoamericana Ciudad de México, University of California, Los Angeles, University of Miami |
Family
| | |
| --- | --- |
| Children | Nicolas Ramos, Paola Ramos |
| Partner | Chiquinquirá Delgado, Chiquinquirá Delgado |
Accomplishments
| | |
| --- | --- |
| Awards | News & Documentary Emmy Award for Outstanding Investigative Journalism in Spanish, News & Documentary Emmy Award for Outstanding Instant Coverage of a News Story - Programs |
| Nominations | News & Documentary Emmy Award for Outstanding Interview, News & Documentary Emmy Award for Outstanding Investigative Journalism in a News Magazine |
| TV Shows | Noticiero Univision, ¡Despierta América!, Aquí y Ahora |
Social profile links
Quotes
| # | Quote |
| --- | --- |
| 1 | [to Republican presidential candidate Mitt Romney] You said that God created the United States to lead the world. With all due respect, how do you know that? |
Pictures
Movies
Producer
| Title | Year | Status | Character |
| --- | --- | --- | --- |
| Hate Rising | 2016 | Documentary producer | |
Self
| Title | Year | Status | Character |
| --- | --- | --- | --- |
| Ours is a Future | 2016 | Documentary post-production | Himself |
| Chelsea | 2016 | TV Series | Himself |
| The Late Show with Stephen Colbert | 2016 | TV Series | Himself |
| Habla y Vota | 2016 | TV Movie documentary | Himself |
| Hannity | 2016 | TV Series | Himself |
| The View | 2014-2016 | TV Series | Himself / Himself - Guest Co-Host |
| Good Morning America | 2016 | TV Series | Himself - Author |
| Real Time with Bill Maher | 2006-2015 | TV Series | Himself - Guest / Himself |
| CBS This Morning | 2015 | TV Series | Himself |
| The Kelly File | 2015 | TV Series | Himself - Univision Anchor |
| Half Like Me | 2015 | TV Movie | Himself |
| Tavis Smiley | 2005-2015 | TV Series | Himself - Guest / Himself |
| Buzz: AT&T Original Documentaries | 2014 | TV Series documentary | Himself |
| The Daily Show | 2013 | TV Series | Himself |
| America with Jorge Ramos | 2013 | TV Series | Himself - Anchor |
| This Week | 2012-2013 | TV Series | Himself - Powerhouse Roundtable Panelist |
| Moyers & Company | 2012 | TV Series | Himself |
| The Colbert Report | 2008-2012 | TV Series | Himself - Guest / Himself |
| Aquí y ahora | 2012 | TV Series documentary | Himself - Host |
| Concierto inaugural de la Copa Mundial | 2010 | TV Movie | Himself |
| Al punto | 2007 | TV Series | Himself - Host |
| Nuestra Belleza Latina | 2007 | TV Series | Himself - Guest |
| Premios juventud 2006 | 2006 | TV Special | Himself |
| Don Francisco presenta | 2004-2005 | TV Series | Himself |
| ¡Despierta América! | 2003-2005 | TV Series | Himself |
| Pa'lante con Cristina | 2004 | TV Series | Himself |
| Premios juventud 2004 | 2004 | TV Special | Himself |
| El gordo y la flaca | 2004 | TV Series | Himself |
| Noticias univisión presenta: Viaje a la muerte | 2003 | TV Movie documentary | Host |
| Noticias univisión presenta: El sueño americano a prueba | 2002 | TV Movie documentary | Host |
| Univision News Presents: Tragedy in Central America | 1998 | TV Movie | Himself - Anchor |
| Noticiero Univisión | 1981 | TV Series | Himself - Anchor |
| 60 Minutos | 1978 | TV Series documentary | Himself-Reporter |
Archive Footage
| Title | Year | Status | Character |
| --- | --- | --- | --- |
| The Late Show with Stephen Colbert | 2015 | TV Series | Himself - Donald Trump Press Conference |
| Media Buzz | 2015 | TV Series | Himself - Univison Anchor / Himself - Univision Anchor |
| Extra | 2015 | TV Series | Himself - Univision Anchor |
| Inside Edition | 2015 | TV Series documentary | Himself - Univision Anchor |
| Entertainment Tonight | 2015 | TV Series | Himself |
| The O'Reilly Factor | 2015 | TV Series | Himself |
Awards
Won Awards
| Year | Award | Ceremony | Nomination | Movie |
| --- | --- | --- | --- | --- |
| 2012 | Lifetime Achievement Award | News & Documentary Emmy Awards | | |
| 1999 | Emmy | News & Documentary Emmy Awards | Outstanding Instant Coverage of a News Story - Programs | Univision News Presents: Tragedy in Central America (1998) |
Nominated Awards
| Year | Award | Ceremony | Nomination | Movie |
| --- | --- | --- | --- | --- |
| 2013 | Emmy | News & Documentary Emmy Awards | Outstanding Investigative Journalism in a News Magazine | Aquí y ahora (2000) |
Source:
IMDb
,
Wikipedia