• Born in Arizona, USA in 1970 to a geologist father and surgical nurse mother
• Obtained a bachelor's degree in marine biology from San Diego State University
• Started acting after modeling in Japan and taking improv classes
• Most famous for her role in "Melrose Place" and "The Net"
• Net worth estimated to be $2 million

Known for movies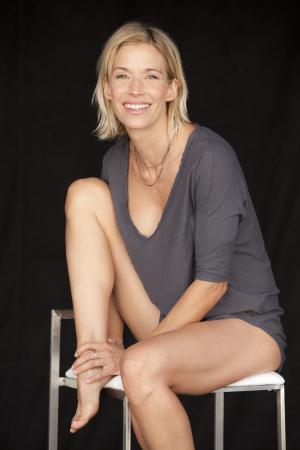 Early life, family, educational background
Brooke Langton is an actress, who was born on 27 November 1970 in an on-site hospital in a copper-mining town in Arizona, USA. Her mother was a surgical nurse and her father, Jackson Langton, was a geologist. Brooke moved a lot as a young child due to her father's career, and lived in Illinois, Texas, and Portland, Oregon. She attended Herscher High School and then Lawrence Dale Bell High School.
Brooke was well-read and attentive as a young girl, and her teachers expected her to follow in her father's footsteps and pursue a career in science. She always had a love for marine biology and went on to obtain a bachelor's degree from San Diego State University after matriculating from high school.
Family's personal life
Brooke's father was a Chief Geologist for Phelps Dodge, and became the Vice President of Superior Oil in later years. He wrote and published the novel "All Trappers Do Not Wear Fur Hats" and a memoir entitled "All Trappers Do Not Wear Fur Hats: The Prospector and His Protege."
Her grandfather was a prospector for H.L. Hunt. Her maternal grandmother was a farmer who immigrated to Minnesota from Sweden, and her maternal grandfather, Stephen Cummings, was a bomber pilot in the Second World War. She has an aunt, Sally Spalding, who is a scriptwriter, and she influenced Brooke's love for acting.
Brooke is also related to Adolf Jahr, an actor from Sweden who appeared in sixty-eight films between the years 1925 and 1962.
Career
After graduating from San Diego State University, Brooke decided that she wanted to travel. She moved to Japan and worked there as a model, which gave her the chance to act in commercials and music videos, accelerating her towards the acting world.
Brooke moved back to Los Angeles, and committed herself to act; she started taking specialised courses at Second City Improv to refine her talent. Her first notable role was in the 1992 American drama television series "Freshman Dorm", where she played the character Nikki in an episode of the show.
She also appeared in minor roles in "Baywatch" and "Beverly Hills, 90210" that same year.In 1994 she made her movie debut by playing a drug addict in "Terminal Velocity" alongside Charlie Sheen. She also played small roles in other television series, such as "Sliders," "The Single Guy," "Chicago Hope," and "Young Indiana Jones."
In 1996 Brooke landed the role that she is most famous for, as Samantha Reilly Campbell in "Melrose Place," which was a popular Fox prime time soap opera. The television series, created by Darren Star, centres around a group of young adults residing in an apartment complex named "Melrose Place." Brooke's character is an artist that moves into the complex and is introduced in season five.
She stayed on for seasons five and six and left in the middle of season seven. The series won a "People's Choice Award" for favourite new TV drama, as well as a "GLAAD Media Award" for outstanding drama series. The show also earned four nominations for the "Golden Globe Awards." Next, Brooke played the lead of Angela Bennett, in "The Net," a US Network drama series based on the 1995 eponymous movie, the same character that Sandra Bullock played in the film. The series was created by Deborah Pratt, but only lasted for one season.
Her next prominent role was the female lead, Annabelle Farrell, in the comedy movie "The Replacements" in 2000, with Gene Hackman and Keanu Reeves, directed by Howard Deutch.
That same year, Brooke also acted in "Playing Mona Lisa," another comedy film that was directed by Matthew Huffman. Brooke went on to act in other movies, such as "Kiss the Bride" (2002) directed by Vanessa Prime in which she played a supporting role, "Partners" (2005) with Julie Bowen and Jay Harrington, and "The Benchwarmers" (2006). She also starred alongside Colin Egglesfield in "Beautiful Dreamer," a 2006 romantic drama film that secured nine prominent awards – Terri Farley Teruel wrote, directed and produced the film. Other well-known names in the movie include Barry Corbin, Rusty Schwimmer and James Denton.
In 2007, Brooke played a vital role in the horror movie "Primeval", directed by Michael Katleman, about a group of American journalists who travel to Burundi to find a vast man-eating crocodile by the name of Gustave. It also starred Orlando Jones, Gideon Emery, Dominic Purcell and Jürgen Prochnow. The movie received mainly negative reviews. Regardless, Brooke obtained a recurring spot in the successful NBC television series, "Friday Night Lights", developed by Peter Berg and achieving many awards, including  an "Emmy Award" and a "Peabody Award." Brooke booked a couple of episodes playing a supporting role in the crime drama television series "Life" in 2008, created by Rand Ravich.
The series received positive ratings, and won a "2008 AFI Award" for best television series. It was also distributed to countries such as Russia, Germany and Australia. Brooke also appeared in "The Mentalist" (2012), "Supernatural" (2013), "Shifting Gears" (2015), "Oliver's Deal" (2015), and most recently "The Kingdom" (2019).
Personal life
Not much is known about her current or past relationships. It appears that Brooke and American actor David Chokachi dated in 1997, and it is rumoured they intended to marry, but Brooke left him. After this relationship, she was pictured with actor George Clooney, but neither one of them confirmed a relationship.
Rumours also circulated that Brooke and Billy Campbell, her co-star in "Melrose Place" who played Andre Shue, were in a relationship, also unconfirmed. She has been linked to Tiger Woods as well – who hasn't? It is believed that she is currently married based on posts from her now-deleted Instagram, but nothing has been confirmed and it is unclear who she could be married to. However, Brooke does have a son, Zane Langton, whose biological father's identity has not been revealed.
He attended the second annual "Kids Stock Music and Art Festival" with his mother in Beverly Hills, California.
Brooke is known to be good friends with American actress Catherine Oxenberg. Brooke also has her website, "Brooke Langton Online."
Hobbies, favorite things and interesting facts
Brooke appeared in the Swedish show "Allt för Sverige" (Everything for Sweden) as a contestant, and played against other Americans for a prize to learn more about her Swedish roots. The show was broadcast on Sweden's national public television broadcaster, SVT, and it was here that she learnt that she is related to Adolf Jahr.
Thank you! I've never seen this before now!#Halloween1997 pic.twitter.com/oR56VmNd8z

— Brooke Langton (@Brookelangton27) October 31, 2015
Appearance
Brooke's natural hair colour is dark brown, although she has been seen with her hair blonde, and she has brown eyes. She is 5ft 5ins (1.65m) tall ,and weighs 117lbs (53kgs).
Net worth and salary
Brooke's net worth is estimated at $2 million as of early 2020, and her annual salary depends on the projects she completes that year. However, it is suggested that she receives $100,000 annually, including from advertising. Sources also say that she makes up to $30,000 per episode for the television series that she's now involved in.
General Info
| | |
| --- | --- |
| Full Name | Brooke Langton |
| Date Of Birth | November 27, 1970 |
| Height | 1.64 m |
| Profession | Actor, Model |
| Education | San Diego State University |
| Nationality | American |
Family
Accomplishments
| | |
| --- | --- |
| Movies | The Replacements, Primeval, Kiss the Bride, Playing Mona Lisa, Swingers, Beautiful Dreamer, Reach the Rock, Chilly Christmas, Oliver's Deal, K-9 Adventures: Legend of the Lost Gold, The Benchwarmers, Eye of the Stalker, Terminal Velocity, Moment of Truth: A Mother's Deception, Partner(s), Beach Hous... |
| TV Shows | Life, Melrose Place, The Net, Extreme |
Social profile links
Quotes
| # | Quote |
| --- | --- |
| 1 | Honesty, integrity and perseverence! |
| 2 | On Keanu Reeves: They love Keanu and he was so generous with his responses. There was never even a hint that he found any of this intrusive. |
| 3 | "Keep your eye on the dough-nut not the hole" my father always said. Now, as adult, I understand. He was saying focus on what you love, your art...and not beyond it. |
| 4 | Simple formula for the actor, prove you're creative enough to get the job, sane enough to keep the job, and hungry enough to give up everything else to keep them happy. |
Facts
| # | Fact |
| --- | --- |
| 1 | Related to Swedish actor Adolf Jahr. |
| 2 | Comes from a long line of prospectors and geologists. Her grandfather was chief prospector for H.L. Hunt, and her father, Jackson Langton, was chief geologist for Phelps Dodge. Her Father published a memoir entitled, "All Trappers Don't Wear Fur Hats: The Prospector and His Protege". |
| 3 | Brooke was born in an on site hospital in an actual copper mine in Arizona. Her father was Chief Geologist for Phelps Dodge and later Vice President of Superior Oil. He has a published memoir of his called "A Prospectors Protege - All Trappers Do Not Wear Fur Hats". |
| 4 | Her role as the wife of Kyle Chandler's character in The Kingdom (2007), wound up on the cutting room floor. |
| 5 | Good friends with Catherine Oxenberg. |
| 6 | Father, Jackson Langton, wrote the published novel "All Trappers Do Not Wear Fur Hats" |
| 7 | Attended San Diego State University. |
| 8 | Began her career as a model, working primarily in Japan. |
Pictures
Movies
Actress
| Title | Year | Status | Character |
| --- | --- | --- | --- |
| Gentlemen Only Ladies Forbidden : Puddy McFadden License to Golf | 2016 | Short completed | Debra Garner - LPGA Champion |
| Antisocial.app | 2016 | completed | Emily |
| Shifting Gears | | post-production | Carol Williamson |
| Satisfaction | 2015 | TV Series | |
| Are You My Daughter? | 2015 | TV Movie | Laura Paddington |
| Impact Earth | 2015 | | Stella Harrison |
| Oliver's Deal | 2015 | | Kate Campbell |
| K-9 Adventures: Legend of the Lost Gold | 2014 | | Courtney Lewis |
| The Glades | 2013 | TV Series | Nicky Holloway |
| Supernatural | 2013 | TV Series | Hayley |
| Bones | 2013 | TV Series | Christine Brennan |
| Chilly Christmas | 2012 | Video | Lt. Mel Stone |
| The Mentalist | 2012 | TV Series | Pella Goodwin |
| The Closer | 2009 | TV Series | Detective Ally Moore |
| Life | 2007-2008 | TV Series | Constance Griffiths |
| Friday Night Lights | 2007-2008 | TV Series | Jackie Miller |
| Primeval | 2007 | | Aviva Masters |
| Beautiful Dreamer | 2006 | | Claire |
| The Benchwarmers | 2006 | | Kathy Dobson |
| Monk | 2006 | TV Series | Terri |
| Partner(s) | 2005 | | Lucy |
| Weeds | 2005 | TV Series | Sharon |
| The Break | 2003 | TV Movie | Sara |
| Kiss the Bride | 2002 | | Nicoletta 'Niki' Sposato |
| Fling | 2001 | TV Series | Elizabeth Gillcrest |
| The Replacements | 2000 | | Annabelle Farrell |
| Playing Mona Lisa | 2000 | | Sabrina |
| The Net | 1998-1999 | TV Series | Angela Bennett |
| Reach the Rock | 1998 | | Lise |
| Melrose Place | 1996-1998 | TV Series | Samantha Reilly |
| The Small Hours | 1997 | | |
| Mixed Signals | 1997 | | Judy |
| Listen | 1996 | | Sarah Ross |
| Swingers | 1996 | | Nikki |
| Sliders | 1996 | TV Series | Daelin Richards |
| The Adventures of Young Indiana Jones: Travels with Father | 1996 | TV Movie | Rebecca Donelly (uncredited) |
| Beach House | 1996 | | Caitlin |
| Party of Five | 1995 | TV Series | Courtney |
| Eye of the Stalker | 1995 | TV Movie | Beth |
| The Single Guy | 1995 | TV Series | Amanda |
| Chicago Hope | 1995 | TV Series | Sandra Keyes |
| Extreme | 1995 | TV Series | Sarah Bowen |
| Moment of Truth: Cult Rescue | 1994 | TV Movie | Kim McGill |
| Terminal Velocity | 1994 | | Jump Junkie #2 |
| California Dreams | 1992 | TV Series | Kimberly Blanchard |
| Baywatch | 1992 | TV Series | Tanya |
| Beverly Hills, 90210 | 1992 | TV Series | Suds Lipton |
| Freshman Dorm | 1992 | TV Series | Nikki |
Producer
| Title | Year | Status | Character |
| --- | --- | --- | --- |
| Beautiful Dreamer | 2006 | co-producer | |
Self
| Title | Year | Status | Character |
| --- | --- | --- | --- |
| Allt för Sverige | 2015 | TV Series | Herself |
| I Married a Princess | 2005 | TV Series | Herself |
| HBO First Look | 2000 | TV Series documentary | Herself |
| The Tonight Show with Jay Leno | 1998 | TV Series | Herself |
Archive Footage
| Title | Year | Status | Character |
| --- | --- | --- | --- |
| The Adventures of Young Indiana Jones: Winds of Change | 2008 | Video | Amy |
Source:
IMDb
,
Wikipedia