• George Dzundza was born on 19 July 1945 in Rosenheim, Bavaria, Germany.
• He is an actor, best known for his role of NYPD Sergeant Max Greevey in the NBC police procedural and legal drama series "Law & Order".
• His net worth is estimated to be over $2 million.
• He retired from acting in 2010 and has since worked as a director.
• He has been married to Mary Jo Vermeulen since 1982 and has 3 children.

Known for movies
Short Info
| | |
| --- | --- |
| Spouse | Mary Jo Vermeulen |
| Fact | Has appeared in three network series where he was written out after the first season: Law & Order (1990) Jesse (1998) and Hack (2002). |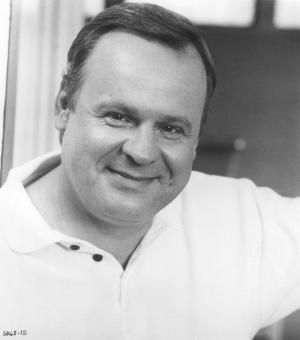 Who is George Dzundza?
George F. Dzundza was born on 19 July 1945 under the birth sign of Cancer, in Rosenheim, Bavaria, Germany and is currently aged 74. He is an actor, probably best recognized for starring in the role of NYPD Sergeant Max Greevey in the NBC police procedural and legal drama series "Law & Order".
Would you like to know more about George Dzundza's professional career and personal life? How rich is he, as of now? If you are interested, stay tuned and find out all the details about him.
How rich is he, as of now? George Dzundza Net Worth
His professional career started in 1973, and he has been an active member in the entertainment industry ever since. So, if anyone of you ever wondered how rich George Dzundza is, it has been estimated by authoritative sources that the total size of his net worth is over $2 million, accumulated through his successful career.
Early Life, Education, Nationality, Ethnicity
George Dzundza spent the first several years of his life in camps for displaced persons, where he was raised alongside a brother by his father, who was a Ukrainian Unterlander, and his mother, who was a Polish Galitzianer – they had been subjected to forced labor by the Nazis.
Following the end of WWII, the family lived in Amsterdam, Netherlands and eventually immigrated to the US in 1956, settling down in New York City. Upon matriculation from Xavier High School, George enrolled in St. John's University to study Theatre Arts and Speech.
The 1970s: Career Beginnings
Speaking about his professional acting career, George Dzundza made his debut appearance on the stage in 1973, when he performed in the New York Shakespeare Festival production of "King Lear". During the same year, he had an opportunity to make his debut film appearance, with the role of Mr. Creepy in the exploitation crime-horror "Massage Parlor Murders!", which was followed by his portrayal of Dean in the Italian comedy "Fischia il sesso" (1974).
His next major role came in 1978, when he portrayed John Welsh in the the Academy Award-winning war drama film "The Deer Hunter", starring Robert De Niro, Christopher Walken and Meryl Streep, really marking the establishment of his net worth. During the same decade, he guest-starred in such television series as "Great Performances", "Starsky And Hutch", and "Young Maverick", among many others.
The early and mid-1980s: Rise to Prominence
At the beginning of the 1980s, George's career was moved to the next level as he started getting more serious roles, since he was chosen to portray the lead role of Gordon Feester in the ABC sitcom "Open All Night" (1981-82).
Side by side, he also starred as Frank Collin in the 1981 made-for-television film "Skokie", and then featured as Eugene in one of the most expensive box office flops, the British comedy film "Honky Tonk Freeway" in the same year. Over the next few years, George came to prominence through such significant roles as Steve Loparino in the 1984 comedy film "Best Defense", next to Dudley Moore and Eddie Murphy; Captain Stemkowski in the neo-noir crime thriller "No Mercy" (1986), alongside Richard Gere and Kim Basinger; and Sam Hesselman in Roger Donaldson's neo-noir political thriller "No Way Out" in 1987.
The late 1980s: "Law & Order"
By the end of the decade, George also landed the role of Commander Daskal in Kevin Reynolds' 1988 war film "The Beast", starred as Paul Landers in the drama "White Hunter Black Heart", directed by Clint Eastwood, and played Lt. Joe Morgan in the thriller "Impulse", both in 1990. During the same year, he got a chance to join the cast of the NBC police procedural and legal drama series "Law & Order", starring as NYPD Sergeant Max Greevey. Although he left the series in 1991, the role added a considerable amount to his net worth, and increased enormously his popularity all over the world.
Why did George Dzundza leave "Law & Order"?
George was in the original cast of the NBC long-running series "Law & Order", but he starred only for one season, since he decided to leave it after discussion he had regarding scheduling and script quality. During that time, his wife was pregnant and he was forced to divide his time between his home in Los Angeles and New York City, where the filming was set. It came to a head when the producers threatened to fire him if he continued to hold up the filming to be with his pregnant wife, so he left the show.
The 1990s: Continued Success and Voice Overs
With the beginning of the next decade, George continued to line up success after success by landing other major roles, including as Leo Lemke in the 1991 romantic comedy "The Butcher's Wife", alongside Demi Moore, after which he was cast as Detective Gus Moran in the neo-noir erotic thriller "Basic Instinct" (1992). Between 1993 and 1995, he did various voice overs in "Batman: The Animated Series", which was followed by his portrayal of Hal Griffith in the 1995 drama "Dangerous Mind", starring along with Michelle Pfeiffer and Wade Dominguez. Thereafter, George provided his voice to Perry White, a DC Comics character in "Superman: The Animated Series" (1996-99), increasing further his net worth. Moreover, he was also cast as John Warner, Sr. in the NBC sitcom "Jesse" from 1998 to 1999.
The 2000s and 2010s: Retirement and Career as a Director
George's first significant role in the new millennium came in 2002, when he featured as Reg Duffy in the crime drama "City By The Sea", alongside Robert De Niro and James Franco, after which he was chosen to play Tom Grzelak in the CBS action-drama series "Hack" (2002-03). Two years later, he joined the cast of the ABC medical drama series "Grey's Anatomy", portraying Harold O'Malley until 2007. Thereafter, George became quite passive in searching for new projects as an actor, since he starred as Norman in the 2010 comedy-drama "The Chosen One", and then made his last appearance in the made-for-television film "Danni Lowinski", playing Augustus 'Gus' Lowinski. Following his retirement, George started his career as a director, and has worked on such plays as "I Am My Own Wife" and "Doubt".
The War story also talks about my obsession with veteran character actor George #Dzundza. pic.twitter.com/R6Mw1w7mV6

— Mike Glenn (@mrglenn) July 10, 2019
What is George Dzundza doing now?
There is almost no information known to the media regarding his professional career at the present time, and one of the main reasons why we cannot find any information is his absence from the social media scene, since he has no Instagram, Twitter or Facebook account. Accordingly, we can only assume that he's retired, and spends his time with family and friends.
Personal Life: His Wife Mary Jo Dzundza, Children
When it comes to talk about his personal life, George Dzundza is apparently a happily married man. After spending some time in a relationship with Mary Jo Vermeulen, the couple eventually exchanged their wedding vows at a private ceremony attended by their closest family and friends in 1982; the couple is blessed with three children. Regarding their residence, the family currently lives in Beverly Hills, California.
General Info
| | |
| --- | --- |
| Full Name | George Dzundza |
| Height | 1.78 m |
| Profession | Voice Actor |
| Education | St. John's University |
Family
Accomplishments
| | |
| --- | --- |
| Awards | Volpi Cup for Best Actor |
| Nominations | Drama Desk Award for Outstanding Featured Actor in a Play |
| Movies | Basic Instinct, The Deer Hunter, Dangerous Minds, Crimson Tide, Species II, The Butcher's Wife, No Way Out, White Hunter Black Heart, The Beast, City by the Sea, Instinct, That Darn Cat, No Mercy, Batman & Mr. Freeze: SubZero, Superman: Brainiac Attacks, Honky Tonk Freeway, The Ryan White Story, Bes... |
| TV Shows | Law & Order, Hack, Jesse, Superman: The Animated Series, Something Is Out There, Open All Night, Salem's Lot |
Social profile links
Facts
| # | Fact |
| --- | --- |
| 1 | Portrays Daskal, a Russian tank commander, in the film, The Beast; and Lieutenant Platko, in the TV series, The Beast. |
| 2 | His father was Polish and his mother was Ukrainian. They had been forced into factory labor by the Nazis. |
| 3 | Attended private Catholic Cardinal Hayes High School in the Bronx, New York City, whose fellow alumni included Martin Scorsese, George Carlin', Regis Philbin, Jamal Mashburn and Don DeLillo. |
| 4 | Has appeared in three network series where he was written out after the first season: Law & Order (1990) Jesse (1998) and Hack (2002). |
| 5 | Last name is pronounced "ZUHN-zuh". |
Pictures
Movies
Actor
| Title | Year | Status | Character |
| --- | --- | --- | --- |
| ShellShock: Nam '67 | 2004 | Video Game | Platt (voice) |
| Hack | 2002-2003 | TV Series | Tom Grzelak Tom "Grizz" Grzelak |
| Superman: Shadow of Apokolips | 2002 | Video Game | Perry White (voice) |
| City by the Sea | 2002 | | Reg Duffy |
| Determination of Death | 2002 | | Mac |
| The Agency | 2002 | TV Series | Helmut |
| Third Watch | 2000 | TV Series | Faith's Dad |
| Touched by an Angel | 2000 | TV Series | Bud Baxter |
| Above Suspicion | 2000 | | Stamos |
| Instinct | 1999 | | Dr. John Murray |
| Jesse | 1998-1999 | TV Series | John Warner, Sr. |
| Superman | 1996-1999 | TV Series | Perry White |
| Species II | 1998 | | Colonel Carter Burgess Jr |
| Batman & Mr. Freeze: SubZero | 1998 | Video | Dr. Gregory Belson (voice) |
| The New Batman Adventures | 1997 | TV Series | Arnold Wesker - The Ventriloquist Scarface |
| The Batman Superman Movie: World's Finest | 1997 | TV Movie | Perry White (voice) |
| Trading Favors | 1997 | | Wallace Muller |
| That Darn Cat | 1997 | | Boetticher |
| Road Rovers | 1996 | TV Series | Gustav Hovac |
| Superman: The Last Son of Krypton | 1996 | TV Movie | Perry White (voice) |
| The Limbic Region | 1996 | TV Movie | Lloyd |
| Batman: The Animated Series | 1992-1995 | TV Series | Scarface Arnold Wesker The Ventriloquist ... |
| Dangerous Minds | 1995 | | Hal Griffith |
| Crimson Tide | 1995 | | Chief of the Boat |
| The Enemy Within | 1994 | TV Movie | Jake |
| Matlock | 1994 | TV Series | A.D.A. Michael Brennen |
| The Babymaker: The Dr. Cecil Jacobson Story | 1994 | TV Movie | Dr. Cecil Jacobson |
| Animaniacs | 1993 | TV Series | Ivan Bloski |
| The Untouchables | 1993 | TV Series | Warden Wyandotte |
| Basic Instinct | 1992 | | Gus |
| What She Doesn't Know | 1992 | TV Movie | Jack Kilcoin |
| The Butcher's Wife | 1991 | | Leo Lemke |
| Law & Order | 1990-1991 | TV Series | Max Greevey |
| White Hunter Black Heart | 1990 | | Paul Landers |
| Impulse | 1990 | | Lt. Joe Morgan |
| Terror on Highway 91 | 1990 | TV Movie | Sheriff Jessie Barton |
| Cross of Fire | 1989 | TV Movie | Boyd Gurley |
| The Ryan White Story | 1989 | TV Movie | Dr. Kleiman |
| Honor Bound | 1988 | | Wocjinski |
| Something Is Out There | 1988 | TV Mini-Series | Frank Dileo |
| CBS Schoolbreak Special | 1984-1988 | TV Series | Arthur Jennings / Mr. Elder |
| The Beast of War | 1988 | | Daskal |
| Glory Years | 1987 | TV Movie | John Moss |
| Crime Story | 1987 | TV Series | Ivan Ivanovitch Patchenko |
| No Man's Land | 1987 | | Uncle Mike (uncredited) |
| No Way Out | 1987 | | Sam Hesselman |
| No Mercy | 1986 | | Captain Stemkowski |
| One Police Plaza | 1986 | TV Movie | Detective Gustav Stamm |
| The Twilight Zone | 1986 | TV Series | Col. Ulyanov (segment "Red Snow") |
| Walt Disney's Wonderful World of Color | 1986 | TV Series | |
| The Execution of Raymond Graham | 1985 | TV Movie | Prison Chaplain |
| Brotherly Love | 1985 | TV Movie | Lieutenant Conde |
| The Rape of Richard Beck | 1985 | TV Movie | Blastig |
| Best Defense | 1984 | | Steve Loparino |
| When She Says No | 1984 | TV Movie | Paul Fellows |
| The Lost Honor of Kathryn Beck | 1984 | TV Movie | Lt. DeCarlo |
| Streamers | 1983 | | Cokes |
| Faerie Tale Theatre | 1983 | TV Series | The Woodsman |
| The Face of Rage | 1983 | TV Movie | Nick |
| Open All Night | 1981-1982 | TV Series | Gordon Feester |
| A Long Way Home | 1981 | TV Movie | Floyd Booth |
| Skokie | 1981 | TV Movie | Frank Collin |
| Honky Tonk Freeway | 1981 | | Eugene |
| Young Maverick | 1979-1980 | TV Series | |
| Salem's Lot | 1979 | TV Movie | Cully Sawyer |
| The Deer Hunter | 1978 | | John |
| The Defection of Simas Kudirka | 1978 | TV Movie | Gruzauskas |
| The Streets of San Francisco | 1977 | TV Series | Paul Weber |
| Bert D'Angelo/Superstar | 1976 | TV Series | Mike Zuber |
| Grady | 1975 | TV Series | George Kosinski |
| Joe Forrester | 1975 | TV Series | |
| The Waltons | 1975 | TV Series | A.J.Covington |
| Starsky and Hutch | 1975 | TV Series | Crandell |
| Movin' On | 1975 | TV Series | Charlie Banner |
| The Happy Hooker | 1975 | | Chet |
| Fischia il sesso | 1974 | | Dean |
| Great Performances | 1974 | TV Series | Gentleman |
| Kung Fu | 1974 | TV Series | Mr. Evans / 1st John |
| Massage Parlor Murders! | 1973 | | Mr. Creepy |
| Danni Lowinski | 2011 | TV Movie | Augustus 'Gus' Lowinski |
| The Chosen One | 2010 | | Norman |
| Batman: Arkham Asylum | 2009 | Video Game | Blackgate Thug #1 (voice, uncredited) |
| The Beast | 2009 | TV Series | Lieutenant Platko |
| October Road | 2008 | TV Series | Gloy Daniels |
| Grey's Anatomy | 2005-2007 | TV Series | Harold O'Malley |
| The Grim Adventures of Billy & Mandy | 2006 | TV Series | Coach |
| Superman: Brainiac Attacks | 2006 | Video | Perry White (voice) |
| Adam and Eve | 2005 | | Eve's Dad |
| Stargate SG-1 | 2005 | TV Series | Jim / Anubis |
Assistant Director
| Title | Year | Status | Character |
| --- | --- | --- | --- |
| Massage Parlor Murders! | 1973 | assistant director | |
Soundtrack
| Title | Year | Status | Character |
| --- | --- | --- | --- |
| The Deer Hunter | 1978 | performer: "Nocturne No. 6 in G Minor, Opus 15-3" 1833, "Down From Heaven" - uncredited | |
Thanks
| Title | Year | Status | Character |
| --- | --- | --- | --- |
| Law & Order: The First 3 Years | 2004 | Video documentary short special thanks | |
Self
| Title | Year | Status | Character |
| --- | --- | --- | --- |
| Law & Order: The First 3 Years | 2004 | Video documentary short | Himself |
| 'Law & Order': The Beginning | 2002 | Video documentary short | Himself |
| The 25th Annual People's Choice Awards | 1999 | TV Special | Himself |
| The Making of 'Crimson Tide' | 1995 | Video documentary short | Himself |
| All Access: On the Set of 'Crimson Tide' | 1995 | Video short | Himself |
Archive Footage
| Title | Year | Status | Character |
| --- | --- | --- | --- |
| Edición Especial Coleccionista | 2012 | TV Series | Gus |
| Headline News | 2006 | TV Series | Gus Moran |
| Cleaning Up 'Basic Instinct' | 2001 | Video short | |
Awards
Won Awards
| Year | Award | Ceremony | Nomination | Movie |
| --- | --- | --- | --- | --- |
| 2007 | Gold Derby TV Award | Gold Derby Awards | Drama Guest Actor | Grey's Anatomy (2005) |
| 1983 | Best Actor | Venice Film Festival | | Streamers (1983) |
Source:
IMDb
,
Wikipedia