• Merv Griffin was an American TV show host and media mogul best known for his talk-show "The Merv Griffin Show".
• He was interested in singing and playing the piano, and sang with his church choir and became the church's organist during his teenage years.
• He created two famous game-shows "Jeopardy!" and "Wheel of Fortune".
• He owned Beverly Hilton Hotel, Resorts International and Palm Springs' Merv Griffin Givenchy Resort & Spa.
• At the time of his death, his net worth was estimated at more than $1 billion.

Known for movies
Short Info
| | |
| --- | --- |
| Net Worth | $1 billion |
| Date Of Birth | July 6, 1925 |
| Died | August 12, 2007, Los Angeles, California, United States |
| Spouse | Julann Wright |
| Fact | Although the divorced father of one son, Tony, and a constant companion to actress Eva Gabor over the years, it was generally known in the Hollywood circle that Griffin was gay. In 1991, the 65-year-old Griffin faced a multimillion-dollar palimony suit from former Griffin bodyguard and horse trainer Brent Plott, a 37-year-old who maintained he was Griffin's business consultant and lover and was entitled to a portion of Griffin's amassed fortune. That same year, Deney Terrio, host of "Dance Fever", filed an $11.3 sexual harassment lawsuit against Griffin. Both cases were thrown out. |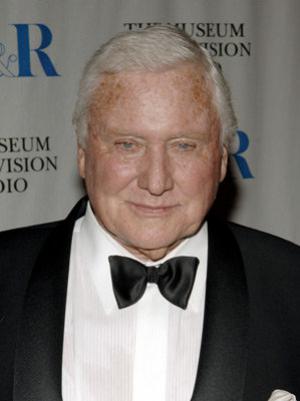 Who was Merv Griffin?
Mervyn Edward 'Merv' Griffin Jr. was born in San Mateo, California USA, on 6 July 1925 – his zodiac sign was Cancer, and he held American nationality. He was a TV show host and media mogul, while he's perhaps still remembered best for his talk-show "The Merv Griffin Show", which aired on NBC.
Early life and education
Merv was raised in San Mateo alongside his older sister Barbara, born in 1923, by their mother Rita Elizabeth Griffin (nee Robinson) who was a housewife, and their father Mervyn Edward Griffin, Sr. who was a stockbroker.
Merv was still very young when he began playing the game "Hangman", mostly with his sister during their family road trips; it was this game that later inspired Merv to create game-shows which remain popular to this day, such as "Wheel of Fortune" and "Jeopardy!" He was also into singing while growing up, and sang with his church choir, then became his church's organist in his teenage years.
Merv studied at San Mateo High School, and was interested in various activities during his four years there, including playing the piano and practicing dancing. Upon matriculating in 1942, he enrolled at San Mateo Junior College, and then progressed to the University of San Francisco, from which he graduated with a Bachelor's degree in 1946.
Merv wasn't drafted during World War II because of a heart murmur which the doctor had detected, and he was already over 26 during the Korean War, and thus wasn't drafted again.
Career as a singer
He launched his career as a singer aged 19, when he sang on the radio show "San Francisco Sketchbook"; at that time, Merv was slightly overweight and thus disappointed his fans when they got to see him in person. This hurt his feelings, and Merv then lost 80lbs (35kgs) in four months.
He then spent four years touring with Freddy Martin and his orchestra, and having saved up enough money, Merv recorded his first album "Songs by Merv Griffin" under Panda Records; it was also the first album in the USA to be recorded on magnetic tape.
His 1950 song "I've Got a Lovely Bunch of Coconuts" became a hit, and topped the Hit Parade Chart; it was around this time that Merv fell in love with performing at nightclubs, and also met the late American actress and singer Doris Day.
The following years saw Merv appear in a couple of movies, including the 1953 biographical drama "So This Is Love", in which he kissed the American actress Kathryn Grayson, the first kiss in a movie since 1934 (introduction of the 'Production Code').
It was in 1954 that he became the host of the show "Summer Holiday", which aired on CBS, and then steadily transitioned from being a musician to being a game-show and talk-show host.
Hosting game-shows and talk-shows
Between 1958 and 1962, Merv hosted the game-shows "Play Your Hunch" and "Keep Talking", while he was also a fill-in host for "To Tell the Truth" and "The Price Is Right". In 1963, Merv produced and hosted the game-show "Word for Word", and he then went on to produce "Let's Play Post Office" in 1965, and "Reach for the Stars" in 1967, both for NBC, and "One in a Million" in 1967 for ABC.
He launched his own talk-show "The Merv Griffin Show" in 1965, hosting it alongside the British actor Arthur Veary Treacher. Arthur left in 1970 and Merv continued to run the show on his own, going on for 21 years, and winning 11 Emmys.
What made the show popular was the fact that Merv didn't shy away from discussing controversial topics, such as the war in Vietnam. He had many guests who were considered controversial, such as the British philosopher Bertrand Russell, the American novelist and journalist Norman Mailer, and the American comedian and actor Richard Pryor.
When his show ended in 1986, Merv retired.
His two famous game-shows
Merv produced the TV game-show "Jeopardy!" in 1964, and later revealed that it was his wife Julann's idea, and that when he went on to pitch it to NBC, they bought it without even wanting a pilot episode. It began airing on 30 March 1964 under the title "What's the Question?", and was cancelled 11 years later; the syndicated version of "Jeopardy!" began airing on 10 September 1984, and remains on air today.
On 6 January 1975, Merv's new game-show premiered, entitled "Wheel of Fortune", and ran through 1989; a syndicated version of the show was created not long after that, and has been airing to this day.
Business ventures
Merv became a businessman in 1987, after having purchased the Beverly Hilton Hotel, and the following year saw him buy Resorts International, including two of their hotels.
He was also the owner of the Palm Springs' Merv Griffin Givenchy Resort & Spa, a ranch in La Quinta, California, and a boutique hotel in County Galway, Ireland.
Love life and wife
Between 1958 and 1976, Merv was married to Julann Wright, and she gave birth to their son Tony Griffin in 1959; following their divorce, they remained close friends.
There are rumors circulating the internet, claiming that Merv was gay. He was sued by the American choreographer Deney Terrio in 1991, who claimed that Merv had sexually harassed him when he worked on his show "Dance Fever", but the lawsuit was eventually dismissed. In the same year, Merv was sued by his former bodyguard Brent Plott, who claimed that the two were in a romantic relationship for years.
When asked about his love life, Merv used to say 'I tell everybody that I'm a quarter-sexual. I will do anything with anybody for a quarter'.
Merv didn't speak of any other men or women whom he had perhaps been with, and was single at the time of his death – he was married once, and had one son and two grandchildren.
Hobbies and interesting facts
Merv won numerous awards during his career, and in 1974 received his own star on the Hollywood Walk of Fame.
He was presented with an honorary Doctor of Laws degree by the National University of Ireland, Galway in 2005.
Merv liked to travel, and his career took him all around the world; he visited many countries on every continent with the exception of the Antarctic, and his dream travel destination was Ireland.
He was friends with numerous famous actors and actress, but was closest with Arnold Schwarzenegger; Merv enjoyed watching Arnold's movies, especially "Kindergarten Cop" and "The Terminator".
Although he was one of the richest entertainers in the world, Merv preferred to keep this a secret, claiming that 'if people know you're rich, they don't talk with you when you walk down the street.'
Death
Merv was treated for prostate cancer in 1996, but the cancer later returned, and led to his death on 12 August 2007. Numerous celebrities attended his funeral, including Arnold Schwarzenegger, the American comedian and talk-show host Ellen DeGeneres, and the American actor and comedian Dick Van Patten.
Age, height and net worth
Merv died aged 82, so would've been 96 today. He had short grey hair and brown eyes, his height was 5ft 9ins (1.75m) and he weighed around 175lbs (80kgs).
At the time of Merv's death, his net worth was estimated at more than $1 billion.
General Info
| | |
| --- | --- |
| Full Name | Merv Griffin |
| Net Worth | $1 billion |
| Date Of Birth | July 6, 1925 |
| Died | August 12, 2007, Los Angeles, California, United States |
| Height | 1.75 m |
| Profession | Screenwriter, Film Score Composer, Television producer, Talk show host, Actor, Business magnate, Media proprietor, Singer, Entertainer |
| Education | San Mateo High School |
| Nationality | American |
Family
| | |
| --- | --- |
| Spouse | Julann Wright |
| Children | Tony Griffin |
| Parents | Rita Elizabeth Griffin, Mervyn Edward Griffin, Sr. |
Accomplishments
| | |
| --- | --- |
| Awards | Daytime Emmy Award for Outstanding Game/Audience Participation Show, Academy of Country Music Awards Jim Reeves International Award, Daytime Emmy Award for Outstanding Achievement in Writing for a Talk, Service or Variety Program, Daytime Emmy Award for Outstanding host/hostess in a variety series |
| Nominations | Golden Globe Award for Best Actor – Television Series Musical or Comedy, Daytime Emmy Award for Outstanding Talk Show Host, Primetime Emmy Award for Individual Performance - Variety Or Music Program, Daytime Emmy Award for Outstanding Host or Hostess in a Talk, Service or Variety Series |
| Movies | Alice in Wonderland, Slapstick of Another Kind, The Boy from Oklahoma, Phantom of the Rue Morgue, So This Is Love |
| TV Shows | The Merv Griffin Show, Jeopardy!, Wheel of Fortune, Play Your Hunch, Dance Fever, Merv Griffin's Crosswords, Rock & Roll Jeopardy!, Monopoly, Wheel 2000, Click, Pole Chudes, La Roue de la fortune, Kolo Fortuny, La ruleta de la fortuna, Lykkehjulet, Keep Talking, Reach for the Stars, Memory Game, Ruc... |
Social profile links
Quotes
| # | Quote |
| --- | --- |
| 1 | I worked for Mark Goodson early in my career and he was like the Godfather of game shows. I asked him if it was a business worth getting into. He responded, "If you have an original idea, there's no format in television that costs less and brings in more profit." After I had some success, he reached out and congratulated me on "Wheel" and "Jeopardy!", saying that I took his advice to heart. He was a visionary and a gentleman, a rare find in showbiz. |
| 2 | I tell everybody that I'm a quatre-sexual: I will do anything with anybody for a quarter. - when asked if he was gay |
| 3 | You know I really never get down. My philosophy is that you have to constantly be turning the page, which prevents me from getting caught up in any negativity. It's all about change for me. I just keep moving and enjoy the ride. |
| 4 | If the host is sitting there thinking about his next joke, he isn't listening. |
| 5 | (on what he would like his headstone to read) Stay tuned. |
| 6 | I've been in the public eye for more than fifty years as Merv Griffin, not as somebody else's creation. I've never pretended to be someone I wasn't. If there was anything really important that people didn't know about me by now, then I would have to be world's greatest actor. Forget Brando, forget Hoffman, forget DeNiro... I would have to be the best. |
| 7 | I worked for Mark Goodson early in my career and he was like the Godfather of game shows. I asked him if it was a business worth getting into. He responded, "If you have an original idea, there's no format in television that costs less and brings in more profit." After I had some success, he reached out and congratulated me on "Wheel" and "Jeopardy!", saying that I took his advice to heart. He was a visionary and a gentleman, a rare find in showbiz. |
| 8 | I tell everybody that I'm a quatre-sexual: I will do anything with anybody for a quarter. - when asked if he was gay |
| 9 | You know I really never get down. My philosophy is that you have to constantly be turning the page, which prevents me from getting caught up in any negativity. It's all about change for me. I just keep moving and enjoy the ride. |
| 10 | If the host is sitting there thinking about his next joke, he isn't listening. |
| 11 | (on what he would like his headstone to read) Stay tuned. |
| 12 | I've been in the public eye for more than fifty years as Merv Griffin, not as somebody else's creation. I've never pretended to be someone I wasn't. If there was anything really important that people didn't know about me by now, then I would have to be world's greatest actor. Forget Brando, forget Hoffman, forget DeNiro... I would have to be the best. |
Facts
| # | Fact |
| --- | --- |
| 1 | Did the actual voice recording for "Once Upon A Time" (Prince Phillip) in Walt Disney's "Sleeping Beauty" (1959). |
| 2 | He was awarded a Golden Palm Star on the Palm Springs Walk of Stars on October 15, 1998. |
| 3 | Mentor of Pat Sajak and Ryan Seacrest. |
| 4 | He was awarded a Star on the Hollywood Walk of Fame at 1541 Vine Street in Hollywood Boulevard on October 15, 1974. |
| 5 | Actor Robert Loggia, with whom he appeared in the I Married a Princess (2005) episode "Kids Take Over", was his closest friend. |
| 6 | His Griffin Group included film and television production; a luxury home development in La Quinta; closed-circuit coverage of horse racing across the county; a real estate brokerage specializing in high-end residential properties; and a stable of thoroughbreds that included Stevie Wonderboy, the 2005 Breeders' Cup Juvenile winner at Belmont Park. |
| 7 | Over the years, he bought and sold more than 20 hotels, gaming resorts and riverboats, including Resorts International in Atlantic City and the Bahamas. |
| 8 | Especially close to Nancy Reagan and was a constant companion during President Reagan's battle with Alzheimer's disease. He was also there for her after the President's death. |
| 9 | Arnold Schwarzenegger made his talk show debut in the United States on Merv's talk show in 1974. |
| 10 | Received a lifetime achievement award from the Academy of Television Arts and Sciences in 2005, and a similar award from the Museum of Television and Radio in New York. |
| 11 | Not content with catering merely to the celebrity publicity mongers on his self-titled talk show, his unusually wide spectrum of guests ranged from superstars (Bette Davis, Joan Crawford, Orson Welles Woody Allen and Richard Pryor) to the more controversial (Abbie Hoffman, Truman Capote, Gypsy Rose Lee and transsexual Christine Jorgensen), to the political mighty (Richard Nixon, Robert F. Kennedy and Martin Luther King). |
| 12 | KFRC billed him as "America's New Romantic Singing Star" in his early radio years. But at 5' 9" and 240 pounds, his romantic image on radio certainly did not fit his true look. After a female fan from Fresno dropped by the station to meet him in person and burst into laughter upon seeing him, Griffin went on a crash diet and dropped 80 pounds. Griffin would fight weight problems all his life. He admitted that he was a life-time smoker, ate whatever he wanted and hated to exercise. |
| 13 | Declared 4F after failing several military physical exams during which a slight heart murmur was detected, the then-overweight Griffin took a job in the supply depot of a San Francisco shipyard to contribute to the World War II effort. |
| 14 | Born in San Mateo, California, he took to the piano at age 4 and received lessons at a music conservatory in nearby San Francisco. In 1945, he heard about an audition for a piano player at KFRC radio but found out that they needed a singer instead and applied for that job. He got it and within a few days was hosting his own 15-minute radio show five days a week. |
| 15 | Although the divorced father of one son, Tony, and a constant companion to actress Eva Gabor over the years, it was generally known in the Hollywood circle that Griffin was gay. In 1991, the 65-year-old Griffin faced a multimillion-dollar palimony suit from former Griffin bodyguard and horse trainer Brent Plott, a 37-year-old who maintained he was Griffin's business consultant and lover and was entitled to a portion of Griffin's amassed fortune. That same year, Deney Terrio, host of "Dance Fever", filed an $11.3 sexual harassment lawsuit against Griffin. Both cases were thrown out. |
| 16 | Best friends with Robert Loggia. |
| 17 | Father of Tony Griffin. |
| 18 | His colt Stevie Wonderboy, named after Stevie Wonder, won the 2005 Breeders' Cup Juvenile. |
| 19 | In the Seinfeld (1989) episode Seinfeld: The Merv Griffin Show (1997), Kramer rescues Griffin's discarded set from a dumpster, and stages his own talk show in his apartment. |
| 20 | Longtime friends with Ronald Reagan, Nancy Reagan, Jane Wyman, Eva Gabor and Zsa Zsa Gabor. |
| 21 | (July 18, 2007) Hospitalized for a recurrence of his prostate cancer. |
| 22 | Wrote the 30-second piece of music heard during the "Final Jeopardy" category. |
| 23 | Hit #101 on the Billboard 'Bubbling Under the Hot 100' Chart in 1961 with "Banned in Boston" (Carlton 540). |
| 24 | Member of Tau Kappa Epsilon Fraternity. |
| 25 | Did the actual voice recording for "Once Upon A Time" (Prince Phillip) in Walt Disney's "Sleeping Beauty" (1959). |
| 26 | He was awarded a Golden Palm Star on the Palm Springs Walk of Stars on October 15, 1998. |
| 27 | Mentor of Pat Sajak and Ryan Seacrest. |
| 28 | He was awarded a Star on the Hollywood Walk of Fame at 1541 Vine Street in Hollywood Boulevard on October 15, 1974. |
| 29 | Actor Robert Loggia, with whom he appeared in the I Married a Princess (2005) episode "Kids Take Over", was his closest friend. |
| 30 | His Griffin Group included film and television production; a luxury home development in La Quinta; closed-circuit coverage of horse racing across the county; a real estate brokerage specializing in high-end residential properties; and a stable of thoroughbreds that included Stevie Wonderboy, the 2005 Breeders' Cup Juvenile winner at Belmont Park. |
| 31 | Over the years, he bought and sold more than 20 hotels, gaming resorts and riverboats, including Resorts International in Atlantic City and the Bahamas. |
| 32 | Especially close to Nancy Reagan and was a constant companion during President Reagan's battle with Alzheimer's disease. He was also there for her after the President's death. |
| 33 | Arnold Schwarzenegger made his talk show debut in the United States on Merv's talk show in 1974. |
| 34 | Received a lifetime achievement award from the Academy of Television Arts and Sciences in 2005, and a similar award from the Museum of Television and Radio in New York. |
| 35 | Not content with catering merely to the celebrity publicity mongers on his self-titled talk show, his unusually wide spectrum of guests ranged from superstars (Bette Davis, Joan Crawford, Orson Welles Woody Allen and Richard Pryor) to the more controversial (Abbie Hoffman, Truman Capote, Gypsy Rose Lee and transsexual Christine Jorgensen), to the political mighty (Richard Nixon, Robert F. Kennedy and Martin Luther King). |
| 36 | KFRC billed him as "America's New Romantic Singing Star" in his early radio years. But at 5' 9" and 240 pounds, his romantic image on radio certainly did not fit his true look. After a female fan from Fresno dropped by the station to meet him in person and burst into laughter upon seeing him, Griffin went on a crash diet and dropped 80 pounds. Griffin would fight weight problems all his life. He admitted that he was a life-time smoker, ate whatever he wanted and hated to exercise. |
| 37 | Declared 4F after failing several military physical exams during which a slight heart murmur was detected, the then-overweight Griffin took a job in the supply depot of a San Francisco shipyard to contribute to the World War II effort. |
| 38 | Born in San Mateo, California, he took to the piano at age 4 and received lessons at a music conservatory in nearby San Francisco. In 1945, he heard about an audition for a piano player at KFRC radio but found out that they needed a singer instead and applied for that job. He got it and within a few days was hosting his own 15-minute radio show five days a week. |
| 39 | Although the divorced father of one son, Tony, and a constant companion to actress Eva Gabor over the years, it was generally known in the Hollywood circle that Griffin was gay. In 1991, the 65-year-old Griffin faced a multimillion-dollar palimony suit from former Griffin bodyguard and horse trainer Brent Plott, a 37-year-old who maintained he was Griffin's business consultant and lover and was entitled to a portion of Griffin's amassed fortune. That same year, Deney Terrio, host of "Dance Fever", filed an $11.3 sexual harassment lawsuit against Griffin. Both cases were thrown out. |
| 40 | Best friends with Robert Loggia. |
| 41 | Father of Tony Griffin. |
| 42 | His colt Stevie Wonderboy, named after Stevie Wonder, won the 2005 Breeders' Cup Juvenile. |
| 43 | In the Seinfeld (1989) episode Seinfeld: The Merv Griffin Show (1997), Kramer rescues Griffin's discarded set from a dumpster, and stages his own talk show in his apartment. |
| 44 | Longtime friends with Ronald Reagan, Nancy Reagan, Jane Wyman, Eva Gabor and Zsa Zsa Gabor. |
| 45 | (July 18, 2007) Hospitalized for a recurrence of his prostate cancer. |
| 46 | Wrote the 30-second piece of music heard during the "Final Jeopardy" category. |
| 47 | Hit #101 on the Billboard 'Bubbling Under the Hot 100' Chart in 1961 with "Banned in Boston" (Carlton 540). |
| 48 | Member of Tau Kappa Epsilon Fraternity. |
Pictures
Movies
Producer
| Title | Year | Status | Character |
| --- | --- | --- | --- |
| Crosswords | 2007 | TV Series producer | |
| Lisa Williams: Life Among the Dead | 2006 | TV Series executive producer | |
| The Merv Griffin Show: 40 of the Most Interesting People of Our Time | 2006 | Video executive producer | |
| Shade | 2003 | executive producer | |
| Dance Fever | 2003 | TV Series executive producer | |
| Gilda Radner: It's Always Something | 2002 | TV Movie executive producer | |
| Inside the Osmonds | 2001 | TV Movie executive producer | |
| Murder at the Cannes Film Festival | 2000 | TV Movie executive producer | |
| Jeopardy! | 1984-2000 | TV Series executive producer - 3,610 episodes | |
| Wheel of Fortune | 1983-2000 | TV Series executive producer - 3,310 episodes | |
| The Christmas List | 1997 | TV Movie executive producer | |
| Click | 1997/II | TV Series executive producer | |
| Merv Griffin's New Year's Eve Special | 1991 | TV Movie executive producer | |
| Wheel of Fortune | 1975-1991 | TV Series executive producer - 86 episodes | |
| Monopoly | 1990 | TV Series executive producer | |
| Cocoanut Ballroom | 1986 | TV Movie executive producer | |
| Headline Chasers | 1985 | TV Series producer - 1985 | |
| Dance Fever | 1979 | TV Series executive producer | |
| Jeopardy! | 1964 | TV Series executive producer | |
| The Merv Griffin Show | 1962 | TV Series executive producer | |
| Saturday Prom | 1960 | TV Series short producer | |
Writer
| Title | Year | Status | Character |
| --- | --- | --- | --- |
| Jeopardy! | | TV Series creator - 967 episodes, 1984 - 2016 created by - 44 episodes, 2016 | |
| Wheel of Fortune | | TV Series 1 episode, 2016 creator - 822 episodes, 2009 - 2016 | |
| Crosswords | 2007-2008 | TV Series creator - 228 episodes | |
| Jeopardy! | 1995 | Video Game based on a format by | |
| Monopoly | 1990 | TV Series creator | |
| Super Jeopardy! | 1990 | TV Series creator | |
| The Merv Griffin Show | 1972-1985 | TV Series 7 episodes | |
| Dance Fever | 1979 | TV Series creator | |
| The All New Jeopardy! | 1978 | TV Series creator | |
| Wheel of Fortune | 1975 | TV Series creator | |
| Merv Griffin and the Christmas Kids | 1973 | TV Movie | |
| Jeopardy! | 1964 | TV Series creator | |
Music Department
| Title | Year | Status | Character |
| --- | --- | --- | --- |
| Crosswords | 2007-2008 | TV Series composer - 229 episodes | |
| The United States Steel Hour | 1955 | TV Series vocalist - 1 episode | |
Soundtrack
| Title | Year | Status | Character |
| --- | --- | --- | --- |
| Yu-Gi-Oh! The Abridged Series | | TV Series performer - 1 episode, 2006 writer - 1 episode, 2006 | |
| Inspector Gadget | 1999 | writer: "Jeopardy Theme" | |
| Saturday Night Live: The Best of Steve Martin | 1998 | TV Special music: "Think!" - uncredited | |
| Rock & Roll Jeopardy! | 1998 | TV Series writer: "Think!" | |
| Sour Grapes | 1998 | writer: "Theme from Wheel of Fortune" | |
| JEP! | 1998 | TV Series writer: "Think!" | |
| The Simpsons | 1997 | TV Series 1 episode | |
| 3rd Rock from the Sun | 1997 | TV Series writer - 1 episode | |
| The Christmas List | 1997 | TV Movie writer: "A Time For Tony" | |
| Spy Hard | 1996 | writer: "Jeopardy Theme" | |
| The Nanny | 1995 | TV Series writer - 1 episode | |
| Jury Duty | 1995 | writer: "Jeopardy! Theme" | |
| The Santa Clause | 1994 | writer: "Jeopardy Theme" | |
| The Beverly Hillbillies | 1993 | writer: "JEOPARDY THEME" | |
| Boris and Natasha | 1992 | TV Movie as M. Griffin, "Think Music" | |
| White Men Can't Jump | 1992 | writer: "JEOPARDY! THEME" | |
| The Golden Girls | 1992 | TV Series writer - 1 episode | |
| Mystery Science Theater 3000 | 1989 | TV Series writer - 1 episode | |
| Moonlighting | 1987 | TV Series writer - 1 episode | |
| Jeopardy! | 1984 | TV Series "Rock & Roll Jeopardy! Theme" 2001- / writer: "Jeopardy! Theme" 1984-1992, "Think!" 1984-1997, "Jeopardy! Theme" Bongo Remix 1992-1997, "Jeopardy! Theme" 1997 Edition 1997-2001, "Think!" 1997 Edition Version 1 1997, "Think!" 1997 Edition Version 2 1997-2008, "Jeopardy! Theme" 2001 Remix 2001-2008, "Jeopardy! Theme" 2008 Edition 2008- , "Think!" 2008 Edition Version 1 2008, "Think!" 2008 Edition Version 2 2008- | |
| Wheel of Fortune | 1983 | TV Series writer: "Changing Keys" 1983-1984, "Changing Keys" stereo edition 1984-1989, "Nightwalk" 1983-1994, "Struttin' on Sunset" 1983-1996, "Frisco Disco" 1983 -1989, "A Time for Tony" 1983-1996, "Buzzword" 1989-1996, "Changing Keys" 1989-1992, "Vacation Cue" 1989-1996, "Changing Keys" 1992-1994, "Changing Keys" 1994-1997, "Changing Keys" 1997-2000 | |
| Dance Fever | 1979 | TV Series performer: "Living By The Beat" | |
| The All New Jeopardy! | 1978 | TV Series writer: "January, February, March", "Frisco Disco" | |
| The Sonny and Cher Comedy Hour | 1972 | TV Series performer - 1 episode | |
| The Jerry Lewis Show | 1968 | TV Series performer - 1 episode | |
| The Robert Q. Lewis Show | 1956 | TV Series performer - 2 episodes | |
| The United States Steel Hour | 1955 | TV Series performer - 1 episode | |
| So This Is Love | 1953 | performer: "I Kiss Your Hand, Madame" - uncredited | |
| Cattle Town | 1952 | performer: "The Band Played On" - uncredited | |
| Britain's Got More Talent | 2015-2016 | TV Series writer - 5 episodes | |
| The Tonight Show Starring Jimmy Fallon | 2015 | TV Series writer - 3 episodes | |
| Saving Christmas | 2014 | writer: "Jeopardy Theme" | |
| The Amazing Spider-Man 2 | 2014 | writer: "Jeopardy Theme" | |
| Saturday Night Live | 2014 | TV Series writer - 1 episode | |
| The Three Stooges | 2012 | writer: "Jeopardy Theme" | |
| Pastor Mike Online | 2011 | TV Series writer - 1 episode | |
| The Big Bang Theory | 2010 | TV Series writer - 2 episodes | |
| Johnny Mercer: The Dream's on Me | 2009 | TV Movie documentary performer: "Something's Gotta Give" | |
| The Sopranos | 2007 | TV Series writer - 1 episode | |
| Music and Lyrics | 2007 | writer: "Jeopardy Theme" | |
Actor
| Title | Year | Status | Character |
| --- | --- | --- | --- |
| Murder at the Cannes Film Festival | 2000 | TV Movie | Merv Griffin |
| Hercules | 1998 | TV Series | Merv Griffin |
| Echoes of the Big Bands | 1990 | TV Movie | Host |
| Alice in Wonderland | 1985 | TV Movie | The Conductor |
| The Lonely Guy | 1984 | | Merv Griffin |
| The Funny Farm | 1983 | | The Voice of... (voice) |
| Slapstick of Another Kind | 1982 | | Anchorman |
| One-Trick Pony | 1980 | | Acappella Singer |
| Sanford and Son | 1975 | TV Series | Merv Griffin |
| The Girl with Something Extra | 1973 | TV Series | |
| The Red Skelton Hour | 1964-1970 | TV Series | Halloween Ghoulie / Silent Spot / Dapper Dan Dalton / ... |
| Hello Down There | 1969 | | Merv Griffin |
| Inside Daisy Clover | 1965 | | Radio Announcer (voice, uncredited) |
| Phantom of the Rue Morgue | 1954 | | Georges Brevert |
| The Boy from Oklahoma | 1954 | | Steve |
| Three Sailors and a Girl | 1953 | | Sailor (uncredited) |
| So This Is Love | 1953 | | Buddy Nash |
| The Beast from 20,000 Fathoms | 1953 | | Announcer & Bespectacled Man (in theatrical trailer) (voice) |
| Trouble Along the Way | 1953 | | Football Broadcaster (voice, uncredited) |
| By the Light of the Silvery Moon | 1953 | | Announcer at Pond (uncredited) |
| Stop, You're Killing Me | 1952 | | Radio Announcer (voice, uncredited) |
| Cattle Town | 1952 | | Joseph - Governor's Secretary |
Composer
| Title | Year | Status | Character |
| --- | --- | --- | --- |
| Jeopardy! 25th Aniversary | 2008 | TV Series | |
| Jeopardy! DVD Game | 2007 | Video Game original score music | |
| Jeopardy! | 1995 | Video Game score by | |
| Jeopardy! | 1964 | TV Series | |
Director
| Title | Year | Status | Character |
| --- | --- | --- | --- |
| Saturday Prom | 1960 | TV Series short | |
Thanks
| Title | Year | Status | Character |
| --- | --- | --- | --- |
| American Masters | 2007 | TV Series documentary special thanks - 1 episode | |
| Convergence | 1999 | special thanks | |
| Ratboy | 1986 | special thanks - as Merv Griffin & his Organization | |
Self
| Title | Year | Status | Character |
| --- | --- | --- | --- |
| The Merv Griffin Show 1962-1986 (Best of) | 2014 | TV Series | Himself - Host |
| TV Land Moguls | 2004-2009 | TV Mini-Series documentary | Himself - Host |
| Trying to Get Good: The Jazz Odyssey of Jack Sheldon | 2008 | Documentary | Himself |
| Pioneers of Television | 2008 | TV Mini-Series documentary | Himself |
| Entertainment Tonight | 2007 | TV Series | Himself |
| The Late Late Show with Craig Ferguson | 2006-2007 | TV Series | Himself - Guest |
| Searching for Orson | 2006 | Documentary | Himself |
| The Megan Mullally Show | 2006 | TV Series | Himself - Guest |
| Ellen: The Ellen DeGeneres Show | 2004-2006 | TV Series | Himself - Guest / Himself |
| The Tonight Show with Jay Leno | 1993-2006 | TV Series | Himself |
| The Apprentice: Martha Stewart | 2005 | TV Series | Himself |
| I Married a Princess | 2005 | TV Series | Himself |
| The Tony Danza Show | 2005 | TV Series | Himself |
| The 32nd Annual Daytime Emmy Awards | 2005 | TV Special | Himself - Recipient: Lifetime Achievement Award |
| The View | 2005 | TV Series | Himself |
| Fat Actress | 2005 | TV Series | Himself |
| When Disco Ruled the World | 2005 | TV Movie | Himself |
| ALF's Hit Talk Show | 2004 | TV Series | Himself |
| The Late Late Show with Craig Kilborn | 2004 | TV Series | Himself - Guest |
| Late Show with David Letterman | 2002-2004 | TV Series | Himself - Guest |
| Biography | 2003 | TV Series documentary | Himself |
| The Wayne Brady Show | 2003 | TV Series | Himself |
| The Daily Show | 2003 | TV Series | Himself - Guest |
| Inside TV Land: 40 Greatest Theme Songs | 2002 | TV Movie documentary | Himself |
| Inside TV Land: Taboo TV | 2002 | TV Movie documentary | Himself |
| TVography: Suzanne Somers - Mastering Success | 2002 | TV Movie documentary | Himself |
| The Rosie O'Donnell Show | 1997-2002 | TV Series | Himself |
| E! True Hollywood Story | 1998-2001 | TV Series documentary | Himself |
| AFI Life Achievement Award: A Tribute to Robert Wise | 1998 | TV Special documentary | Himself |
| The 24th Annual People's Choice Awards | 1998 | TV Special | Himself |
| Wheel of Fortune | 1991-1998 | TV Series | Himself |
| Intimate Portrait | 1998 | TV Series documentary | Himself |
| Off the Menu: The Last Days of Chasen's | 1997 | Documentary | Himself (uncredited) |
| Golden Anniversary | 1995 | TV Movie documentary | Himself |
| Hope & Gloria | 1995 | TV Series | Himself |
| The 22nd Annual Daytime Emmy Awards | 1995 | TV Special | Himself - Winner: Outstanding Game / Audience Participation Show |
| The Celebrity Guide to Entertaining | 1993 | Video documentary | Himself |
| AFI Life Achievement Award: A Tribute to Sidney Poitier | 1992 | TV Special | Himself (uncredited) |
| The 9th Annual American Cinema Awards | 1992 | TV Special | Himself |
| The Golden Girls | 1992 | TV Series | Himself |
| The Tonight Show Starring Johnny Carson | 1987-1991 | TV Series | Himself / Himself - Guest |
| Sinatra 75: The Best Is Yet to Come | 1990 | TV Special documentary | Himself |
| The 61st Annual Academy Awards | 1989 | TV Special | Himself - Performer |
| Newhart | 1989 | TV Series | Himself |
| Wheel of Fortune | 1989 | TV Series | Himself |
| The 6th Annual American Cinema Awards | 1989 | TV Special | Himself |
| A Conversation with Dinah | 1989 | TV Series | Himself (1991) |
| The Princess Grace Foundation Special Gala Tribute to Cary Grant | 1988 | TV Movie | Himself |
| Circus of the Stars #12 | 1987 | TV Special documentary | Himself - Ringmaster |
| The American Jewish Commitee Annual Honors Present a Salute to Merv Adelson | 1987 | TV Movie | Himself |
| The 1987 Annual Salute to Hollywood Benefit | 1987 | TV Movie | Himself |
| Don Rickles: Rickles on the Loose | 1986 | TV Movie | Himself |
| Circus of the Stars #11 | 1986 | TV Special documentary | Himself - Ringmaster |
| All-Star Party for Clint Eastwood | 1986 | TV Special | Himself |
| The Merv Griffin Show | 1962-1986 | TV Series | Himself - Host |
| Cocoanut Ballroom | 1986 | TV Movie | Himself - Host |
| All-Star Party for 'Dutch' Reagan | 1985 | TV Special | Himself |
| Circus of the Stars #10 | 1985 | TV Special documentary | Himself - Ringmaster |
| Circus of the Stars #9 | 1984 | TV Special documentary | Himself - Ringmaster |
| The Man with Two Brains | 1983 | | Himself - The Elevator Killer |
| Saturday Night Live | 1982 | TV Series | Himself |
| Late Night with David Letterman | 1982 | TV Series | Himself - Guest |
| The Regis Philbin Show | 1982 | TV Series | Himself |
| Rich and Famous | 1981 | | Himself (uncredited) |
| The Alan Thicke Show | 1981 | TV Series | Himself - Guest |
| Hour Magazine | 1980 | TV Series | Himself |
| Today | 1980 | TV Series | Himself |
| The Seduction of Joe Tynan | 1979 | | Himself |
| Presenting Susan Anton | 1979 | TV Series | Himself |
| Billy | 1979 | TV Series | Himself |
| Cinderella at the Palace | 1978 | TV Special | Himself |
| Good Morning America | 1977 | TV Series | Himself - Guest |
| The 4th Annual American Music Awards | 1977 | TV Special | Himself |
| Two-Minute Warning | 1976 | | Himself - National Anthem Singer |
| Mary Hartman, Mary Hartman | 1976 | TV Series | Himself |
| Sammy and Company | 1975 | TV Series | Himself |
| Dinah! | 1974 | TV Series | Himself - Guest |
| The Sonny and Cher Comedy Hour | 1971-1974 | TV Series | Himself / Various Characters |
| Merv Griffin and the Christmas Kids | 1973 | TV Movie | Himself |
| The Bob Hope Show | 1973 | TV Series | Himself |
| The Mike Douglas Show | 1972 | TV Series | |
| Dinah's Place | 1972 | TV Series | Himself - Guest |
| The Hollywood Squares | 1972 | TV Series | Himself - Panelist |
| The Pet Set | 1971 | TV Series documentary | Himself |
| This Is Your Life | 1971 | TV Series | Himself |
| The Tim Conway Comedy Hour | 1970 | TV Series | Himself |
| Della | 1969-1970 | TV Series | Himself - Guest |
| The Carol Burnett Show | 1969 | TV Series | Himself - Guest |
| The 21st Annual Primetime Emmy Awards | 1969 | TV Special | Himself - Host |
| The Red Skelton Hour | 1969 | TV Series | Himself - Interviewer |
| The Jonathan Winters Show | 1968 | TV Series | Himself - Guest |
| The Jerry Lewis Show | 1968 | TV Series | Himself |
| Will the Real Norman Mailer Please Stand Up? | 1968 | Documentary | Himself |
| Hippodrome | 1966 | TV Series | Himself - Host |
| Word for Word | 1963-1964 | TV Series | Himself - Host |
| Talent Scouts | 1963 | TV Series | Himself - Host |
| What's My Line? | 1962-1963 | TV Series | Himself - Panelist |
| I've Got a Secret | 1961-1963 | TV Series | Himself - Panelist / Himself - Guest |
| To Tell the Truth | 1958-1963 | TV Series | Himself - Panelist / Himself - Guest Host |
| The Jack Paar Tonight Show | 1959-1962 | TV Series | Himself - Guest Host / Himself |
| The Tonight Show | 1962 | TV Series | Himself - Guest Host / Himself - Host |
| Play Your Hunch | 1958-1962 | TV Series | Himself - Host |
| Look Up and Live | 1956-1962 | TV Series | Himself - Host |
| Password All-Stars | 1962 | TV Series | Himself - Celebrity Contestant |
| Here's Hollywood | 1961 | TV Series | Himself |
| The DuPont Show of the Week | 1961 | TV Series | Himself |
| Saturday Prom | 1960 | TV Series short | Himself(1960) - - Weekly host |
| Keep Talking | 1959-1960 | TV Series | Himself - Host |
| Masquerade Party | 1960 | TV Series | Himself |
| The Arthur Murray Party | 1959 | TV Series | Himself |
| The Price Is Right | 1959 | TV Series | Himself - Guest Host |
| This Is Show Business | 1956 | TV Series | Himself |
| The Robert Q. Lewis Show | 1956 | TV Series | Himself |
| Summer Holiday | 1954 | TV Series | Himself / Co-Host |
| The Morning Show | 1954 | TV Series | Himself / Regular performer |
| The Jackie Gleason Show | 1953 | TV Series | Himself - Guest Vocalist |
| Cavalcade of Stars | 1952 | TV Series | Himself - Guest Vocalist |
| Songs for Sale | 1952 | TV Series | Himself |
| The Freddy Martin Show | 1951 | TV Series | Himself |
Archive Footage
| Title | Year | Status | Character |
| --- | --- | --- | --- |
| The Eighties | 2016 | TV Mini-Series documentary | Himself / Himself - The Merv Griffin Show |
| Entities: The Unveiling | 2016 | Video documentary | Himself |
| Now More Than Ever: The History of Chicago | 2016 | Documentary | Himself |
| The Seventies | 2015 | TV Series documentary | Himself |
| The Sixties | 2014 | TV Mini-Series documentary | Himself - Host / Himself / Himself - Talk Show Host |
| John Denver: Country Boy | 2013 | TV Movie documentary | Himself |
| Richard Pryor: Omit the Logic | 2013 | Documentary | Himself |
| Betty White's 2nd Annual 90th Birthday | 2013 | TV Movie | Himself |
| American Masters | 2012 | TV Series documentary | Himself |
| Diana Vreeland: The Eye Has to Travel | 2011 | Documentary | Himself |
| Corman's World: Exploits of a Hollywood Rebel | 2011 | Documentary | Himself (uncredited) |
| Sing Your Song | 2011 | Documentary | Himself |
| Johnny Mercer: The Dream's on Me | 2009 | TV Movie documentary | Himself |
| E! True Hollywood Story | 1997-2008 | TV Series documentary | Himself |
| The 59th Primetime Emmy Awards | 2007 | TV Special | Himself - In Memoriam |
| Entertainment Tonight | 2007 | TV Series | Himself |
| The Insider | 2007 | TV Series | Himself |
| The Last Mogul | 2005 | TV Special documentary | Himself |
| Whitney Houston: The Greatest Hits | 2000 | Video documentary | Himself |
| Biography | 2000 | TV Series documentary | Himself |
| Thunderbolt and Lightfoot | 1974 | | Himself (uncredited) |
| The Ed Sullivan Show | 1970 | TV Series | Himself - Singer |
Awards
Won Awards
| Year | Award | Ceremony | Nomination | Movie |
| --- | --- | --- | --- | --- |
| 2005 | Lifetime Achievement Award | Daytime Emmy Awards | | |
| 2003 | President's Award | BMI Film & TV Awards | | |
| 1999 | OFTA TV Hall of Fame | Online Film & Television Association | Behind the Scenes | |
| 1998 | Daytime Emmy | Daytime Emmy Awards | Outstanding Audience Participation Show/Game Show | Jeopardy! (1984) |
| 1998 | Special Award of Merit | Publicists Guild of America | | |
| 1995 | Daytime Emmy | Daytime Emmy Awards | Outstanding Game/Audience Participation Show | Jeopardy! (1984) |
| 1994 | Daytime Emmy | Daytime Emmy Awards | Outstanding Game/Audience Participation Show | Jeopardy! (1984) |
| 1994 | Michael Landon Award | Young Artist Awards | | Jeopardy! (1964) |
| 1993 | Daytime Emmy | Daytime Emmy Awards | Outstanding Game/Audience Participation Show | Jeopardy! (1984) |
| 1992 | Daytime Emmy | Daytime Emmy Awards | Outstanding Game/Audience Participation Show | Jeopardy! (1984) |
| 1991 | Daytime Emmy | Daytime Emmy Awards | Outstanding Game/Audience Participation Show | Jeopardy! (1984) |
| 1990 | Daytime Emmy | Daytime Emmy Awards | Outstanding Game/Audience Participation Show | Jeopardy! (1984) |
| 1984 | Daytime Emmy | Daytime Emmy Awards | Outstanding Host or Hostess in a Variety Series | The Merv Griffin Show (1962) |
| 1982 | Daytime Emmy | Daytime Emmy Awards | Outstanding Host or Hostess in a Variety Series | The Merv Griffin Show (1962) |
| 1974 | Daytime Emmy | Daytime Emmy Awards | Best Writing for a Talk, Service or Variety Program | The Merv Griffin Show (1962) |
| 1974 | Star on the Walk of Fame | Walk of Fame | Television | Awarded on October 15, 1974 at 1541 Vine Street |
Nominated Awards
| Year | Award | Ceremony | Nomination | Movie |
| --- | --- | --- | --- | --- |
| 2001 | Daytime Emmy | Daytime Emmy Awards | Outstanding Game/Audience Participation Show | Jeopardy! (1984) |
| 2000 | Daytime Emmy | Daytime Emmy Awards | Outstanding Game/Audience Participation Show | Jeopardy! (1984) |
| 1999 | Daytime Emmy | Daytime Emmy Awards | Outstanding Audience Participation Show/Game Show | Jeopardy! (1984) |
| 1999 | Daytime Emmy | Daytime Emmy Awards | Outstanding Audience Participation Show/Game Show | Wheel of Fortune (1983) |
| 1998 | Daytime Emmy | Daytime Emmy Awards | Outstanding Audience Participation Show/Game Show | Wheel of Fortune (1983) |
| 1997 | Daytime Emmy | Daytime Emmy Awards | Outstanding Audience Participation Show/Game Show | Jeopardy! (1984) |
| 1997 | Daytime Emmy | Daytime Emmy Awards | Outstanding Audience Participation Show/Game Show | Wheel of Fortune (1983) |
| 1996 | Daytime Emmy | Daytime Emmy Awards | Outstanding Audience Participation Show/Game Show | Jeopardy! (1984) |
| 1995 | Daytime Emmy | Daytime Emmy Awards | Outstanding Game/Audience Participation Show | Wheel of Fortune (1983) |
| 1994 | Daytime Emmy | Daytime Emmy Awards | Outstanding Game/Audience Participation Show | Wheel of Fortune (1983) |
| 1993 | Daytime Emmy | Daytime Emmy Awards | Outstanding Game/Audience Participation Show | Wheel of Fortune (1983) |
| 1991 | Daytime Emmy | Daytime Emmy Awards | Outstanding Game/Audience Participation Show | Wheel of Fortune (1983) |
| 1990 | Daytime Emmy | Daytime Emmy Awards | Outstanding Game/Audience Participation Show | Wheel of Fortune (1983) |
| 1989 | Daytime Emmy | Daytime Emmy Awards | Outstanding Game/Audience Participation Show | Jeopardy! (1984) |
| 1986 | Daytime Emmy | Daytime Emmy Awards | Outstanding Game or Audience Participation Show | Wheel of Fortune (1983) |
| 1985 | Daytime Emmy | Daytime Emmy Awards | Outstanding Host in a Talk or Service Series | The Merv Griffin Show (1962) |
| 1983 | Daytime Emmy | Daytime Emmy Awards | Outstanding Host or Hostess in a Variety Series | The Merv Griffin Show (1962) |
| 1981 | Daytime Emmy | Daytime Emmy Awards | Outstanding Host or Hostess in a Variety Series | The Merv Griffin Show (1962) |
| 1977 | Daytime Emmy | Daytime Emmy Awards | Outstanding Host or Hostess in a Talk, Service or Variety Series | The Merv Griffin Show (1962) |
| 1976 | Daytime Emmy | Daytime Emmy Awards | Outstanding Host or Hostess in a Talk, Service or Variety Series | The Merv Griffin Show (1962) |
| 1974 | Daytime Emmy | Daytime Emmy Awards | Best Host or Hostess in a Talk, Service, or Variety Series | The Merv Griffin Show (1962) |
| 1971 | Golden Globe | Golden Globes, USA | Best TV Actor - Comedy or Musical | The Merv Griffin Show (1962) |
Source:
IMDb
,
Wikipedia