• Sam Robards is an American film, theatre and television actor.
• He was born in New York City, USA in 196•
• He attended the National Theatre Institute and had his first acting debut in an off-Broadway production of "Album".
• Sam has a net worth of approximately $4 million.
• He is 5ft 9in tall and has blue eyes and dark brown hair.

Known for movies
Short Info
| | |
| --- | --- |
| Date Of Birth | December 16, 1961 |
| Spouse | Sidsel Jensen, Suzy Amis Cameron |
| Fact | Has a son, Jasper (b. 1990), with ex-wife Suzy Amis and two sons, Calvin (b. 1999) and Sebastian (b. 2001) with Sidsel Jensen. |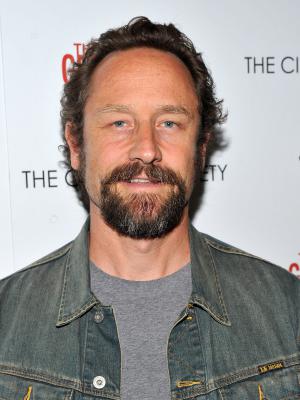 Who is Sam Robards?
Born in New York City, USA, on 16 December 1961 under the fire sign of Sagittarius, Samuel "Sam" Prideaux Robards is a 57-year-old American film, theater and television actor. Fans know him as the legendary Henry Swinton from Steven Spielberg's "A.I. Artificial Intelligence", one of the seminal science fiction films in recent years. He also turned some heads by playing the strict and ruthless Howard Archibald, Nate's father, in "Gossip Girl". It's not just his work that's inspiring – his story is one of a kind, too. Sam's superstar parents had quite a dysfunctional marriage, and he constantly felt alone while being forced to travel to various countries with his mom. That kind of pressure left a mark – he was unable to finish college, being expelled for low grades and unacceptable behavior. However, through hard work, perseverance and determination, he became a star.
Early Life: Turmoil on Top of More Turmoil
Sam was raised in his birthplace by famous parents. His mother, Lauren Bacall, was a renowned actress who appeared in iconic titles such as "To Have and Have Not", "The Big Sleep" and other seminal films from the Golden Age of movies. She won an honorary Oscar in 2009, making her the only winner who was married to two other Oscar winners (more on that later). The American Film Institute named her the 20th greatest actress of classic Hollywood. Jason Robards Jr., Sam's father, was perhaps an even bigger star, as he has two Academy Awards, a Tony and Emmy Awards to his name, which is an honor exclusive to just 41 actors (15 won a Grammy, in addition to the other three awards). Young Sam was his parents' only child together, but he had seven half-siblings, including Stephen and Leslie Bogart from his mother's previous marriage to legendary actor, Humphrey Bogart.
Despite growing up in an artistic household, the atmosphere was far from pleasant. Jason and Lauren argued all the time, with the majority of arguments apparently related to Jason's alcoholism. In 1969 the two finally divorced, leaving young Samuel isolated and confused by all the changes.
Education and Struggles
During this difficult time, Robards also had his first taste of show business. The court gave his mother full custody, so Sam was forced to accompany her wherever she went, which proved difficult at his age. One evening, Lauren took him to see the stage after a Broadway production of "Applause".
He was impressed by the sheer size of the theater, and began dreaming about receiving praise for his performances; unfortunately, he wasn't able to take acting classes because he traveled a lot. He and Lauren moved to Europe, where he would attend the American School in London from 1972 to 1974. Afterwards they returned to the Big Apple, much to Sam's joy. Upon matriculation from high school, Sam enrolled at Sarah Lawrence College in Yonkers, New York. Due to many personal problems he had at the time, Robards was expelled after just two semesters, mostly because of his behavior and refusal to study. At this point, he realized it was time to grow up and leave all the trauma and issues behind. In 1980, he completed a course at the National Theater Institute at the Eugene O'Neill Theater Center; it was precisely the preparation he needed.
Career Beginnings: off-Broadway, Tempest, Fandango, TV 101, Get a Life and More
Attending such an elite program opened up a myriad of doors for Sam, some of which he didn't even know existed. Immediately after his training, he stepped onto the stage for his official acting debut. Sam was nervous, but ultimately received praise for his role in an off-Broadway production of the hit play "Album". Encouraged by this step forward, he auditioned for the role of Freddy in the 1982' "Tempest", directed by Paul Mazursky. The movie was relatively successful, which helped Sam gain some recognition in Hollywood circles. Later on, he would be featured in "Fandango", "Not Quite Paradise", "Spenser: For Hire", "Bright Lights, Big City" and more. These weren't significant roles by any means, but Robards was quickly gaining experience, both factors in his eventual stardom.
After "Bird" and "Pancho Barnes", he landed his first lead role in a series, as Kevin Keegan in "TV 101". This comedy/drama follows Kevin's life after a news career, as he teaches kids how to create news programs at a local high school. Critics were impressed by Sam's performance, so he was cast in "Get a Life" alongside Chris Eliott, foreshadowing a stellar decade.
Making a Name for Himself: Beautiful Girls, Maximum Bob, Spin City, American Beauty
With newly-found motivation, Sam embarked on quite a streak. He first appeared in movies such as "Ready to Wear", "The Ballad of Little Jo" and "Beautiful Girls", before moving onto the role of Sheriff Gary Hammond in "Maximum Bob"; his character is still a favorite with fans of the series. He then appeared as Arthur in four episodes of "Spin City" – even after all these years, Arthur is ranked amongst the absolute best characters in the show's entire existence.
In this part of his career, Sam had nothing left to prove. Instead, he focused on becoming as versatile as possible and it was obvious that he had something going. At the dawn of the new millennium, we could see him in "Sex and the City", "Bounce" and several TV movies, of which only "On Golden Pond" and "The Hamlet" had international success. In 2001, Robards had perhaps the greatest role of his career in "A.I. Artificial Intelligence", as Henry Swinton. It was his first significant role in a Hollywood blockbuster, and he delivered a stunning performance, amassing rave reviews. In the following years, Sam toned it down with movies, and focused on various series.
Showing Off: The West Wing, Law & Order, Gossip Girl
In 2004, everyone was surprised to see Robards in "The West Wing" as Greg Brock, but he once again proved that no role is impossible for him to master. Three years later, he was Howard "The Captain" Archibald, in the massively popular series "Gossip Girl". This particular role endeared him to younger fans who weren't acquainted with his previous work. Afterwards, he was in "CSI: Miami" for a single episode, followed by a series of movies such as "The Rebound", "Perestroika", and "Che: Part One". While he was already established as a film actor, his goal for the 2010s decade was to expand his small-screen portfolio. As such, he made appearances in "Law & Order", "Vamped Out", "Body of Proof" and others.
On top of all this, he had a series of impressive performances as Tim Feeny in "Treme", a show about the aftermath of Hurricane Katrina throughout Louisiana. In "Twisted", he took on the part of Kyle Masterson, capping off the show's only season. As for the last few years, we could see him in "The Late Bloomer", "Where is Kyra?" and "Limitless".
Personal Life: Is Sam Robards Married? Does He Have Children?
While shooting Kevin Reynolds' "Fandango", Sam fell in love with co-star Suzy Amis Cameron, and proceeded to marry her in 1986. Together, they have a boy named Jasper (b. April 1990). However, various problems and differences lead the two to a divorce in 1994.
Just three years later, Sam married Danish beauty Sidsel Jensen, with whom he lives to this day. He wanted to honor his model wife, so the ceremony was held in Copenhagen, Denmark, in the presence of all their family and friends. They have two boys together, Sebastian and Calvin.
More About His Siblings
We've already mentioned that Sam has an astonishing seven step-siblings. Most presume that he is not on good terms with those from his father's side, but it is also known that he is quite close to Stephen Humphrey Bogart and Leslie Bogart, his mother's children with Humphrey Bogart. The two married in Ohio, on the property of Louis Bromfield, who was Humphrey's close friend. Their marriage lasted from 1945 to 1967 – Lauren proceeded to start a relationship with Frank Sinatra after Bogart passed away.
What a lovely #powercouple with #samrobards and @sidselrobards at the @NYsunworks #NYSW annual benefit @standardny pic.twitter.com/qN6Sz3KfWG

— Guest of a Guest (@guestofaguest) April 24, 2015
Stephen Bogart has managed to elude the spotlight, mostly because he had a child at the age of 21. 'Emotionally, I was a lot younger than 21, so the last thing I needed was public pressure.' Leslie, his sister, also chose a life away from all the fanfare. She worked as a nurse early in her career, before becoming a licensed yoga instructor in several traditions.
Net Worth: How Rich is Sam Robards?
Per MarriedBiography, Sam Robards has a net worth of approximately $4 million, as of October 2019.
Body Measurements: How Tall is Sam Robards?
Sam Robards is 5ft 9in (175cm) tall, weighs around 171lbs (78kgs), while having blue eyes and dark brown hair.
General Info
| | |
| --- | --- |
| Full Name | Sam Robards |
| Date Of Birth | December 16, 1961 |
| Profession | Actor |
| Education | Sarah Lawrence College |
| Nationality | American |
Family
| | |
| --- | --- |
| Spouse | Sidsel Jensen, Suzy Amis Cameron |
| Children | Jasper Robards, Sebastian Robards, Calvin Robards |
| Parents | Lauren Bacall, Jason Robards |
| Siblings | Stephen Humphrey Bogart, Leslie Howard Bogart, Jason Robards III, Jake Robards, Shannon Robards, David Robards, Sarah Louise Robards |
Accomplishments
| | |
| --- | --- |
| Nominations | Tony Award for Best Featured Actor in a Play, Drama Desk Award for Outstanding Featured Actor in a Play |
| Movies | A.I. Artificial Intelligence, American Beauty, Awake, The Art of Getting By, Catch That Kid, Fandango, The Rebound, Life as a House, Mrs. Parker and the Vicious Circle, Not Quite Paradise, Casualties of War, Tempest, The Ballad of Little Jo, Into Thin Air, Bird, The Other Side of the Tracks, Black a... |
| TV Shows | Twisted, Maximum Bob, Get a Life, TV 101 |
Social profile links
Quotes
| # | Quote |
| --- | --- |
| 1 | My parents made certain I had no illusions about acting. To them it was always just a job. |
Facts
Pictures
Movies
Actor
| Title | Year | Status | Character |
| --- | --- | --- | --- |
| Broken Links | 2016 | completed | Jack |
| The Late Bloomer | 2016 | | Dr. Lawson |
| Limitless | 2015 | TV Series | Miles Amos |
| Grand Street | 2014 | | Gary |
| Twisted | 2013-2014 | TV Series | Kyle Masterson |
| Treme | 2012-2013 | TV Series | Tim Feeny |
| Gossip Girl | 2007-2012 | TV Series | Howie 'The Captain' Archibald |
| The Good Wife | 2011 | TV Series | Jarvis Bowes |
| Blue Bloods | 2011 | TV Series | Roger Carson |
| Body of Proof | 2011 | TV Series | Bradford Paige |
| The Art of Getting By | 2011 | | Jack Sargent |
| Vamped Out | 2010 | TV Series | Audition Actor #1 |
| Law & Order | 1993-2009 | TV Series | Davis Webb / Daniel Hendricks |
| Company Retreat | 2009 | | Ron Gable |
| The Rebound | 2009 | | Frank |
| Perestroika | 2009/I | | Sasha |
| Che: Part One | 2008 | | Tad Szulc |
| The Other Side of the Tracks | 2008 | | David |
| Awake | 2007 | | Clayton Beresford Sr. |
| CSI: Miami | 2006 | TV Series | Mitchell Collett |
| The West Wing | 2004-2005 | TV Series | Greg Brock |
| Law & Order: Criminal Intent | 2004 | TV Series | Paul Whitlock |
| Clubhouse | 2004 | TV Series | Bennet |
| Marmalade | 2004 | | Roger |
| Surviving Eden | 2004 | | Gary Gold |
| Catch That Kid | 2004 | | Tom |
| The Blackwater Lightship | 2004 | TV Movie | Paul |
| My Life with Men | 2003 | TV Movie | Jess Zebrowski |
| Obsessed | 2002 | TV Movie | David Stillman |
| Life as a House | 2001 | | David Dokos |
| A.I. Artificial Intelligence | 2001 | | Henry Swinton |
| On Golden Pond | 2001 | TV Movie | Bill Ray |
| The Warden | 2001 | TV Movie | Axel |
| Hamlet | 2000/II | TV Movie | Fortinbras |
| Bounce | 2000 | | Todd Exner |
| Sex and the City | 2000 | TV Series | Tom Reymi |
| Black and Blue | 1999 | TV Movie | Mike Riordan |
| American Beauty | 1999 | | Jim Berkley |
| Spin City | 1998-1999 | TV Series | Arthur |
| Love from Ground Zero | 1998 | | Henry (voice) |
| Maximum Bob | 1998 | TV Series | Sheriff Gary Hammond |
| Dinner and Driving | 1997 | | Frank |
| The Man Who Captured Eichmann | 1996 | TV Movie | David |
| Beautiful Girls | 1996 | | Steve Rossmore |
| Donor Unknown | 1995 | TV Movie | Dr. David Bausch |
| The Outer Limits | 1995 | TV Series | Ben Kohler |
| Ready to Wear | 1994 | | Regina's Assistant |
| Mrs. Parker and the Vicious Circle | 1994 | | Harold Ross |
| The Ballad of Little Jo | 1993 | | Jasper Hill |
| Get a Life | 1990-1991 | TV Series | Larry Potter |
| Casualties of War | 1989 | | Chaplain Kirk |
| TV 101 | 1988-1989 | TV Series | Kevin Keegan |
| Pancho Barnes | 1988 | TV Movie | Gene McKendry |
| Bird | 1988 | | Moscowitz |
| Bright Lights, Big City | 1988 | | Rich Vanier |
| Into Thin Air | 1985 | TV Movie | Stephen Walker |
| Spenser: For Hire | 1985 | TV Series | Chip Holmby |
| Not Quite Paradise | 1985 | | Mike |
| Fandango | 1985 | | Kenneth Waggener |
| Moving Right Along | 1983 | TV Series 1983 | |
| Jacobo Timerman: Prisoner Without a Name, Cell Without a Number | 1983 | TV Movie | |
| Tempest | 1982 | | Freddy |
Producer
| Title | Year | Status | Character |
| --- | --- | --- | --- |
| Jesus Cooks Me Breakfast | 2007 | Short executive producer / producer | |
Thanks
| Title | Year | Status | Character |
| --- | --- | --- | --- |
| Twisted: Socio Studies 101 | 2013 | TV Movie thanks | |
| Manderlay | 2005 | the production wishes to thank | |
Self
| Title | Year | Status | Character |
| --- | --- | --- | --- |
| The 56th Annual Tony Awards | 2002 | TV Special | Himself - Nominee: Best Featured Actor in a Play |
| Acting A.I.: A Portrait of David | 2002 | Video short | Himself |
| The Daily Show | 2001 | TV Series | Himself |
| The Trial of Adolf Eichmann | 1997 | TV Movie documentary | Avraham Aviel (voice) |
Awards
Nominated Awards
| Year | Award | Ceremony | Nomination | Movie |
| --- | --- | --- | --- | --- |
| 1983 | Young Artist Award | Young Artist Awards | Best Young Supporting Actor in a Motion Picture | Tempest (1982) |
Source:
IMDb
,
Wikipedia