• Bridgette Leann Wilson was born in Gold Beach, Oregon on 25 September 1973.
• She is an actress, singer and model, widely known for her portrayal of Sonya Blade in the 1995 movie "Mortal Kombat".
• She is married to former professional tennis player Pete Sampras and they have two sons together.
• She enjoys travelling, reading fashion magazines, and watching movies.
• Her net worth is estimated to be over $25 million.

Known for movies
Short Info
| | |
| --- | --- |
| Net Worth | $8 million |
| Date Of Birth | September 25, 1973 |
| Spouse | Pete Sampras |
| Fact | Recorded a version of Leif Garrett's "I Was Made for Dancing", which went on to be a considerable hit in Japan. |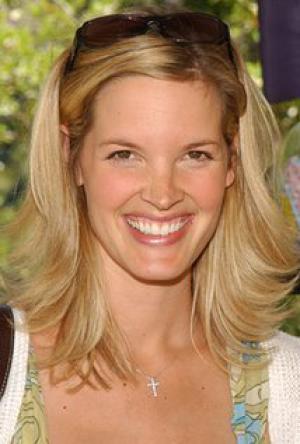 Who is Bridgette Wilson?
Bridgette Leann Wilson was born in Gold Beach, Oregon USA, on 25 September 1973 – her zodiac sign is Libra, and she holds American nationality. She's an actress, singer and model, who has appeared in more than 30 movies and TV series, while she's perhaps still known best for her portrayal of Sonya Blade in the 1995 action adventure fantasy movie "Mortal Kombat". It was directed by Paul W. S. Anderson, starred Christopher Lambert, Robin Shou and Linden Ashby, and follows three martial artists who are competing in a fighting tournament on a mysterious island; the movie won one of the four awards for which it was nominated.
Bridgette's also known for being the wife of American former professional tennis player Petros 'Pete' Sampras.
Early life and education
Bridgette was raised in Gold Beach alongside her sister Tracy, by their father Dale and mother Kathy; not a lot is known about Bridgette's family, as she respects their privacy.
She was interested in numerous activities while growing up, such as playing various sports, acting in school plays, and practicing dancing. Bridgette studied at Gold Beach High School and was on its volleyball team; she was 17 years old when she was crowned Miss Teen USA.
Upon matriculating in 1991, she chose not to pursue a college degree, and instead focused on acting.
Roles in TV series
Bridgette made her debut TV series appearance in 1992, when cast to play Ginger in four episodes of the romantic family comedy "Saved by the Bell", and she then gained recognition in 1993 for her portrayal of Lisa Fenimore Castillo in 59 episodes of the romantic drama "Santa Barbara". It was created by Bridget Dobson and Jerome Dobson, starred A Martinez, Marcy Walker and Nancy Lee Grahn, and follows the lives of members of the wealthy Capwell family; the series aired from 1984 to 1993, and won 47 of the 161 awards for which it was nominated.
Bridgette appeared in the 1993 episode "A Killing in Cork" of the mystery crime drama "Murder, She Wrote", and her following role came in 2000, when cast to star as Bridget Deshiel in the drama "$treet".
It was created by Darren Star and Jeff Rake, also starred Tom Everett Scott and Nina Garbiras, and follows several people who are working at a small Wall Street trading company.
In the 2000s, Bridgette then made a guest appearance in an episode of various series, such as the comedy "Frasier", the action crime drama "CSI: Miami" and the romantic comedy "Jake in Progress".
Her most recent TV series role has been her portrayal of Dorrit in the 2007 episode "The Seminar" of the comedy "Carpoolers"; she hasn't been very active in the film industry since then, while this is widely believed to be because Bridgette wants to spend more time with her family.
Roles in movies
Bridgette made her debut film appearance in the hit 1993 action adventure comedy "Last Action Hero", directed by John McTiernan, and which starred Arnold Schwarzenegger, F. Murray Abraham and Art Carney.
It follows a boy who has been transported into an action movie, and the film won one of the 17 awards for which it was nominated.
A couple of Bridgette's following roles were in the 1995 crime thriller "Higher Learning", the 1996 thriller "Sweet Evil", and the 1997 drama "Nevada". Also in 1997, she played Elsa Shivers in the mystery horror "I Know What You Did Last Summer", directed by Jim Gillespie, and which starred Jennifer Love Hewitt, Sarah Michelle Gellar and Anne Heche. It follows four friends who are being stalked by a maniac, and the movie won three of the 10 awards for which it was nominated.
Bridgette appeared in a couple of popular films in the remainder of the '90s, such as the 1998 drama "Starstruck", the 1999 comedy drama "The Suburbans", and the 1999 comedy "Love Stinks".
She appeared in only a couple of movies in the 2000s, including the 2001 romantic comedy "The Wedding Planner", and the 2005 romantic drama "Shopgirl", while her most recent role, prior to disappearing from the film industry, was in the 2008 biographical sports drama "Phantom Punch".
Other credits
Bridgette sang "Billy's Victory Song" in the 1995 comedy movie "Billy Madison", as well as "I Am the Very Model of a Modern Major-General" in the 2000 comedy movie "Beautiful".
She received special thanks for the 2002 video game "Mortal Kombat: Deadly Alliance".
Bridgette voiced Sonya Blade in the 2019 video game "Mortal Kombat 11".
She has made a guest appearance in a couple of talk-shows, including "Late Night with Conan O'Brian" and "Beyond the Glory".
Love life and husband Pete Sampras
Bridgette and Pete prefer to keep the details of their private lives to themselves, but have still allowed their fans to have a glimpse into their marriage.
The two were apparently introduced by a mutual friend in the second half of the '90s, and they married on 30 September 2000, in a private ceremony attended by many of their friends and family members. Bridgette gave birth to their son Christian Charles Sampras on 21 November 2002, and their second son Ryan Nikolaos Sampras followed on 29 July 2005. The family of five is today living in Lake Sherwood, California.
Pete's believed to be amongst the best tennis players in the sport's history, and at one point ranked world No. 1. He won 14 major singles titles during his 14-year career, while he won 64 singles titles overall.
Bridgette hasn't mentioned any other men whom she has perhaps been with, so as of April 2022, she's married to Pete Sampras, and they have two sons together.
Hobbies and other interests
Bridgette's still physically quite active today and has multiple training sessions at the gym every week, thus her slim figure; she's also following a strict diet, and avoids eating fast food and sweets.
She's into travelling, and has vacationed in various European countries with her husband, while her dream travel destination seems to be Venice, Italy.
Bridgette's a lover of animals, with dogs and cats being her favorites, and she and Pete have various pets, including hamsters, horses and dogs.
She likes to read fashion magazines, with her favorite being "Vogue".
Bridgette enjoys watching movies in her spare time – her favorite actor is Johnny Depp, while a couple of her favorite movies include "Sweeney Todd: The Demon Barber of Fleet Street", the franchise "Pirates of the Caribbean", and "Edward Scissorhands".
Age, height and net worth
Bridgette's age is 48. She has long blonde hair and brown eyes, her height is 5ft 9ins (1.75m) and she weighs around 145lbs (65kgs).
As of April 2022, Bridgette's net worth stands at more than $25 million, while her husband Pete's net worth has been estimated at over $150 million.
General Info
| | |
| --- | --- |
| Full Name | Bridgette Wilson |
| Net Worth | $8 million |
| Date Of Birth | September 25, 1973 |
| Height | 1.75 m |
| Profession | Actor, Model, Singer, Songwriter |
| Nationality | American |
Family
| | |
| --- | --- |
| Spouse | Pete Sampras |
| Children | Christian Charles Sampras, Ryan Nikolaos Sampras |
| Parents | Dale Wilson, Kathy Wilson |
| Siblings | Tracy Wilson |
Accomplishments
| | |
| --- | --- |
| Movies | Billy Madison, Mortal Kombat, The Wedding Planner, Shopgirl, Just Visiting, I Know What You Did Last Summer, Last Action Hero, Love Stinks, House on Haunted Hill, The Real Blonde, Phantom Punch, Extreme Ops, Sweet Evil, Buying the Cow, Higher Learning, Unhook the Stars, The Suburbans, The Stepsister... |
| TV Shows | Carpoolers |
Social profile links
Quotes
| # | Quote |
| --- | --- |
| 1 | The first time around as a mom, I held on really tight and I was so stressed. |
| 2 | We had to give each other permission to be different as parents. That's why there's a mom and a dad with two different approaches, because you do need both. |
| 3 | I played varsity on all of them for four years. I'm 5'9 and that's not that tall for a center so I was a forward. I loved playing volleyball and basketball and track I was good at, but it stressed me out. |
| 4 | Celebrities say the darnedest things. |
| 5 | I balance family and career by doing what makes me the happiest! That for me, without question, is putting my family and kids first. |
| 6 | I've only skied a couple of times in my life. Any skier would say I stink. |
| 7 | Of all the movies I've done in my life, the one where I play a crazy awful psycho woman finds me my husband. |
Facts
| # | Fact |
| --- | --- |
| 1 | Recorded a version of Leif Garrett's "I Was Made for Dancing", which went on to be a considerable hit in Japan. |
| 2 | Mother, with her husband Pete Sampras, of a boy named Ryan Nikolaos, born July 29, 2005 at 6 lbs. 4 oz. in Los Angeles. |
| 3 | Insisted on doing all her own stunts for Last Action Hero (1993), in part because she wanted to feel more "in touch" with her character, "Meredith Caprice/ Whitney Slater." Later, Bridgette complained that most of her better footage was left on the cutting room-floor; many of her fans seemed to agree, citing that she disappeared from the movie far too soon. |
| 4 | Is a considerably in-demand singer in Japan, where she has released two CDs: "I Only Wanna Be With You"; and "Gimme a Kiss." |
| 5 | First child Christian Charles Sampras was born 21 November 2002 in Los Angeles. London, UK bookmakers have given Christian a 150-1 chance to win Wimbledon (Sampras has 7 Wimbledon titles); he's a 2,000-1 shot to beat Wimbledon champs Andre Agassi (Sampras's arch-rival) and Steffi Graf's son, Jaden Gil, in a Wimbledon final. |
| 6 | As a child, she taught herself to play the piano. |
| 7 | On Tuesday, June 20, 2000, it was announced that she was engaged to tennis star Pete Sampras, 28. According to Sampras, they got engaged after he lost the first round of the French Open. |
| 8 | Got the role of Sonya Blade, in Mortal Kombat (1995), after Cameron Diaz had to drop out, due to a broken wrist. |
| 9 | Once took the stage at a festival for The Rocky Horror Picture Show (1975). |
| 10 | Sister of Tracy E. Wilson. Their parents are Dale and Kathy Wilson. |
| 11 | Miss Teen USA 1990. |
Pictures
Movies
Actress
| Title | Year | Status | Character |
| --- | --- | --- | --- |
| Phantom Punch | 2008 | | Farah |
| Carpoolers | 2007 | TV Series | Dorrit |
| Mr. and Mrs. Smith | 2007 | TV Short | Ann (as Bridgette Wilson) |
| Shopgirl | 2005 | | Lisa Cramer |
| Jake in Progress | 2005 | TV Series | Chloe |
| CSI: Miami | 2003 | TV Series | Gabriela Betancourt |
| Extreme Ops | 2002 | | Chloe (as Brigette Wilson-Sampras) |
| Buying the Cow | 2002 | | Sarah (as Bridgette L. Wilson) |
| Frasier | 2002 | TV Series | Kris |
| Just Visiting | 2001 | | Amber |
| The Wedding Planner | 2001 | | Fran Donolly |
| The $treet | 2000-2001 | TV Series | Bridget Deshiel |
| Beautiful | 2000 | | Lorna Larkin (as Bridgette L. Wilson) |
| House on Haunted Hill | 1999 | | Melissa Margaret Marr (as Bridgette Wilson) |
| Love Stinks | 1999 | | Chelsea Turner (as Bridgette Wilson) |
| The Suburbans | 1999 | | Lara (as Bridgette Wilson) |
| Starstruck | 1998 | | Sandra (as Bridgette Wilson) |
| Host | 1998 | TV Movie | Juliet Spring (as Bridgette Wilson) |
| Marina | 1997 | Short as Bridgette Wilson | |
| I Know What You Did Last Summer | 1997 | | Elsa Shivers (as Bridgette Wilson) |
| The Real Blonde | 1997 | | Sahara (as Bridgette Wilson) |
| The Stepsister | 1997 | TV Movie | Melinda Harrison (as Bridgette Wilson) |
| Nevada | 1997 | | June (as Bridgette Wilson) |
| Unhook the Stars | 1996 | | Jeannie Hawks (as Bridgette Wilson) |
| Final Vendetta | 1996 | | Jennifer Ray Clark (as Bridgette Wilson) |
| Nixon | 1995 | | Sandy (as Bridgitte Wilson) |
| Mortal Kombat | 1995 | | Sonya Blade (as Bridgette Wilson) |
| Billy Madison | 1995 | | Veronica Vaughn (as Bridgette Wilson) |
| Higher Learning | 1995 | | Nicole (as Bridgette Wilson) |
| Murder, She Wrote | 1993 | TV Series | Emily Griffith |
| Last Action Hero | 1993 | | Whitney Meredith (as Bridgette Wilson) |
| Santa Barbara | 1992-1993 | TV Series | Lisa Fenimore Castillo / Lisa Fenimore |
| Saved by the Bell | 1992 | TV Series | Ginger |
Producer
| Title | Year | Status | Character |
| --- | --- | --- | --- |
| Michael Jackson: HIStory on Film - Volume II | 1997 | Video documentary producer - videos "Childhood", "Earth Song", "Stranger In Moscow", as Bridgette Wilson, Bridgette Wilson, Bridgette Wilson | |
Thanks
| Title | Year | Status | Character |
| --- | --- | --- | --- |
| Mortal Kombat: Deadly Alliance | 2002 | Video Game special thanks: artistic contribution - as Bridgette Wilson | |
Self
| Title | Year | Status | Character |
| --- | --- | --- | --- |
| Signature Series: Pete Sampras | 2008 | TV Movie documentary | Herself (as Bridgette Wilson) |
| Beyond the Glory | 2004 | TV Series documentary | Herself |
| Late Night with Conan O'Brien | 1995 | TV Series | Herself |
| Mortal Kombat: Behind the Dragon | 1995 | TV Movie documentary | Herself (as Bridgette Wilson) |
| Mortal Kombat: Behind the Scenes | 1995 | Video short | Herself (as Bridgette Wilson) |
Archive Footage
| Title | Year | Status | Character |
| --- | --- | --- | --- |
| The Ultimate Hollywood Blonde | 2004 | TV Mini-Series | Herself (as Bridgette Wilson) |
| Boogeymen: The Killer Compilation | 2001 | Video documentary | Elsa Shivers (I Know What You Did Last Summer) (as Bridgette Wilson) |
Source:
IMDb
,
Wikipedia