• Born in Wilmington, Delaware in 1963
• Net worth estimated at over $12.5 million
• German and English descent
• Appeared in several iconic films, including "The Karate Kid", "Back to the Future Part II", and "Hollow Man"
• Won numerous awards, including an Academy Award nomination and an Independent Spirit Award
• Married to film director Davis Guggenheim with three children

Known for movies
Short Info
| | |
| --- | --- |
| Net Worth | $12.5 million |
| Date Of Birth | October 6, 1963 |
| Spouse | Davis Guggenheim |
| Fact | Sister-in-law of Amy Robach. |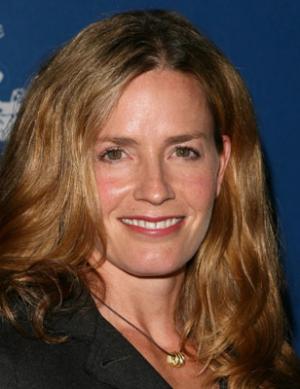 Who is Elisabeth Shue?
Elisabeth Shue was born on 6 October 1963, in Wilmington, Delaware, USA, and is an actress, best known for her roles in several high profile films, including "The Karate Kid", "Back to the Future Part II", "Back to the Future Part III", and "Hollow Man".
The Net Worth of Elisabeth Shue
How rich is Elisabeth Shue? As of late-2019, sources estimate her net worth at over $12.5 million, earned through a successful career in acting. She's been in the entertainment industry since 1982, and has won numerous awards during her career.
Early Life, Education, and Career Beginnings
Elisabeth's father was a real estate developer and lawyer, who was once the president of the International Food and Beverage Corporation. Her mother on the other hand was a vice-president of a banking division of the Chemical Banking Corporation. She stayed in Wilmington for nine years before moving to South Orange, New Jersey due to her parents divorcing. She is of German and English descent. She grew up with three brothers to whom she is very close, and later had two half-siblings as her father remarried.
She attended Columbia High School in nearby Maplewood, and after matriculating enrolled at Wellesley College, before transferring to Harvard University in 1985. She did not complete her college education, however, as she chose to withdraw from university to pursue an acting career after she was inspired by a friend. It wasn't until a decade later that she completed her Harvard degree in political science.
Rise to Fame
Her career actually began earlier, with television commercials – she appeared frequently in advertisements for Burger King.
https://www.youtube.com/watch?v=zER0WGtY6h0
In 1982, she had a support role in "The Royal Romance of Charles and Diana" which would lead to her feature film debut in "The Karate Kid" in 1984, appearing opposite Ralph Macchio as the main character's love interest. Around the same time, she was a series regular of the short-lived "Call to Glory", before working on the horror film Link. In 1987, she was then cast in "Adventures of Babysitting" and then worked on "Cocktail" the following year as the love interest of Tom Cruise's character. Nearing the end of the decade, she played the role of Jennifer Parker in "Back to the Future Part II", as well as its sequel "Back to the Future Part III", replacing Claudia Wells.
She was getting more lead roles at this point, but also made her Broadway debut in 1990 in "Some American Abroad", before appearing alongside Robert Downey Jr. in "Soap Dish". Over the next few years, she had supporting roles in both film and television, such as "Twenty Bucks", "The Underneath", and "Hearts and Souls". Many consider her work in 1995's "Leaving Las Vergas" as her career defining role, with her performance earning her an Academy Award nomination. She was also nominated for several other awards, winning an Independent Spirit Awards as well as a Los Angeles Film Critics Association Awards.
Recent Projects
Following her Oscar nomination, she started to gain more diverse roles, working in "The Trigger Effect", "Deconstructing Harry", and "The Saint", displaying variety in her acting skillset, and in 1999 she starred as the titular "Molly" portraying an autistic young woman. A few years later she worked alongside Joseph Gordon-Levitt in "Mysterious Skin", before appearing with Robert De Niro in "Hide and Seek". She also produced the film "Gracie" with her brothers, and starred in "First Born" alongside Steven Mackintosh.
In 2008, she portrayed a fictionalized version of herself in "Hamlet 2", before making an appearance during the seventh season of "Curb Your Enthusiasm". She also starred in "House at the End of the Street", "Hope Springs", and "Chasing Mavericks", and took more television roles, becoming a regular during the 12th season of "CSI: Crime Scene Investigation", staying with the show for three years. One of her latest projects is the Eli Roth remake of "Death Wish" alongside Bruce Willis, and she had a leading role in the television series "The Boys" in 2019, which gained a lot of acclaim.
https://www.facebook.com/18653200843/photos/a.21109690843/21109860843/?type=3&theater
Personal Life and Social Media
For her personal life, it is known that Shue married film director Davis Guggenheim in 1994, and they have three children together Her husband is known for his work on the shows "NYPD Blue", "24", and "Alias". He's also worked on documentaries such as "An Inconvenient Truth", "Waiting for Superman", and "He Named Me Malala". He is the only film maker with three different documentaries ranked within the top 100 highest grossing documentaries of all time. and mentioned that she finds it easier to portrayer darker or more complex characters.
She tries her best not to bring home any of those characters with her at the end of the day. She also admitted to smoking a lot of marijuana during her youth, and that she took a lot of therapy due to a male dominated childhood.
One of the reasons why there is very limited information about her is due to the lack of any strong online presence. She does not have accounts on any of the major social media websites. She became famous during the time when social media was not yet common, and despite the lack of it, she is still considered one of the most well-known actresses of modern times.
General Info
| | |
| --- | --- |
| Full Name | Elisabeth Shue |
| Net Worth | $12.5 million |
| Salary | $12.5 million |
| Date Of Birth | October 6, 1963 |
| Height | 1.57 m |
| Profession | Actor |
| Education | Harvard University, Columbia High School, Wellesley College |
| Nationality | American |
Family
| | |
| --- | --- |
| Spouse | Davis Guggenheim |
| Children | Agnes Charles Guggenheim, Miles William Guggenheim, Stella Street Guggenheim |
| Parents | Anne Harms, James Shue |
| Siblings | Andrew Shue, William Shue |
Accomplishments
| | |
| --- | --- |
| Awards | Independent Spirit Award for Best Female Lead, National Society of Film Critics Award for Best Actress |
| Nominations | Academy Award for Best Actress, Golden Globe Award for Best Actress – Motion Picture – Drama, BAFTA Award for Best Actress in a Leading Role, Screen Actors Guild Award for Outstanding Performance by a Female Actor in a Leading Role, Kids' Choice Award for Favorite Movie Actress, Teen Choice Awar... |
| Movies | Leaving Las Vegas, The Karate Kid, Adventures in Babysitting, Hollow Man, The Saint, Cocktail, Piranha 3D, House at the End of the Street, Behaving Badly, Back to the Future Part II, Palmetto, Chasing Mavericks, Soapdish, The Trigger Effect, Cousin Bette, Back to the Future Part III, Mysterious Skin... |
| TV Shows | CSI: Crime Scene Investigation, Call to Glory |
Social profile links
Quotes
| # | Quote |
| --- | --- |
| 1 | [on acting] The darker, more complex and emotional the part is, the easier it is for me. But I don't take any of that stuff home with me at the end of the day. |
| 2 | I may look like the girl next door, but you wouldn't want to live next door to me. |
| 3 | On Cocktail (1988): "If I'd known that it was just going to be about these guys throwing drinks around, then I might have had some second thoughts . . ." |
Facts
| # | Fact |
| --- | --- |
| 1 | Co-starring with Peter Sarsgaard in the Off-Broadway Revival of "Burn This" by Lanford Wilson. [December 2002] |
| 2 | She has German and English ancestry. |
| 3 | She and her brother, Andrew Shue, were inducted into Columbia High School's Hall of Fame in 1994. |
| 4 | Growing up in Maplewood, New Jersey, Zach Braff lived around the corner from the Shues. |
| 5 | Sister-in-law of Amy Robach. |
| 6 | Elisabeth replaced Claudia Wells as Jennifer Parker, Michael J. Fox' girlfriend, in the two sequels to Back to the Future (1985). Claudia's mother was dying from cancer, requiring the re-casting. |
| 7 | The 2007 film Gracie (2007) is based upon events that occurred in her and her brother Andrew Shue's lives. |
| 8 | She was amongst the final candidates for the female lead in Say Anything... (1989). According to director Cameron Crowe, "Elisabeth Shue did an amazing version of the graduation speech". Jennifer Connelly was runner-up to Ione Skye, who got the role in the end. |
| 9 | Elisabeth and Davis became the parents of their third child, a daughter named Agnes Charles Guggenheim, on June 18, 2006. |
| 10 | Was cast as the female lead in the Jim Carrey movie The Number 23 (2007) but had to drop out just weeks before shooting because of her pregnancy. Shue was replaced by Virginia Madsen. |
| 11 | Sister-in-law of Jonathan Guggenheim and Grace Guggenheim. |
| 12 | Daughter-in-law of Charles Guggenheim and Marion Guggenheim. |
| 13 | Auditioned for the Sherilyn Fenn role in Of Mice and Men (1992). |
| 14 | Named her son after her late older brother, William Shue, who died on August 24, 1988 at the age of 26 from a freak swimming accident while on family vacation. A rope broke on a tire swing and he was thrown into a tree branch, impaling him. He was enrolled at Rutgers University's Robert Wood Johnson School of Medicine at the time of his death. Her brother Andrew Shue witnessed the accident. |
| 15 | Daughter, Stella Street, was born weighing 6 lbs. 7 oz. [March 2001] |
| 16 | Graduated from Harvard University 8 June 2000 with a degree in Government. Shue was one semester short of earning her degree when she dropped out to pursue her career 15 years ago. She returned to Harvard in the spring of 2000. |
| 17 | Majored in Government at Wellesley College; transferred to Harvard University in 1985; planned to become an attorney. |
| 18 | Was an accomplished high school gymnast, with aspirations to the state finals, at Columbia High School in Maplewood, New Jersey. Her brother, Andrew Shue, and Zach Braff also attended Columbia High School. |
| 19 | Got started in commercials as "The Burger King Girl.". |
| 20 | Older sister of Andrew Shue. |
| 21 | Son, Miles William, with Davis Guggenheim was born. [November 1997] |
Pictures
Movies
Actress
| Title | Year | Status | Character |
| --- | --- | --- | --- |
| Battle of the Sexes | 2017 | completed | |
| Death Wish | 2017 | completed | Lucy Kersey |
| Blunt Talk | 2015 | TV Series | Suzanne Mayview |
| CSI: Crime Scene Investigation | 2012-2015 | TV Series | Julie Finlay |
| Behaving Badly | 2014 | | Pamela Bender / Saint Poppy |
| Chasing Mavericks | 2012 | | Kristy Moriarity |
| House at the End of the Street | 2012 | | Sarah |
| Hope Springs | 2012 | | Karen, The Bartender |
| American Dad! | 2012 | TV Series | Female Detective |
| Janie Jones | 2010 | | Mary Ann Jones |
| Piranha 3D | 2010 | | Julie Forester |
| Waking Madison | 2010 | | Dr. Elizabeth Barnes |
| Curb Your Enthusiasm | 2009 | TV Series | Virginia |
| Don McKay | 2009 | | Sonny |
| Hamlet 2 | 2008 | | Elisabeth Shue |
| First Born | 2007 | | Laura |
| Gracie | 2007 | | Lindsay Bowen |
| Dreamer: Inspired by a True Story | 2005 | | Lily |
| Hide and Seek | 2005 | | Elizabeth |
| Mysterious Skin | 2004 | | Mrs. McCormick |
| Leo | 2002 | | Mary Bloom |
| Tuck Everlasting | 2002 | | Narrator (voice) |
| Amy & Isabelle | 2001 | TV Movie | Isabelle Goodrow |
| Hollow Man | 2000 | | Linda McKay |
| Molly | 1999 | | Molly McKay |
| Cousin Bette | 1998 | | Jenny Cadine |
| City of Angels | 1998 | | Pregnant Woman (uncredited) |
| Palmetto | 1998 | | Mrs. Donnelly / Rhea Malroux |
| Deconstructing Harry | 1997 | | Fay |
| The Saint | 1997 | | Dr. Emma Russell |
| The Trigger Effect | 1996 | | Annie Kay |
| Leaving Las Vegas | 1995 | | Sera |
| The Underneath | 1995 | | Susan Crenshaw |
| Blind Justice | 1994 | TV Movie | Caroline |
| Radio Inside | 1994 | | Natalie |
| Heart and Souls | 1993 | | Anne |
| Dream On | 1993 | TV Series | Maura Barish |
| Twenty Bucks | 1993 | | Emily Adams |
| The General Motors Playwrights Theater | 1992 | TV Series | Alice Adams |
| Soapdish | 1991 | | Lori Craven / Angelique |
| The Marrying Man | 1991 | | Adele Horner |
| Back to the Future Part III | 1990 | | Jennifer Parker |
| Back to the Future Part II | 1989 | | Jennifer |
| Body Wars | 1989 | Short | Dr. Cynthia Lair |
| Cocktail | 1988 | | Jordan Mooney |
| Adventures in Babysitting | 1987 | | Chris |
| Walt Disney's Wonderful World of Color | 1987 | TV Series | Kathy Shelton |
| Link | 1986 | | Jane Chase |
| Call to Glory | 1984-1985 | TV Series | Jackie Sarnac |
| The Karate Kid | 1984 | | Ali |
| Somewhere, Tomorrow | 1983 | | Margie (as Lisa Shue) |
| The Royal Romance of Charles and Diana | 1982 | TV Movie | Lynn Osborne (as Lisa Shue) |
Soundtrack
| Title | Year | Status | Character |
| --- | --- | --- | --- |
| Cousin Bette | 1998 | performer: "The Other Side of Heaven", "The Tiger Song", "The Devil Song", "Farewell, My Friends", "Le Carilloneur" | |
| Adventures in Babysitting | 1987 | performer: "Babysitting Blues" | |
Producer
| Title | Year | Status | Character |
| --- | --- | --- | --- |
| Gracie | 2007 | producer | |
Thanks
| Title | Year | Status | Character |
| --- | --- | --- | --- |
| The Way of the Karate Kid | 2005 | Video documentary short special thanks | |
Self
| Title | Year | Status | Character |
| --- | --- | --- | --- |
| Nickelodeon Kids' Choice Awards 2016 | 2016 | TV Movie | Herself |
| CSI: Crime Scene Investigation - Season 15: Cool Cars | 2015 | Short | Herself |
| CSI: Crime Scene Investigation - Season 15: Following the Evidence | 2015 | Short | Herself |
| CSI: Crime Scene Investigation - Season 15: Killer Crime Scenes | 2015 | Short | Herself |
| CSI: Crime Scene Investigation - Season 15: That's All, Stokes | 2015 | Short | Herself |
| CSI: Crime Scene Investigation - Season 14: Back to Basics | 2014 | Video documentary short | Herself |
| CSI: Crime Scene Investigation - Season 14: Guest Who's Coming to Visit? | 2014 | Video documentary short | Herself |
| CSI: Crime Scene Investigation - Season 14: The Making of Girls Gone Wild | 2014 | Video documentary short | Herself |
| CSI: Crime Scene Investigation - Season 14: Throwback 300th | 2014 | Video documentary short | Herself |
| The Talk | 2012-2013 | TV Series | Herself - Guest |
| The Queen Latifah Show | 2013 | TV Series | Herself - Guest |
| CSI: Crime Scene Investigation - Season 13: Providing Food and Shelter | 2013 | Video short | Herself |
| CBS Cares | 2013 | TV Series | Herself |
| Welcome to Fabulous Las Vegas | 2012 | Video short | Herself |
| The 37th Annual Gracie Awards | 2012 | TV Special | Herself |
| Don't Scream, Just Swim: Behind-the-Scenes of 'Piranha 3D' | 2011 | Video | Herself |
| Ving Rhames Wins Oscar for Piranha 3D | 2010 | Video short | Herself |
| Chelsea Lately | 2010 | TV Series | Herself - Guest |
| Live with Kelly and Ryan | 1995-2007 | TV Series | Herself - Guest |
| Up Close with Carrie Keagan | 2007 | TV Series | Herself - Guest |
| Penguin Safari | 2007 | TV Movie documentary | Narrator |
| Tavis Smiley | 2007 | TV Series | Herself - Guest |
| The 79th Annual Academy Awards | 2007 | TV Special | Herself - Audience Member (uncredited) |
| The Reichen Show | 2005 | TV Series | Herself - Guest |
| Hide and Seek: Do You Want to Play? The Making of 'Hide and Seek' | 2005 | Video documentary short | Herself |
| The View | 2005 | TV Series | Herself - Guest |
| Ellen: The Ellen DeGeneres Show | 2005 | TV Series | Herself - Guest |
| Hollywood Salutes Nicolas Cage: An American Cinematheque Tribute | 2002 | TV Special | Herself |
| The First Year | 2001 | TV Movie documentary | Narrator (voice) |
| Fleshing Out the 'Hollow Man' | 2000 | Video documentary | Herself |
| Hollow Man: Anatomy of a Thriller | 2000 | Video documentary short | Herself |
| The Tonight Show with Jay Leno | 1997-2000 | TV Series | Herself - Guest |
| HBO First Look | 2000 | TV Series documentary short | Herself |
| 2000 Blockbuster Entertainment Awards | 2000 | TV Special documentary | Herself |
| Late Night with Conan O'Brien | 1993-1999 | TV Series | Herself - Guest |
| The Rosie O'Donnell Show | 1998-1999 | TV Series | Herself - Guest |
| Showbiz Today | 1991-1998 | TV Series | Herself |
| The 70th Annual Academy Awards | 1998 | TV Special | Herself - Presenter: Best Costume Design |
| The 49th Bafta Awards | 1996 | TV Special | Herself - Nominee: Best Actress in a Motion Picture |
| The 68th Annual Academy Awards | 1996 | TV Special | Herself - Nominee: Best Actress in a Leading Role & Presenter |
| 1996 Blockbuster Entertainment Awards | 1996 | TV Special documentary | Herself - Presenter |
| 2nd Annual Screen Actors Guild Awards | 1996 | TV Special | Herself - Nominee |
| Late Show with David Letterman | 1996 | TV Series | Herself - Guest |
| The Oprah Winfrey Show | 1992 | TV Series | Herself - Guest |
Archive Footage
| Title | Year | Status | Character |
| --- | --- | --- | --- |
| John G. Avildsen: King of the Underdogs | 2017 | Documentary | |
| Welcome to the Basement | 2015-2016 | TV Series | Jennifer |
| CSI: Cyber | 2015 | TV Series | Julie Finlay |
| Inside Edition | 2015 | TV Series documentary | Herself |
| Entertainment Tonight | 2014 | TV Series | Herself |
| Corazón de... | 2006 | TV Series | Herself |
| Biography | 1999-2005 | TV Series documentary | Elizabeth / Herself |
| The Way of the Karate Kid | 2005 | Video documentary short | Herself / Ali (uncredited) |
| 50 Years of Funny Females | 1995 | TV Movie documentary | Herself |
| Joe Bob's Drive-In Theater | 1995 | TV Series | Emily Adams |
Awards
Won Awards
| Year | Award | Ceremony | Nomination | Movie |
| --- | --- | --- | --- | --- |
| 1996 | CFCA Award | Chicago Film Critics Association Awards | Best Actress | Leaving Las Vegas (1995) |
| 1996 | DFWFCA Award | Dallas-Fort Worth Film Critics Association Awards | Best Actress | Leaving Las Vegas (1995) |
| 1996 | Independent Spirit Award | Independent Spirit Awards | Best Female Lead | Leaving Las Vegas (1995) |
| 1996 | NSFC Award | National Society of Film Critics Awards, USA | Best Actress | Leaving Las Vegas (1995) |
| 1995 | ACCA | Awards Circuit Community Awards | Best Actress in a Leading Role | Leaving Las Vegas (1995) |
| 1995 | LAFCA Award | Los Angeles Film Critics Association Awards | Best Actress | Leaving Las Vegas (1995) |
| 1988 | Best Actress | Paris Film Festival | | Adventures in Babysitting (1987) |
| 1985 | Young Artist Award | Young Artist Awards | Best Young Supporting Actress in a Motion Picture Musical, Comedy, Adventure or Drama | The Karate Kid (1984) |
Nominated Awards
| Year | Award | Ceremony | Nomination | Movie |
| --- | --- | --- | --- | --- |
| 2005 | Teen Choice Award | Teen Choice Awards | Choice Movie Scream Scene | Hide and Seek (2005) |
| 2001 | Blockbuster Entertainment Award | Blockbuster Entertainment Awards | Favorite Actress - Science Fiction | Hollow Man (2000) |
| 1998 | Blockbuster Entertainment Award | Blockbuster Entertainment Awards | Favorite Actress - Suspense | The Saint (1997) |
| 1996 | Oscar | Academy Awards, USA | Best Actress in a Leading Role | Leaving Las Vegas (1995) |
| 1996 | Golden Globe | Golden Globes, USA | Best Performance by an Actress in a Motion Picture - Drama | Leaving Las Vegas (1995) |
| 1996 | BAFTA Film Award | BAFTA Awards | Best Performance by an Actress in a Leading Role | Leaving Las Vegas (1995) |
| 1996 | Chlotrudis Award | Chlotrudis Awards | Best Actress | Leaving Las Vegas (1995) |
| 1996 | Actor | Screen Actors Guild Awards | Outstanding Performance by a Female Actor in a Leading Role | Leaving Las Vegas (1995) |
| 1988 | Blimp Award | Kids' Choice Awards, USA | Favorite Movie Actress | Adventures in Babysitting (1987) |
| 1987 | Saturn Award | Academy of Science Fiction, Fantasy & Horror Films, USA | Best Actress | Link (1986) |
2nd Place Awards
| Year | Award | Ceremony | Nomination | Movie |
| --- | --- | --- | --- | --- |
| 1995 | NYFCC Award | New York Film Critics Circle Awards | Best Actress | Leaving Las Vegas (1995) |
Source:
IMDb
,
Wikipedia