• Sally Jessy Raphael (born Sally Lowenthal) is a retired tabloid talk-show host.
• She was born in Easton, Pennsylvania and attended Easton Area High School.
• She held news correspondent positions with United Press International and Associated Press.
• She is best known for her radio and television talk-shows, "The Sally Jessy Raphael Show".
• As of March 2022, her net worth is estimated at over $40 million.

Known for movies
Short Info
| | |
| --- | --- |
| Net Worth | $14.5 Million |
| Date Of Birth | February 25, 1935, February 25, 1935 |
| Spouse | Karl Soderland, Karl Soderland, Andrew Vladimir |
| Mark | Wears red-framed glasses |
| Fact | The source of her famous red-framed glasses goes all the way back to her first broadcast news job. She was about to start taping on her first day of work when she tripped, breaking her glasses in the process. With only minutes before taping, she raced to the nearest store to find a replacement pair. She found that the only pair that matched her prescription was cheaply made, with red frames. This soon became her trademark. |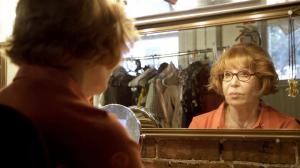 Who is Sally Jessy Raphael?
Sally Lowenthal – known better as Sally Jessy Raphael, a combination of her father's ancestral name and her mother's maiden name – was born in Easton, Pennsylvania USA, on 25 February 1935 – her zodiac sign is Pisces, and she holds American nationality. She's a retired tabloid talk-show host, and is perhaps still known best for having hosted her own "The Sally Jessy Raphael Show".
Sally's today retired, leading an apparently peaceful life in Miami, Florida.
Early life and education
Sally was raised in Easton alongside her younger brother Steven Lowenthal, by their mother Zelda Lowenthal, also known as Dede Lowry, who ran an art gallery, and their father Jesse Lowenthal who worked in rum exporting. The family also spent some time living in San Juan, Puerto Rico because of Jesse's job.
Sally was interested in various activities while attending Easton Area High School, and initially wanted to become an actress and comedienne; she was a member of the school's drama club, and could've been seen appearing in numerous plays performed at the school.
Upon matriculating in 1953, Sally moved to Scarsdale, New York State to work at the radio station WFAS, in charge of reading the news for high school students.
She then moved to Pittsburgh, Pennsylvania and enrolled at Carnegie Mellon University, but soon transferred to the University of Puerto Rico in San Juan, from which she graduated with a Bachelor's degree in 1958.
She also practiced acting at Neighborhood Playhouse School of the Theatre in New York City.
Career as a journalist
Upon receiving her degree, Sally was employed at both United Press International and Associated Press, mostly thanks to her ability to speak both Spanish and English fluently; she was hired as a news correspondent, and was in charge of covering Central America.
She mostly worked in Puerto Rico during her career beginnings, and one of her jobs was hosting a cooking show.
It was also in Puerto Rico that Sally met her second husband, producer and radio station manager Karl Soderlund, and after Karl was fired, the two moved to Miami, Florida together.
It was only in the '80s that Sally began attracting attention, and she has revealed that it wasn't easy for her to succeed in the field of broadcasting. She worked at 24 stations and was let go from 18 of these, while she made her breakthrough in the first half of the '80s, when invited to do a show for the New York City radio station WMCA.
Her two successful talk-shows
Upon moving to Miami, Sally's husband Karl became her manager, and helped her run her first show, which aired from November 1981 to 1987, distributed by NBC Talknet.
Sally became famous after she began hosting her radio "The Sally Jessy Raphael Show", which was eventually shortened to 'Sally'. It began airing on 17 October 1983, and continued until 24 May 2002. Sally initially wanted it to be a political show, but changed her mind right before she was about to go live for the first time, and went on to discuss various subjects and give her listeners advice on a number of topics, including relationships and marriages. The show ended up being syndicated to more than 200 radio stations.
The American media personality Phillip John 'Phil' Donahue heard Sally's talk-show, and encouraged her to try hosting TV talk-shows too.
In October 1983, Sally got to host her own "The Sally Jessy Raphael Show" on the TV network KSDK-TV, and although it was only a half-hour long, it marked the beginning of her career as a TV talk-show host.
In 2002, Sally's show was cancelled following a large drop in ratings, but the same year saw her named amongst the 25 Greatest Television Talk Show Hosts of All Time (#11) and the 25 Greatest Radio Talk Show Hosts of All Time (#5) by "Talkers Magazine".
Between 2005 and 2008, Sally hosted the radio show "Sally Jessy Raphael on Talknet", and on 10 November 2010, she made a guest appearance in the talk-show "The Oprah Winfrey Show".
She has since been staying away from the media's attention.
Love life and husband
Sally was 18 years old when she exchanged vows with Andrew Vladimir, in a private ceremony attended by only the closest of their friends and family members. It's believed that the two met while they were both attending Easton Area High School, and Sally went on to give birth to their daughters Allison and Andrea, but then divorced in 1958, while they now also have two grandchildren Kyle and Max. Their daughter Allison died on 2 February 1992, after having overdosed on prescribed drugs.
In 1962, Sally exchanged vows with her second husband Karl Soderlund, and not long after that, she gave birth to their son Jason. The marriage lasted until Karl passed away in 2020.
As of March 2022, Sally seems to be single, has been married twice, and has two daughters with her first husband Andrew Vladimir, and a son with her second husband Karl Soderlund.
Hobbies and other interests
Sally was once passionate about travelling, and her career had taken her all around the US, while she also travelled to various European and Asian countries; her dream travel destination is still Barcelona, Spain.
Sally's a philanthropist, and has donated money to many charity organizations working with war veterans and underprivileged children, while she's apparently also donated to animal shelters.
She loves to read books in her spare time – her favorite author is Paulo Coelho, while some of her  favorite books include "The Alchemist", "Eleven Minutes" and "Manual of the Warrior of Light".
She's also a fan of Hollywood, and her favorite actor and actress are George Clooney and Anne Hathaway, while a couple of her favorite films include "Good Night, and Good Luck", "Ocean's Eleven" and "One Day".
Age, height and net worth
Sally's age is 87. She has long orange hair and brown eyes, her height is 5ft 3ins (1.6m) and she weighs around 120lbs (55kgs).
As of March 2022, Sally's net worth is estimated at more than $40 million.
General Info
| | |
| --- | --- |
| Full Name | Sally |
| Net Worth | $14.5 Million |
| Date Of Birth | February 25, 1935, February 25, 1935 |
| Profession | Journalist, Film producer, Talk show host, Actor, Journalist, Film producer, Talk show host, Actor |
| Education | Columbia University, Easton Area High School, Carnegie Mellon University, Columbia University, Easton Area High School, Carnegie Mellon University |
| Nationality | American, American |
Family
| | |
| --- | --- |
| Spouse | Karl Soderland, Karl Soderland, Andrew Vladimir |
| Children | Allison Vladimir, Allison Vladimir |
| Parents | Jesse Lowenthal, Dede Lowry, Jesse Lowenthal, Dede Lowry |
| Siblings | Steven Lowenthal, Steven Lowenthal |
Accomplishments
| | |
| --- | --- |
| Awards | Daytime Emmy Award for Outstanding Talk Show Host, Daytime Emmy Award for Outstanding Talk Show Host |
| Nominations | GLAAD Media Award for Outstanding Talk Show Episode, Daytime Emmy Award for Outstanding Makeup, Daytime Emmy Award for Outstanding Directing in a Talk Show/Entertainment News or Morning Program, Daytime Emmy Award for Outstanding Art Direction/Set Decoration/Scenic Design |
| Movies | No One Would Tell, I'm Still Sally!, No One Would Tell, I'm Still Sally! |
| TV Shows | Sally, Sally |
Social profile links
Marks
| # | Marks / Signs |
| --- | --- |
| 1 | Wears red-framed glasses |
Facts
| # | Fact |
| --- | --- |
| 1 | Her grandparents were all Jewish immigrants, her paternal grandparents from Poland and Russia, and her maternal grandparents from Lithuania and Russia. |
| 2 | Now hosts, with her husband and brother, a one hour weekday radio talkshow on the internet, via her website - www.sallyjr.com. [July 2004] |
| 3 | The source of her famous red-framed glasses goes all the way back to her first broadcast news job. She was about to start taping on her first day of work when she tripped, breaking her glasses in the process. With only minutes before taping, she raced to the nearest store to find a replacement pair. She found that the only pair that matched her prescription was cheaply made, with red frames. This soon became her trademark. |
| 4 | She has stated in interviews that she was adamantly against the trashy, Jerry Springer-inspired direction that the content of her talk-show was taking in its later years. She states that she was under constant pressure from network execs looking for big ratings and, rather than quit, stayed on for the benefit of her long-time co-workers, whom she considered family. |
| 5 | Had corrective laser eye surgery, so she longer needs to wear prescription glasses. However, Sally says she still wears her trademark red-framed glasses at the behest of her producers. Not True. Never had surgery. |
Pictures
Movies
Actress
| Title | Year | Status | Character |
| --- | --- | --- | --- |
| I'm Still Sally! | 2011 | TV Movie | Sally |
| Pauly Shore Is Dead | 2003 | | Sally Jessy Raphael |
| The Guru | 2002 | | Sally Jessy Raphaël (as Sally Jessy Raphaël) |
| Meet Wally Sparks | 1997 | | Sally Jessy Raphael |
| The Associate | 1996 | | Sally Jessy Raphael |
| No One Would Tell | 1996 | TV Movie | Judge |
| Touched by an Angel | 1996 | TV Series | Mrs. Angeli |
| Diagnosis Murder | 1996 | TV Series | Dr. Gina Lawson |
| Sesame Street | 1995 | TV Series | Guest Appearance in 'A New Way to Walk' |
| Murphy Brown | 1993 | TV Series | Sally Jessy Raphael |
| The Equalizer | 1989 | TV Series | Sally Jessy Raphael |
Producer
| Title | Year | Status | Character |
| --- | --- | --- | --- |
| A Mother's Testimony | 2001 | TV Movie executive producer | |
| Rivals | 2000 | TV Movie executive producer | |
| The Third Twin | 1997 | TV Movie executive producer | |
Miscellaneous
| Title | Year | Status | Character |
| --- | --- | --- | --- |
| Évocateur: The Morton Downey Jr. Movie | 2012 | Documentary archive footage | |
Thanks
| Title | Year | Status | Character |
| --- | --- | --- | --- |
| Homicide: Life on the Street | 1996 | TV Series special thanks - 1 episode | |
Self
| Title | Year | Status | Character |
| --- | --- | --- | --- |
| Oprah: Where Are They Now? | 2016 | TV Series | Herself |
| The Insider | 2015 | TV Series | Herself |
| The View | 2014 | TV Series | Herself |
| Sally Jessy Rides! | 2014 | TV Series | Herself |
| Big Morning Buzz Live | 2012-2013 | TV Series | Herself |
| Évocateur: The Morton Downey Jr. Movie | 2012 | Documentary | Herself - TV Host |
| The Wendy Williams Show | 2010 | TV Series | Herself |
| The Oprah Winfrey Show | 2010 | TV Series | Herself |
| The Knights of Prosperity | 2007 | TV Series | Herself |
| The Story of Light Entertainment | 2006 | TV Mini-Series documentary | Herself |
| The Surreal Life | 2004-2005 | TV Series | Herself |
| Howard Stern | 2005 | TV Series | Herself |
| Chappelle's Show | 2004 | TV Series | Herself |
| Hollywood Squares | 2003 | TV Series | Herself - Panelist |
| The N.Y. Friars Club Roast of Chevy Chase | 2002 | TV Movie | Herself |
| Unconditional Love | 2002 | | Herself |
| 15 Minutes of True Tabloid Stars | 2001 | Video documentary short | Herself |
| Jenny Jones | 2001 | TV Series | Herself |
| Double Whammy | 2001 | | Herself |
| TV Funhouse | 2000 | TV Series | Herself |
| Da Ali G Show | 2000 | TV Series | Herself |
| The Rosie O'Donnell Show | 1997-1999 | TV Series | Herself |
| Behind the Music | 1999 | TV Series documentary | Herself |
| Politically Incorrect | 1998 | TV Series | Herself |
| Sabrina, the Teenage Witch | 1996 | TV Series | Herself |
| Aliens in the Family | 1996 | TV Series | Herself |
| Jerry Lewis MDA Labor Day Telethon | 1995 | TV Series | Herself |
| The Nanny | 1994 | TV Series | Herself |
| Dave's World | 1994 | TV Series | Herself |
| The Addams Family | 1991 | | Herself |
| The Bikini Open 5 | 1991 | TV Movie | Herself |
| The Howard Stern Show | 1991 | TV Series | Herself |
| Sally Jessy Raphael | 1990-1991 | TV Series | Herself - Hostess |
| Jerry Springer | 1991 | TV Series | Herself |
| The Arsenio Hall Show | 1989-1990 | TV Series | Herself |
| Happy Birthday, Bugs!: 50 Looney Years | 1990 | TV Movie documentary | Herself |
| Good Morning America | 1990 | TV Series | Herself |
| Donahue | 1990 | TV Series | Herself |
| She-Devil | 1989 | | Herself |
| Kojak: Fatal Flaw | 1989 | TV Movie | Herself (as Sally Jessy Raphaël) |
| Live with Kelly and Michael | 1989 | TV Series | Herself |
| The 16th Annual Daytime Emmy Awards | 1989 | TV Special | Herself |
| The Pat Sajak Show | 1989 | TV Series | Herself |
| The New Hollywood Squares | 1987-1988 | TV Series | Herself |
| Fame, Fortune and Romance | 1986 | TV Series | Herself |
| The CBS Morning News | 1986 | TV Series | Herself |
| Another World | 1964 | TV Series | Herself (1993) |
Archive Footage
| Title | Year | Status | Character |
| --- | --- | --- | --- |
| Who Took Johnny | 2014 | Documentary | Herself |
| RuPaul's Drag Race | 2013 | TV Series | Herself |
| GLOW: The Story of the Gorgeous Ladies of Wrestling | 2012 | Documentary | Herself |
| Crazy Love | 2007/I | Documentary | Herself (uncredited) |
| E! True Hollywood Story | 2001 | TV Series documentary | Herself |
| Sideshow: Alive on the Inside | 1999 | TV Movie documentary | Herself |
| Resident Alien | 1990 | Documentary | Herself - Talk Show Host (as Sally Jesse Raphael) |
Awards
Won Awards
| Year | Award | Ceremony | Nomination | Movie |
| --- | --- | --- | --- | --- |
| 1989 | Daytime Emmy | Daytime Emmy Awards | Outstanding Talk/Service Show Host | Sally Jessy Raphael (1985) |
Nominated Awards
| Year | Award | Ceremony | Nomination | Movie |
| --- | --- | --- | --- | --- |
| 1992 | Daytime Emmy | Daytime Emmy Awards | Outstanding Talk/Service Show Host | Sally Jessy Raphael (1985) |
| 1991 | Daytime Emmy | Daytime Emmy Awards | Outstanding Talk/Service Show Host | Sally Jessy Raphael (1985) |
| 1990 | Daytime Emmy | Daytime Emmy Awards | Outstanding Talk/Service Show Host | Sally Jessy Raphael (1985) |
| 1988 | Daytime Emmy | Daytime Emmy Awards | Outstanding Talk/Service Show Host | Sally Jessy Raphael (1985) |
Source:
IMDb
,
Wikipedia