• Lars Mikkelsen is a Danish actor known for his roles in "Sherlock," "House of Cards" and "The Witcher"
• Early life and family background; Lars and his younger brother Mads Mikkelsen were raised in a middle class district of Copenhagen
• Dropped out of college to juggle in the streets of Europe, later becoming a professional actor
• Film and television career, including roles in "Sherlock," "House of Cards," and "Star Wars Rebels"
• Personal life and hobbies; Lars is married to Annette Støvelbæk and has two sons; his brother Mads is a successful actor

Known for movies
Short Info
| | |
| --- | --- |
| Spouse | Anette Støvelbæk |
| Fact | His favorite playwright is William Shakespeare. |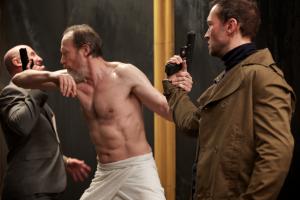 Lars Mikkelsen is a Danish actor, who landed the role of Stregobor in the Netflix series "The Witcher". He is also known from his appearances in "Sherlock" and "House of Cards".
Early life and family
Lars Dittmann Mikkelsen was born on 6 May 1964, in Gladsaxe, Copenhagen Denmark. His mother, Bente Christiansen, worked as a nurse, while his father, Henning Mikkelsen, was a bank teller and a trade union official. When Lars and his younger brother Mads Mikkelsen, also an actor, were small kids, their family lived in Østerbro, a middle class district, but when their parents got better jobs, the family moved to Nørrebro. Lars has always enjoyed physical activities, and played handball starting from his school years. He also liked some types of performing arts, and sang in the choir in his high school.
Educational background, dropping the college to juggle in the streets
Right after his matriculation in 1982, Lars enrolled into the Royal Danish Army and spent a couple of years in military service. However, he felt that he wanted to get some proper education, and quit the army in 1985, enrolling at the University of Copenhagen to study biology. However, he suddenly met his future wife Anette Støvelbæk at a New Year's Eve party, and she inspired him to try juggling, as she showed him her progress – in just three days of learning she could juggle quite well. Lars fired up with the idea, and eventually quit his Alma Mater to perform in the streets of Europe. Along with their friends, Lars and Annette traveled around such cities as Prague, Warsaw, Moscow, London, etc, performing on the streets and living on the money they earned.
Lars later learnt how to do fire breathing and pantomime, also performing in children's theatres and various circuses. When Lars turned 27, he made the decision to become a professional actor, and enrolled at the National Theatre School of Denmark (the Statens Teaterskole), graduating in 1995.
Film career
Lars debuted as an actor landing the role of Henning in "Royal Blues" (1997). In 1999 he played the title role in "Seth", and Victor in "Under overfladen". Lars portrayed the character of Mads in "Kira's Reason: A Love Story" in 2000, and in 2004 Peter Schou in "King's Game". Lars landed more roles in such movies as "Cecilie" (2007), "What No One Knows" (2008) and "Flame & Citron" (2008). Later he could also be seen in such films as "Headhunter" (2009), for which he won the Robert Award for Best Actor in a Leading Role, "What Richard Did" (2012) and "When Animals Dream" (2012).
Among his latest works in movies are "9. April" (2015), in which Lars landed the role of Lieutenant-Colonel Hintz, "The Day Will Come" (2016), as Frederik Heck, and "Winter Brothers" (2017). It is worth saying that Lars could have joined his brother Mads in "The Salvation" in 2014 to play the on-screen Jensen brothers. However, due to schedule incompatibilities Lars had to quit the project, and his role went to Swedish actor Mikael Persbrandt.
Television career
Lars is mostly famous for his roles in such television series as "Sherlock", in which he played the role of Charles Augustus Magnussen in the third season of the crime drama show, "House of Cards", in which he played the Russian President Viktor Petrov, and "Herrens Veje", in which he landed the role of Johannes, getting an International Emmy Award for Best Performance by an Actor.
He also appeared in such series as "Those Who Kill", "1864" and "The Team", but they were less mostly popular in Europe. Lars has also played the title role in The Danish Royal Theatre production of "Mefisto" since 2004. From 2016 to 2018 Lars was Grand Admiral Thrawn in "Star Wars Rebels" series.
Stregobor in "The Witcher"
In 2018 Lars Mikkelsen was announced to join the cast of "The Witcher" series, landing the role of Stregobor, the sorcerer from Kovir, who is a strong believer of "The Curse of the Black Sun", in four episodes of the show. The story of his confrontation with the Creyden princess Renfri was shown in the first episode entitled "The End's Beginning".
Personal life, wife Anette Støvelbæk
Lars Mikkelsen met Anette Støvelbæk in 1985, and the couple married in 1989. Annette is an actress – she studied drama from 1993 to 1997 in the National School of Acting at Odense Theatre. Lars and Annette have two sons, Lue and Thor. Lue is also an actor, who graduated from the Danish National School of Performing Arts in 2019.
Hobbies, favorite things and interesting facts
Lars fluently speaks four languages: Danish, Swedish, German and English. Among his favorite hobbies are fishing, listening to music, reading science fiction books, and the plays by William Shakespeare. Lars supports various charity foundations and organizations, among them "Save The Children" and "Red Barnet". In February 2017 Lars was knighted by Margrethe II, the Danish Queen, receiving the Knight's Cross.
Appearance
Lars has short grey hair and blue eyes. He is 6ft 4ins (1.94m) tall and weighs around 190lbs (86kgs).
Net worth and salary
As of early 2020, Lars Mikkelsen has an estimated net worth of $4 million, while his brother, Mads Mikkelsen, is reported to have a net worth of $14 million.
Brother, Mads Mikkelsen
Inspired by the changes in the life of his brother, Mads Mikkelsen also decided to try himself as an actor. Born on 22 November 1965, Mads Dittmann Mikkelsen spent his early years in Østerbro.
? #MondayMotivation. ? #MadsMonday ? #theofficialmads ? pic.twitter.com/2lImFd6gc0

— Mads Mikkelsen Official (@theofficialmads) January 13, 2020
He dreamt of becoming a professional athlete and did a lot of gymnastics, later switching to dancing. He entered the local ballet academy (Balettakademien) in Gothenburg, which also helped him to learn Swedish. While studying in the ballet school, Mads met his future wife Hanne Jacobsen he later married in 2000. However, after his brother graduated from his theatre school in 1995 and started getting job offers from various directors, Mads quit dancing after almost a decade of doing choreography, and in 1996 enrolled at the Århus Theatre School.
Mads became a very successful actor. He got his first role in the movie "Pusher" in the same year he started his drama studies. Then he played Ronnie Galway in "Nattens engel" (1998), Arne in "Flickering Lights" (2000) and became even more popular after landing the role of Jacob in the gay comedy entitled "Shake It All About" (2001), directed by Hella Joof. For that work Mads won the Zulu Award for Best Actor.
Mads Mikkelsen's most famous roles
Mads Mikkelsen is best known for such roles as Le Chiffre in "Casino Royale" (2006), and Daniel Craig, who played agent James Bond in the movie even suspected Mads in sleeping with someone from the crew to get the role, while Mads was surprised himself when he got the role easily. Another role which brought him more fame and a bunch of awards was the character of Lucas in "The Hunt", an elementary school teacher who was mistakenly accused of child molestation; Mads got Cannes Film Festival Award for Best Actor, Palm Springs International Film Festival Award, Robert Festival Award for Best Actor and many other awards and nominations.
Later he played Kaecilius in "Doctor Strange" (2016) and Dr. Hannibal Lecter in the television series "Hannibal" (2013-2015). Mads also did the voice over of the video game "Death Stranding" by Kojima Productions. He already has The Game Awards 2019 for Best Performance for his voice-over work.
Mads Mikkelsen was the most wanted actor by the fans of "The Witcher" universe to play the role of Geralt of Rivia. The rumors that Mads was going to land the role were strong, while his colleague in "Casino Royale" Eva Green was rumored to play the character of the witcher's lover, Yennefer. However, the role of Geralt was given to Henry Cavill, while Mads' brother, Lars Mikkelsen, got the role of the sorcerer Stregobor.
General Info
| | |
| --- | --- |
| Full Name | Lars Mikkelsen |
| Height | 1.92 m |
| Profession | Actor |
| Nationality | Danish |
Family
| | |
| --- | --- |
| Spouse | Anette Støvelbæk |
| Children | Thor Mikkelsen, Lue Mikkelsen |
| Parents | Henning Mikkelsen, Bente Christiansen |
| Siblings | Mads Mikkelsen |
Accomplishments
| | |
| --- | --- |
| Awards | Robert Award for Best Actor in a Leading Role, Robert Award for Best Actor in a Supporting Role, Bodil Award for Best Actor in a Supporting Role |
| Nominations | Bodil Award for Best Actor in a Leading Role |
| Movies | When Animals Dream, The Day Will Come, Flame & Citron, A Caretaker's Tale, April 9th, Montana, Ronal the Barbarian, What Richard Did, Kira's Reason: A Love Story, Island of Lost Souls, King's Game, The Dam Keeper, The Escape, Angels in Fast Motion, What No One Knows, Lost in Africa, Those Who Kill -... |
| TV Shows | 1864, Borgen, The Killing, Those Who Kill, Krøniken, Nikolaj og Julie, Edderkoppen, House of Cards, Star Wars Rebels, Strisser på Samsø, The Team |
Social profile links
Quotes
| # | Quote |
| --- | --- |
| 1 | I had to spend a few years learning how to do movies. I wasn't really good at that. I was a theatre actor first and foremost. So I took my time learning that. |
| 2 | I think you could find some waves on the west side of Denmark, but I never tried it. |
| 3 | Denmark is, like, the flattest country on Earth. |
| 4 | Here in Denmark, you can easily just be left alone. This is my 'hood, and people leave me alone; it's nice. |
| 5 | I would be the worst biologist in the world! |
| 6 | I was in the military, and then I went to university to study biology. |
| 7 | Language is fun; it's fun to try. |
| 8 | I didn't really understand what you did when you went in front of the camera. And then suddenly I just understood it. When you're in a play, you carry the story, but you don't have to do that in film. |
Facts
| # | Fact |
| --- | --- |
| 1 | Lars and his colleague Zlatko Buric, a native Croat, had to learn how to speak English with a Serbian accent for the film Montana (2014). They also had to learn some Serbian phrases. So they got lessons from a Briton of Serbian descent. |
| 2 | Originally it was planned that Lars and his brother Mads should play the brothers in the western The Salvation (2014). Shortly before filming began, Lars had to cancel due to scheduling conflicts. The role went to the Swedish actor Mikael Persbrandt. |
| 3 | Plays in "Mefisto" at The Danish Royal Theatre, 1 October to 5 November 2004 [October 2004] |
| 4 | His wife Anette is also an actress. She attended the National School of Acting at Odense Theatre from 1993-1997. |
| 5 | He was knighted on February 7, 2011 by the Danish Queen Margrethe II. He received the Knight's Cross and accolade on this day. |
| 6 | For some years he has been a supporter and goodwill ambassador for "Red Barnet", the Danish branch of the large international organization "Save the Children". |
| 7 | His favorite playwright is William Shakespeare. |
| 8 | He speaks Danish, Swedish, English and German. |
| 9 | Some of his hobbies are reading books, listening to music and fishing. |
| 10 | He lives with his family in Copenhagen, Denmark. |
| 11 | He met his wife Anette at a New Year's Eve party 1985/86 and since then both have been a couple. |
| 12 | In his childhood he played handball and sang in the school choir. Lars played handball in a club until he was about 30 years old. After his graduation from drama school, he decided to quit the sport to focus on his acting career. During his active handball time, Lars played in the third Danish division in the Copenhagen area. |
| 13 | Brother-in-law of Hanne Jacobsen. |
| 14 | Father of two sons, Thor and Lue. |
| 15 | Son of Henning Mikkelsen. |
| 16 | Older brother of Mads Mikkelsen. Lars is about one and a half years older than Mads. |
Pictures
Movies
Actor
| Title | Year | Status | Character |
| --- | --- | --- | --- |
| Vinterbrødre | 2017 | post-production | |
| Herrens veje (Rides Upon the Storm) | 2017 | TV Series filming | Johannes |
| The 11th | 2017 | pre-production | Aesbek |
| The Knife Thrower | | pre-production | Axel Uggla |
| Star Wars Rebels | 2016 | TV Series | Grand Admiral Thrawn |
| Der kommer en dag | 2016 | | Forstander Frederik Heck |
| House of Cards | 2015-2016 | TV Series | Viktor Petrov |
| The Team | 2015 | TV Series | Harald Bjorn |
| 9. april | 2015 | | Oberstløjtnant Hintz |
| 1864 | 2014 | TV Mini-Series | Thøger Jensen |
| Dannys dommedag | 2014 | | Far |
| Montana | 2014 | | Dimitrije |
| The Dam Keeper | 2014 | Short | Narrator |
| Når dyrene drømmer | 2014 | | Thor |
| Nordic Factory | 2014 | | Daniel |
| Void | 2014/IV | Short | Daniel |
| Töchter | 2014 | | Bildhauer Madsen |
| Sherlock | 2014 | TV Series | Charles Magnussen |
| Borgen | 2013 | TV Series | Søren Ravn |
| Max Pinlig 3 - på Roskilde | 2012 | | Henning |
| Viceværten | 2012 | | Per |
| What Richard Did | 2012 | | Peter Karlsen |
| Den som dræber - Fortidens skygge | 2011 | | Magnus Bisgaard |
| Unter anderen Umständen | 2011 | TV Series | Erik Nielsen |
| Ronal Barbaren | 2011 | | Volcazar (voice) |
| Den som dræber | 2011 | TV Series | Magnus Bisgaard |
| Kidnappet | 2010 | | Victor |
| Sandheden om mænd | 2010 | | Lars Mikkelsen |
| Seen Nothing, Heard Nothing, Done Nothing | 2009 | Short | |
| Headhunter | 2009 | | Martin Vinge |
| Flugten | 2009 | | Thomas Jargil |
| Intet set, intet hørt, intet gjort | 2008 | Video short as Lars Ditmann Mikkelsen | |
| Flame and Citron | 2008 | | Frode 'Ravnen' Jacobsen |
| Det som ingen ved | 2008 | | Marc Deleuran |
| Forbrydelsen | 2007 | TV Series | Troels Hartmann |
| Mig & Che | 2007 | Short | Che - voksen |
| Cecilie | 2007 | | Lasse N. Damgaard |
| Hjemve | 2007 | | |
| De fortabte sjæles ø | 2007 | | Necromanceren |
| Krøniken | 2004-2007 | TV Series | Jens Otto Krag |
| H.C. Andersen - historien om en digter | 2005 | TV Movie | H.C. Andersen (as Lars Dittmann Andersen) |
| Nordkraft | 2005 | | Stesos far |
| Helligtrekongersaften | 2004 | TV Movie | Orsino |
| Kongekabale | 2004 | | Peter Schou |
| Are You sleeping | 2004 | Short | Male |
| Nikolaj og Julie | 2003 | TV Series | Per Køller |
| Afgrunden | 2003 | TV Movie | Paul Vermehren (as Lars D. Mikkelsen) |
| Se dagens lys | 2003 | TV Movie | John, Blå Ven / Blue Friend |
| Begravelsen | 2002 | Short | Henrik |
| Rejseholdet | 2002 | TV Series | Ivan |
| Mistænkt | 2001 | Video Game | Tommy Larsen |
| Kira's Reason: A Love Story | 2001 | | Mads |
| Langt fra Las Vegas | 2001 | TV Series | Sørøverkaptajn |
| Skjulte spor | 2000 | TV Series | Morten Theilgård |
| Edderkoppen | 2000 | TV Mini-Series | Ole Madsen |
| Flænset | 2000 | Video | Tynde betjent |
| Seth | 1999 | | Seth |
| Slangehud | 1999 | TV Movie | 1. Gentleman |
| Under overfladen | 1999 | | Victor |
| Laslo's tema | 1998 | Short | Laslo |
| Taber! | 1998 | Short | Mads Sacre (as Lars Dittmann Mikkelsen) |
| Strisser på Samsø | 1997-1998 | TV Series | Jens Fisker |
| Royal Blues | 1997 | | Henning |
| Taxa | 1997 | TV Series | Leif, narkoman |
| Café Hector | 1996 | Short | Uffe |
| Den store Kul-Tur | 1996 | TV Movie | Jens (as Lars Dittmann Mikkelsen) |
| Lille John | 1995 | TV Movie | Lille John |
| Mappen | 1995 | TV Movie | Anton |
Self
| Title | Year | Status | Character |
| --- | --- | --- | --- |
| Go' morgen Danmark | 2016 | TV Series | Himself |
| Aftenshowet | 2011-2015 | TV Series | Himself |
| Crime Connections | 2012 | TV Series documentary | Himself / Troels Hartmann |
| Words of Captain Scott | 2012 | TV Movie documentary | Roald Amundsen |
| Go' aften Danmark | 2005-2010 | TV Series | Himself / Himself - Actor |
| Meyerheim | 2007-2010 | TV Series | Himself |
| Danmarks Indsamling 2008 | 2008 | TV Special | Himself - Call Center |
| Filmens verden: De fortabte sjæles ø | 2007 | TV Special documentary | Himself - Actor |
| Kongekabale - Sandheden om filmen | 2004 | TV Special documentary | Himself / Peter Schou |
| Sport med briller | 2004 | TV Series | Himself - Actor |
| Spot | 2003 | TV Series documentary | Himself |
| Bag kameraet: En kærlighedshistorie | 2002 | Video documentary short | Himself / Mads (uncredited) |
| Helle for Høgsbro | 2000 | TV Series | Himself - Actor |
Archive Footage
| Title | Year | Status | Character |
| --- | --- | --- | --- |
| Sherlock | 2017 | TV Series | Charles Magnussen |
Awards
Won Awards
| Year | Award | Ceremony | Nomination | Movie |
| --- | --- | --- | --- | --- |
| 2010 | Robert | Robert Festival | Best Actor (Årets mandlige hovedrolle) | Headhunter (2009) |
| 2005 | Best Supporting Actor | Taormina International Film Festival | | Nordkraft (2005) |
Nominated Awards
| Year | Award | Ceremony | Nomination | Movie |
| --- | --- | --- | --- | --- |
| 2015 | Bodil | Bodil Awards | Best Supporting Actor (Bedste mandlige birolle) | Når dyrene drømmer (2014) |
| 2015 | Gold Derby TV Award | Gold Derby Awards | Drama Guest Actor | House of Cards (2013) |
| 2013 | Bodil | Bodil Awards | Best Actor (Bedste mandlige hovedrolle) | Viceværten (2012) |
| 2013 | Robert | Robert Festival | Best Actor (Årets mandlige hovedrolle) | Viceværten (2012) |
| 2011 | Dagger | Crime Thriller Awards, UK | Best Leading Actor | Forbrydelsen (2007) |
| 2010 | Bodil | Bodil Awards | Best Actor (Bedste mandlige hovedrolle) | Headhunter (2009) |
| 2010 | Zulu | Zulu Awards | Best Actor (Årets danske skuespiller) | Headhunter (2009) |
| 2002 | Bodil | Bodil Awards | Best Actor (Bedste mandlige hovedrolle) | En kærlighedshistorie (2001) |
Source:
IMDb
,
Wikipedia