Known for movies
Short Info
| | |
| --- | --- |
| Died | November 12, 2003, West Hollywood, California, United States |
| Mark | Bright blue eyes |
| Fact | Was an only child. |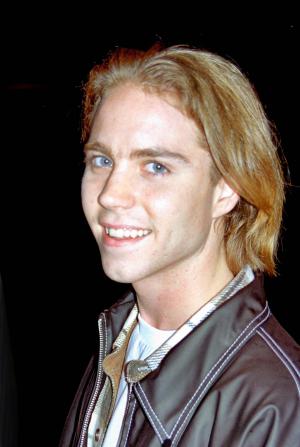 Who is Jonathan Brandis?
Jonathan Brandis was an American actor who came to prominence during his teenage years, for starring in movies such as "The NeverEnding Story II: The Next Chapter" (1992) and "Ladybugs" (1992). He was also widely recognized from his appearances in the ABC's soap opera "One Life to Live" and the NBC's Primetime Emmy Award-winning TV series "SeaQuest 2032" (known also as "SeaQuest DSV"). He passed away in 2003.
Actor #JonathanBrandis would've turned 44 today.
He sadly took his own life in 2003. pic.twitter.com/JKCk9dknrq

— Only Film Media (@OnlyFilmMedia) April 13, 2020
Early Life and Childhood
Jonathan Gregory Brandis was born under the zodiac sign of Aries on the 13th April 1976, in Danbury, Connecticut USA, the only child of personal manager and teacher Mary, and firefighter and food distributor Gregory Brandis. He was of white ethnicity and American nationality, and of Irish and Italian ancestry through his mother, and of English, Scottish and German descent through his father's side.
He dived into the world of showbiz at the age of only two, when he became a model for the Brown Shoe Company, while at the age of four he was already appearing in a variety of TV commercials.
In 1993, Jonathan matriculated from the San Fernando Valley Professional School in Burbank, California.
Career
Jonathan began his on-camera acting career at the age of six, when in 1982 he appeared as young Kevin Buchanan in an episode of one of the longest-runnng American soap operas – "One Life to Live". After relocating to Los Angeles, California with his family in 1983, young Brandis went on to hone his acting skills through a streak of appearances in television series such as the Golden Globe-nominated "Kate & Allie", "Sledge Hammer!", and "L.A. Law" before making his big screen debut in 1988 in the comedy movie "The Wrong Guys".
Later that year, he was cast for the recurring role of young Nick in the TV mini series "Pacific Bell: The Rain Children", after which he appeared in the horror movie "Stepfather II" and TV series "Murder, She Wrote" and "Alien Nation".
Into the limelight Jonathan came in 1990, when he portrayed the leading role of Bastian in the fantasy adventure movie "The NeverEnding Story II: The Next Chapter", for which he was honored with nominations for the Young Artist Award as well as the Saturn Award by the Academy of Science Fiction, Fantasy & Horror Films, USA.
Subsequently, he was cast to appear as Bill Denbrough in the Primetime Emmy Award-winning TV horror mini-series "It", based on an eponymous novel of Stephen King, for which he was also praised by the critics.
With his popularity on the rise, young Jonathan appeared in several popular TV series at that time, such as "Gabriel's Fire", "The Wonder Years" and "Blossom", before starring in the 1992 sports comedy film "Ladybugs", for which he was honored with two more Young Artist Awards' nominations. Later that year, he appeared opposite Chuck Norris in the action comedy film "Sidekicks", after which he was cast for one of the most memorable roles of his career, as Lucas Wolenczak in the TV Sci-Fi series "SeaQuest 2032".
The plot is set in the year 2018, and follows the lives of the high-tech submarine's crew and their adventures while harvesting the world's only remaining natural resources from the bottom of the ocean. In the course of the next four years, during the show's three seasons-long run, Brandis appeared in 57 episodes, earning a huge dose of popularity.
Between 1994 and 1995 he voice-acted as the recurring character of Mozenrath in the TV animated adventure series "Aladdin", before appearing in TV movies "Fall Into Darkness" and "Two Came Back" in 1996 and 1997 respectively.
In 1999 Jonathan Brandis guest-starred in the comedy drama movie "Outside Providence", as well as in the war drama film "Ride with the Devil". In 2002, he briefly appeared opposite Bruce Willis and Colin Farrell in the war drama film "Hart's War", while in 2003 he was cast in the critically praised TV movie "111 Gramercy Park".
Personal Life
Between 1995 and 1998 he was in a relationship with a fellow colleague, American actress and singer Tatyana Ali, who is probably best known for her appearances in "The Fresh Prince of Bel-Air" sitcom.
In 2000 Brandis dated another colleague, actress Monica Keena who is widely recognized for appearing in the TV series "Dawson's Creek", and movies "Freddy vs. Jason" (2003) and "Aftermath" (2014).
Death
At the age of 27, on the 11th November 2003, Jonathan Brandis was found hanged in his apartment in Los Angeles. Despite all efforts from the medical team of Cedars-Sinai Medical Center, he died on the 12th November from the injuries sustained by hanging himself.
After his suicide, his close friends revealed to the public that he was suffering from depression, primarily caused by his 'waning career'.
Net Worth
Authoritative sources have estimated that as of early 2020, the total of Jonathan Brandis' net worth would revolve around the sum of at least $400,000, acquired through his prematurely ended career, during which he added over 50 acting credits to his professional portfolio.
General Info
| | |
| --- | --- |
| Full Name | Jonathan Brandis |
| Died | November 12, 2003, West Hollywood, California, United States |
| Height | 1.75 m |
| Profession | Screenwriter, Film director, Actor |
| Nationality | American |
Family
| | |
| --- | --- |
| Parents | Mary Brandis, Gregory Brandis |
Accomplishments
| | |
| --- | --- |
| Movies | The NeverEnding Story II: The Next Chapter, Sidekicks, Ladybugs, Hart's War, Fall Into Darkness, Stepfather II, The Year That Trembled, Outside Providence, Ride with the Devil, Bad Girls from Valley High, Puerto Vallarta Squeeze, Two Came Back, Fatal Attraction, Born Free: A New Adventure, The Slain... |
| TV Shows | seaQuest DSV, Gabriel's Fire, The Munsters Today, It, Pros and Cons |
Social profile links
Marks
| # | Marks / Signs |
| --- | --- |
| 1 | Mischevious smile |
| 2 | Bright blue eyes |
Quotes
| # | Quote |
| --- | --- |
| 1 | [speaking in 1994] I want to be remembered as an actor who put in some good work in the beginning of his career, even better work at the end of his career and slowly, successfully made the transition into writing and directing. |
| 2 | My friends would probably describe me as silly. And honest. And that I think about things a bit too much. |
| 3 | I want to direct, I want to be part of something creative, something with quality. My biggest fear as an actor is being involved in something mediocre, or being mediocre myself. I've taken classes on screen-writing and, of course, I read a lot of scripts. Writing is what I'd really like to move towards. Right now, though, it just doesn't pay the mortgage. |
| 4 | Teen magazines keep writing that my eyes "twinkle" when I talk. Look, I'm a guy. I don't twinkle, you know! You can say that my eyes "sparkle" maybe, but not "twinkle", alright? Got that, teen magazine writers?! |
Facts
| # | Fact |
| --- | --- |
| 1 | His father has English, and some German, ancestry. His mother is of half Irish and half Italian descent. The surname "Brandis" traces back to Jonathan's paternal great-great-great-grandfather, Henry William Brandis, who was born in Prussia. |
| 2 | Was in a relationship with actress Tatyana Ali for 3 years. |
| 3 | Was best friends with Jason Marsden. |
| 4 | He was cremated and his ashes are in the possession of his family. |
| 5 | He was the only actor to appear in all 57 episodes of SeaQuest 2032 (1993). |
| 6 | Considered Roy Scheider to be the person of the biggest influence on him as an actor. |
| 7 | Was set to direct an episode of SeaQuest 2032 (1993), but the show was canceled before he had the chance to do so. |
| 8 | As a teenager, in hopes of preparing for a directing career as well as an acting career, he filmed movies starring his friends using a home video camera. |
| 9 | In the start of his teenage-life, he was considered a bit short. This phenomenon was in fact due to that he was actually also growing as an adult. During filming Sidekicks (1992) he had the same height as Mako, (5' 4"). He then seriously grew in his late teenage years. In the last season of SeaQuest 2032 (1993) when he was about 19 years old, he reached the height 5'9". He then kept this height for some few years until during filming of Outside Providence (1999) when he finally received his adult height of 6'. |
| 10 | An action figure was created based on his character, Lucas Wolenczak, from SeaQuest 2032 (1993). |
| 11 | Was considered for Saved by the Bell (1989). |
| 12 | He was friends with childhood neighbor, actress Juliette Clarke. |
| 13 | The Slainesville Boys (2004), completed in 2003, would have been his directorial debut. |
| 14 | After his death dozens upon dozens of Internet communities and memorial websites were devoted to him. |
| 15 | Coincidentally, his date to the high school prom was Clueless (1995) star Brittany Murphy, another actress who died at a young age. Jonathan died in 2003 at age 27, and Brittany died in 2009 at age 32 from pneumonia. |
| 16 | Was an only child. |
| 17 | At the 15th Annual Youth in Film Awards, he won Best Youth Actor in a Leading Role in a Television Series for SeaQuest 2032 (1993). |
| 18 | An avid Pez collector. |
| 19 | Auditioned for the role of Anakin Skywalker in Star Wars: Episode II - Attack of the Clones (2002). |
| 20 | Dated Monica Keena. [2000] |
| 21 | Attended a special actors school and graduated after doubling his high school classes. |
| 22 | He claimed that his dad was one of the main inspirations in his life, having taught him about the "business from an early age". |
| 23 | He performed in more than 85 commercials. |
| 24 | He co-wrote the SeaQuest 2032 (1993) episode SeaQuest 2032: The Siamese Dream (1995). |
Pictures
Movies
Actor
| Title | Year | Status | Character |
| --- | --- | --- | --- |
| Bad Girls from Valley High | 2005 | | Drew |
| Puerto Vallarta Squeeze | 2004 | | Neil Weatherford |
| 111 Gramercy Park | 2003 | TV Movie | Will Karnegian |
| Between the Sheets | 2003 | | Robert Avocado |
| The Year That Trembled | 2002 | | Casey Pedersen |
| Hart's War | 2002 | | Pvt. Lewis P. Wakely (scenes deleted) |
| Ride with the Devil | 1999/I | | Cave Wyatt |
| Outside Providence | 1999 | | Mousy |
| Two Came Back | 1997 | TV Movie | Jason |
| Fall Into Darkness | 1996 | TV Movie | Chad Lear |
| SeaQuest 2032 | 1993-1996 | TV Series | Lucas Wolenczak Ensign Lucas Wolenczak |
| Born Free: A New Adventure | 1996 | TV Movie | Randolph 'Rand' Thompson |
| Her Last Chance | 1996 | TV Movie | Preston Altherton |
| Aladdin | 1994-1995 | TV Series | Mozenrath |
| Good King Wenceslas | 1994 | TV Movie | Prince Wenceslas |
| Saved by the Bell: The College Years | 1993 | TV Series | Jonathan Brandis |
| Sidekicks | 1992 | | Barry Gabrewski |
| Crossroads | 1992 | TV Series | Michael Stahl |
| Ladybugs | 1992 | | Matthew / Martha |
| Do Not Bring That Python in the House | 1992 | TV Movie | Gabriel Miller |
| Pros and Cons | 1991 | TV Series | Danny |
| Blossom | 1991 | TV Series | Stevie |
| Our Shining Moment | 1991 | TV Movie | Michael 'Scooter' McGuire |
| The Wonder Years | 1991 | TV Series | Steve |
| Gabriel's Fire | 1991 | TV Series | Matthew Fixx |
| It | 1990 | TV Mini-Series | Young Bill Denbrough Bill Denbrough - Age 12 |
| The Flash | 1990 | TV Series | Terry Cohan |
| The Neverending Story II: The Next Chapter | 1990 | | Bastian |
| The Munsters Today | 1990 | TV Series | Matt Glover |
| Ghost Dad | 1990 | | Additional Voices (voice) |
| Alien Nation | 1990 | TV Series | Andron |
| Murder, She Wrote | 1990 | TV Series | Kevin Bryce |
| Stepfather II | 1989 | | Todd Grayland |
| Who's the Boss? | 1989 | TV Series | Paul |
| Full House | 1989 | TV Series | Michael Monford |
| Mars: Base One | 1988 | TV Movie | |
| Oliver & Company | 1988 | | Additional Voice (voice) |
| Webster | 1988 | TV Series | Bobby |
| Home Free | 1988 | TV Movie | Vladimir D'Lugash |
| The Wrong Guys | 1988 | | Kid Tim |
| Poor Little Rich Girl: The Barbara Hutton Story | 1987 | TV Movie | Lance Reventlow - age 11 (parts 4-5) |
| L.A. Law | 1987 | TV Series | Kevin Talbot |
| Buck James | 1987 | TV Series | |
| Fatal Attraction | 1987 | | Party Guest |
| Good Morning, Miss Bliss | 1987 | TV Series | Michael Thompson |
| Mystery Magical Special | 1986 | TV Movie | Jonathan |
| Sledge Hammer! | 1986 | TV Series | Young Sledge |
| Kate & Allie | 1984 | TV Series | Chip's Friend |
| One Life to Live | 1968 | TV Series | Young Kevin Riley Buchanan (1982) |
Miscellaneous
| Title | Year | Status | Character |
| --- | --- | --- | --- |
| Short Time | 1990 | ADR artist | |
| Pet Sematary | 1989 | ADR loop group | |
Director
| Title | Year | Status | Character |
| --- | --- | --- | --- |
| The Slainesville Boys | 2004 | Short | |
Writer
| Title | Year | Status | Character |
| --- | --- | --- | --- |
| SeaQuest 2032 | 1995 | TV Series written by - 1 episode | |
Producer
| Title | Year | Status | Character |
| --- | --- | --- | --- |
| The Slainesville Boys | 2004 | Short producer | |
Soundtrack
| Title | Year | Status | Character |
| --- | --- | --- | --- |
| Stepfather II | 1989 | performer: "Camptown Races" - uncredited | |
Self
| Title | Year | Status | Character |
| --- | --- | --- | --- |
| 28th NAACP Image Awards | 1997 | TV Special | Himself |
| Late Night with Conan O'Brien | 1995 | TV Series | Himself - Guest |
| Sea World/Busch Gardens Party for the Planet | 1995 | TV Movie | Himself - Guest |
| Nickelodeon Kids' Choice Awards '95 | 1995 | TV Special | Himself |
| Masters of Illusion: The Wizards of Special Effects | 1994 | TV Special documentary | Himself |
| Macy's Thanksgiving Day Parade | 1993 | TV Movie | Himself |
| The All New Mickey Mouse Club | 1992 | TV Series | Himself |
| The Earth Day Special | 1990 | TV Special | Himself |
| The More You Know | 1989 | TV Series | Himself |
Archive Footage
| Title | Year | Status | Character |
| --- | --- | --- | --- |
| Boulevard of Broken Dreams | 2007 | TV Series documentary | Himself |
| Dr. X's Creatures | 2003 | TV Series | Various Characters (2003) |
| Aladdin's Arabian Adventures: Magic Makers | 1995 | Video | Mozenrath |
Awards
Won Awards
| Year | Award | Ceremony | Nomination | Movie |
| --- | --- | --- | --- | --- |
| 1994 | Young Artist Award | Young Artist Awards | Best Youth Actor Leading Role in a Television Series | Seaquest DSV (1993) |
Nominated Awards
| Year | Award | Ceremony | Nomination | Movie |
| --- | --- | --- | --- | --- |
| 1995 | Young Artist Award | Young Artist Awards | Best Performance by a Youth Actor in a TV Mini-Series or Special | Good King Wenceslas (1994) |
| 1993 | Young Artist Award | Young Artist Awards | Outstanding Young Ensemble Cast in a Motion Picture | Ladybugs (1992) |
| 1993 | Young Artist Award | Young Artist Awards | Best Young Actor Starring in a Motion Picture | Ladybugs (1992) |
| 1992 | Saturn Award | Academy of Science Fiction, Fantasy & Horror Films, USA | Best Performance by a Younger Actor | The Neverending Story II: The Next Chapter (1990) |
| 1992 | Young Artist Award | Young Artist Awards | Best Young Actor Starring in a Motion Picture | The Neverending Story II: The Next Chapter (1990) |
| 1991 | Young Artist Award | Young Artist Awards | Best Young Actor Guest Starring in a Television Series | The Flash (1990) |
2nd Place Awards
| Year | Award | Ceremony | Nomination | Movie |
| --- | --- | --- | --- | --- |
| 1994 | Bravo Otto Germany | Bravo Otto | Best Male TV Star (TV-Star m) | |
Source:
IMDb
,
Wikipedia