• Lisa Hartman Black is an actress and singer born in Houston, Texas, USA in 1956.
• She has a net worth of over $5 million.
• She rose to fame through her work in the TV series "Knots Landing".
• She has released 4 solo albums, and her duet "When I Said I Do" with Clint Black was a hit.
• She is married to musician Clint Black, with whom she has a child, and currently resides in Nashville, Tennessee.

Known for movies
Short Info
| | |
| --- | --- |
| Date Of Birth | June 1, 1956 |
| Spouse | Clint Black |
| Fact | Gave birth to her daughter, Lily Pearl Black, on 8 May 2001. The father is country singer Clint Black. |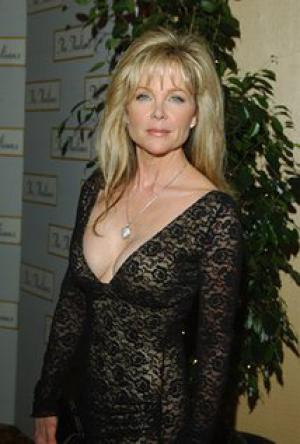 Who is Lisa Hartman Black?
Lisa Hartman Black was born on 1 June 1956, in Houston, Texas, USA, and is an actress as well as a singer, best known for her work in the TV series entitled "Knots Landing" in which she played rock singer Ciji Dunne. She's also released solo albums during her career.
The Riches of Lisa Hartman Black
How rich is Lisa Hartman Black? As of late-2019, sources inform us of a net worth that is over $5 million. While she's gained income through her music releases, it is her work in soaps that gave her fame, and a huge boost in net worth.
Early Life and Career Beginnings
There is very limited information when it comes to Lisa, as she hasn't revealed a lot about her life before her career as an actress. There is no information regarding her family, education, and childhood. She was interested in an acting career at a young age, which led to television appearances, mostly in minor roles.
She starred in the 1977 series entitled "Tabitha" – which was a spin-off of "Bewitched" – but it was short lived, lasting only a season. She made numerous guest appearances over the next few years, leading to playing the character Neely O'Hara in the television remake of "Valley of the Dolls". The story is based in the 1966 novel of the same name written by Jacqueline Susann, noted for being the biggest selling novel of that year, with over 31 million copies, actually making it one of the best-selling works in publishing history.
Breakthrough and Rise to Fame
In 1982, Hartman Black made her breakthrough when she was cast in the prime time soap "Knots Landing", in which her character started romances with the characters of Ted Shackelford as well as Michael Sabatino. The show was a spin-off from "Dallas", and followed the lives of four married couples living in a cul-de-sec in a fictitious coastal suburb in Los Angeles. The show featured a lot of storylines such as rape, assassinations, murder, criminal investigations, drugs, and the like.
Her character was very popular with the audience, and there was a huge uproar from the public when her character was killed off-screen after a year. Due to the backlash, she was brought back to the show as another character, who later married Alec Baldwin's character. She stayed with the show for a total of four years before she was released, as there were no longer any storylines for her.
While she worked on acting roles, she also started releasing music, with a total of four solo albums. She's worked with Kirshner Records, RCA Records, and Atlantic Records during her career,  as well as performing on several shows such as "Solid Gold", but none of her solo releases were commercially successful.
The only hit she achieved was a duet called "When I Said I Do" with Clint Black, which reached the top of the Billboard Hot Country Singles & Tracks Charts, leading to a Grammy Award nomination.
Latter Career
Lisa is also known for co-hosting the television special celebrating the 30th anniversary of Universal Studios, called "Universal Studios Summer Blast". During the latter part of her career, she started taking fewer acting roles, and did a few more musical projects. In 2011, she released the album "Lisa Hartman, Hold On" on CD, before working on the album "Letterock". Her last album release is entitled "'Til My Heart Stops".
One of her last acting projects was a starring role in "Flicka: Country Pride", which was released by Twentieth Century Fox direct-to-DVD, and is the sequel to "Flicka 2" which was released in 2010. Other stars in the film include Clint Black, Kacey Rohl and Siobhan Williams. Since then, she has not taken any new acting projects, which has led many to believe that she has retired from the entertainment industry. However, she has not made any official announcement, and it is not known if she'll make a return in the near future.
Personal Life and Social Media
For her personal life, it is known that Lisa has been married musician Clint Black since 1991. Her husband is known for his work in country music, rising to fame in the late 1980s with his debut album "Killin' Time" which produce four straight number one singles. After a slowdown in momentum, he created more chart hitting singles in the 2000s. They have a child together and initially lived in Laurel Canyon, Los Angeles, before later moving to Nashville, Tennessee. It is not known if they continue to reside there.
One of the reasons why there are very few details regarding her past and present endeavors is due to the lack of any online presence. She does not have accounts on any of the major social media websites including Facebook, Twitter, and Instagram. She mentioned in an interview that she had a happy childhood, and one of the reasons she became exposed to the entertainment industry was that her mother who was a publicity agent for Hollywood. Her mother insisted that she would become a star, and supported her career. Apparently she has also done some theatre work, though it is not as popular as her on-camera roles.
General Info
| | |
| --- | --- |
| Full Name | Lisa Hartman Black |
| Date Of Birth | June 1, 1956 |
| Height | 1.62 m |
| Profession | Television producer, Actor, Singer |
| Nationality | American |
Family
| | |
| --- | --- |
| Spouse | Clint Black |
| Children | Lily Pearl Black |
| Parents | Howard Hartman, Jonni Hartman |
| Siblings | Terri Hartman |
Accomplishments
| | |
| --- | --- |
| Awards | Academy of Country Music Award for Vocal Event of the Year, TV Land Anniversary Award |
| Nominations | Grammy Award for Best Country Collaboration with Vocals, Country Music Association Award for Vocal Event of the Year |
| Movies | Flicka: Country Pride, Still Holding On: The Legend of Cadillac Jack, Have You Seen My Son, Bare Essentials, Full Exposure: The Sex Tapes Scandal, Where the Boys Are '84, Jacqueline Susann's Valley of the Dolls, Deadly Blessing, Red Wind, Search for Grace, The 17th Bride: A Story of Love and War, Ju... |
| TV Shows | Knots Landing, 2000 Malibu Road, Tabitha, High Performance |
Social profile links
Quotes
| # | Quote |
| --- | --- |
| 1 | I remember having the best childhood. I had a very healthy, happy, funny family. |
| 2 | Do I believe in magic? ... No. I don't think so. But romantic magic? Oh, sure, yes, that kind of magic, absolutely. There has to be magic in everything you do. That's what make it exciting. There has to be some intrigue, and there has to be some mystery. I like that - I like things that are mysterious. |
Facts
Pictures
Movies
Actress
| Title | Year | Status | Character |
| --- | --- | --- | --- |
| Flicka: Country Pride | 2012 | Video | Lindy (as Lisa Hartman Black) |
| Back to You and Me | 2005 | TV Movie | Syd Ludwick (as Lisa Hartman Black) |
| Still Holding On: The Legend of Cadillac Jack | 1998 | TV Movie | Ponder Favor (as Lisa Hartman Black) |
| Out of Nowhere | 1997 | TV Movie | Lauren Carlton (as Lisa Hartman Black) |
| Have You Seen My Son | 1996 | TV Movie | Lael Pritcher (as Lisa Hartman Black) |
| Dazzle | 1995 | TV Movie | Juanita 'Jazz' Kilkullen (as Lisa Hartman Black) |
| Someone Else's Child | 1994 | TV Movie | Cory Maddox (as Lisa Hartman Black) |
| Search for Grace | 1994 | TV Movie | Ivy / Grace (as Lisa Hartman Black) |
| Without a Kiss Goodbye | 1993 | TV Movie | Laurie Samuels (as Lisa Hartman Black) |
| 2000 Malibu Road | 1992 | TV Series | Jade O'Keefe |
| The Return of Eliot Ness | 1991 | TV Movie | Madeline Whitfield |
| Perfect Crimes | 1991 | TV Movie | Dr Lori Forman |
| Red Wind | 1991 | TV Movie | Kris Morrow |
| Fire: Trapped on the 37th Floor | 1991 | TV Movie | Susan Lowell |
| Not of This World | 1991 | TV Movie | Linda Fletcher |
| Bare Essentials | 1991 | TV Movie | Sydney Wayne |
| The Take | 1990 | TV Movie | Delaney |
| The Operation | 1990 | TV Movie | Laura Parks |
| The Hitchhiker | 1989 | TV Series | Cheryl |
| Full Exposure: The Sex Tapes Scandal | 1989 | TV Movie | Sarah Dutton |
| Matlock | 1988 | TV Series | Shelby Russell |
| Student Exchange | 1987 | TV Movie | Beautician |
| Roses Are for the Rich | 1987 | TV Movie | Autumn McAvin Norton Corbett Osborne |
| Knots Landing | 1982-1986 | TV Series | Cathy Geary Cathy Geary Rush Ciji Dunne |
| Ha-Kala | 1985 | | Liza |
| Beverly Hills Cowgirl Blues | 1985 | TV Movie | Amanda Ryder |
| Where the Boys Are | 1984 | | Jennie Cooper |
| High Performance | 1983 | TV Series | Kate Flannery |
| Scared Silly | 1982 | TV Movie | Darcy Winfield |
| T.J. Hooker | 1982 | TV Series | Allison Baker |
| Jacqueline Susann's Valley of the Dolls | 1981 | TV Movie | Neely O'Hara |
| Deadly Blessing | 1981 | | Faith Stohler |
| Aloha Paradise | 1981 | TV Series | |
| Fantasy Island | 1978-1981 | TV Series | Sheila Richards / Sharon Sanders / Gladys Boylin / ... |
| The Love Boat | 1979-1981 | TV Series | Carol Bowers / Sherry / Toni |
| Gridlock | 1980 | TV Movie | Nikki |
| Where the Ladies Go | 1980 | TV Movie | Crystal |
| Valentine Magic on Love Island | 1980 | TV Movie | Crystal Kramer |
| Vega$ | 1979 | TV Series | Diana Payne |
| Tabitha | 1977-1978 | TV Series | Tabitha Stephens |
| Just Tell Me You Love Me | 1978 | | Julie |
| Murder at the World Series | 1977 | TV Movie | Stewardess |
| Police Woman | 1976 | TV Series | Evelyn |
Music Department
| Title | Year | Status | Character |
| --- | --- | --- | --- |
| Tabitha | 1977-1978 | TV Series singer - 10 episodes | |
Soundtrack
| Title | Year | Status | Character |
| --- | --- | --- | --- |
| Navy Seals | 1990 | performer: "Tempt Me If You Want To" / writer: "Tempt Me If You Want To" | |
| Where the Boys Are | 1984 | performer: "Where The Boys Are" | |
| The Lisa Hartman Show | 1976 | TV Movie performer: "Hot Stuff" | |
Producer
| Title | Year | Status | Character |
| --- | --- | --- | --- |
| Still Holding On: The Legend of Cadillac Jack | 1998 | TV Movie executive producer - as Lisa Hartman Black | |
| Have You Seen My Son | 1996 | TV Movie producer - as Lisa Hartman Black | |
Self
| Title | Year | Status | Character |
| --- | --- | --- | --- |
| The Lisa Hartman Show | 1976 | TV Movie | Herself |
| Dinah! | 1976 | TV Series | Herself |
| Rock Concert | 1976 | TV Series | Herself |
| Entertainment Tonight | 2015 | TV Series | Herself |
| Anderson Live | 2012 | TV Series | Herself |
| Huckabee | 2012 | TV Series | Herself |
| The 7th Annual TV Land Awards | 2009 | TV Special | Herself (as Lisa Hartman Black) |
| People Country Special on CMT | 2008 | TV Series | Herself |
| CMT Insider | 2007 | TV Series | Herself |
| 40th Annual Country Music Association Awards | 2006 | TV Special | Herself (as Lisa Hartman Black) |
| Clint Black Live: Drinkin' Songs & Other Logic | 2005 | TV Movie documentary | Guest Vocals |
| Knots Landing Reunion: Together Again | 2005 | TV Movie documentary | Herself Ciji Dunne Cathy Geary |
| CMT: 100 Greatest Duets Concert | 2005 | TV Special | Herself |
| Dr. Phil | 2004 | TV Series | Herself |
| The Oprah Winfrey Show | 1996-2004 | TV Series | Herself |
| One Houston United: The Night the Rains Came | 2002 | Documentary short | Herself |
| The 3rd Annual Family Television Awards | 2001 | TV Special | Herself |
| Intimate Portrait | 2001 | TV Series documentary | Herself |
| King of the Hill | 2000 | TV Series | Herself |
| Austin City Limits | 2000 | TV Series documentary | Herself |
| The American Red Cross Holiday Music Spectacular | 1999 | TV Movie | Herself |
| Elvis: His Life and Times | 1997 | TV Special | Herself - Host (as Lisa Hartman Black) |
| The Annual Artist Rights Foundation Honors Steven Spielberg | 1995 | TV Movie | Herself |
| The Arsenio Hall Show | 1989-1994 | TV Series | Herself |
| R.A.D.D.: Drive My Car | 1994 | TV Short | Herself - Musician (as Lisa Hartman Black) |
| The 21st Annual American Music Awards | 1994 | TV Special | Herself (as Lisa Hartman Black) |
| The 51st Annual Golden Globe Awards | 1994 | TV Special | Herself - Presenter (as Lisa Hartman Black) |
| America Comes to Graceland | 1993 | TV Special documentary | Herself - Host (as Lisa Hartman Black) |
| The Knots Landing Block Party | 1993 | TV Special documentary | Herself Ciji Dunne Cathy Geary |
| Good Morning America | 1993 | TV Series | Herself |
| Andy Griffith Show Reunion | 1993 | TV Special | Herself |
| The 19th Annual American Music Awards | 1992 | TV Special | Herself (as Lisa Hartman Black) |
| 25th Annual Country Music Association Awards | 1991 | TV Special | Herself (as Lisa Hartman Black) |
| The 8th Annual American Cinema Awards | 1991 | TV Special | Herself |
| The 19th Annual Nosotros Golden Eagle Awards | 1989 | TV Special | Herself |
| The Pat Sajak Show | 1989 | TV Series | Herself |
| The 2nd Annual Soul Train Music Awards | 1988 | TV Special | Herself - Presenter |
| The Magic of David Copperfield 10: The Bermuda Triangle | 1988 | TV Movie | Herself - Special Guest Host |
| Celebrity Secrets | 1988 | TV Movie | Herself |
| Your Alcohol I.Q. | 1988 | Video documentary short | Herself |
| New American Bandstand 1965 | 1979-1987 | TV Series | Herself - Musical Guest / Herself |
| The 12th Annual People's Choice Awards | 1986 | TV Special | Herself - Presenter: Favourite Female Musical Performer |
| The 11th Annual People's Choice Awards | 1985 | TV Special | Herself - Presenter: Favourite Male Television Performer |
| Solid Gold | 1984-1985 | TV Series | Herself - Co-Host / Herself |
| Night of 100 Stars II | 1985 | TV Movie | Herself |
| All-Star Party for Lucille Ball | 1984 | TV Special | Herself |
| On Stage America | 1984 | TV Series | Herself |
| The Merv Griffin Show | 1984 | TV Series | Herself |
| The Stars Salute the U.S. Olympic Team | 1984 | TV Movie | Herself - Performer |
| Breakaway | 1983 | TV Series | Herself |
| Salute! | 1983 | TV Series | Herself |
| The 1983 Annual American Image Awards | 1983 | TV Special | Herself - Host |
| The 40th Annual Golden Globe Awards | 1983 | TV Special | Herself - Presenter |
| An Evening at the Improv | 1982 | TV Series | Guest host |
| The Mike Douglas Show | 1979 | TV Series | Herself - Actress |
| The 36th Annual Golden Globes Awards | 1979 | TV Special | Herself - Presenter |
Awards
Won Awards
| Year | Award | Ceremony | Nomination | Movie |
| --- | --- | --- | --- | --- |
| 2009 | Anniversary Award | TV Land Awards | | Knots Landing (1979) |
| 1984 | Soap Opera Digest Award | Soap Opera Digest Awards | Outstanding Actress in a Supporting Role on a Prime Time Soap Opera | Knots Landing (1979) |
Nominated Awards
| Year | Award | Ceremony | Nomination | Movie |
| --- | --- | --- | --- | --- |
| 1986 | Soap Opera Digest Award | Soap Opera Digest Awards | Outstanding Actress in a Supporting Role on a Prime Time Serial | Knots Landing (1979) |
| 1981 | Stinker Award | The Stinkers Bad Movie Awards | Most Annoying Fake Accent: Female | Deadly Blessing (1981) |
Source:
IMDb
,
Wikipedia