--Chuck Woolery is a former game-show and talk-show host, as well as a musician.
--He is best known for hosting the family game-show "Wheel of Fortune".
--He was a part of the psychedelic pop duo The Avant-Garde and released two hit singles.
--He has acted in several movies, television series, and voiced an animated adventure comedy series.
--He is married to his fourth wife Kim Barnes, and has at least five children.

Known for movies
Short Info
| | |
| --- | --- |
| Net Worth | $15 million |
| Date Of Birth | March 16, 1941 |
| Spouse | Kim Woolery, Teri Nelson, Jo Ann Pflug, Margaret Hays |
| Mark | Hand sign language before each commercial break of two digits |
| Fact | Missed a week's worth of episodes of Wheel of Fortune (1975), because he was in the hospital, hence, Alex Trebek subbed for him. |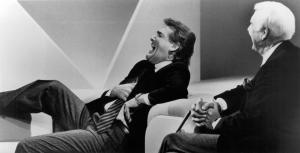 Who is Chuck Woolery?
Charles Herbert 'Chuck' Woolery was born in Ashland, Kentucky USA, on 16 March 1941 – his zodiac sign is Pisces, and he holds American nationality. He's a former game-show and talk-show host, as well as a musician, who's probably still known best for having served as the original host of the family game-show "Wheel of Fortune". It was created by Merv Griffin, aired from 1975 to 1981, and also starred Susan Stafford and Charlie O'Donnell; the show features contestants trying to guess a word or phrase.
Early life and education
Chuck was raised in Ashland alongside his sister Sue Woolery, by their parents Dan and Katherine, about whom only little is known, because Chuck respects their privacy; it's said that their father was a bank teller, and that their mother was a housewife.
Chuck was mostly interested in music while growing up, and practiced singing and learned to play various instruments while attending a local high school. He was also physically active during those four years, as he played soccer and football for school teams, while Chuck also appeared in a couple of school plays, mostly portraying supporting characters.
Upon matriculating in 1959, he served two years in the US Navy.
Career as a musician
Chuck launched his career as a musician upon leaving the Navy, and sang and played the double bass in the trio The Bordermen.
After their split in 1964, Chuck became one-half of the psychedelic pop duo The Avant-Garde, with the other half being Bubba Fowler, and they signed a contract with Columbia Records in 1967.
The following year saw Chuck and Bubba release their hit single "Naturally Stoned", which found itself featured in the Top 40 Chart; they released only two other singles prior to disbanding.
While working on his way up in the music industry, Chuck simultaneously worked as a truck driver.
After his and Bubba's split, he launched his solo career by signing a contract with Columbia Records, and in 1970, Chuck signed a new contract with RCA. The same year saw the release of his single "Forgive My Heart", and in 1971 Chuck released "Love Me, Love Me".
He turned to acting after he had failed to attract a lot of attention with his music, but this didn't last long either, so he returned to music in 1977, releasing his singles "The Greatest Love Affair" and "Painted Lady" in the same year, both of which charted on Hot Country Songs.
Career as a game-show and talk-show host
In the first half of the '70s, Chuck was invited to host the children's show "New Zoo Revue", and in 1974, he made a guest appearance in the game-show "Tattletales".
It was on 6 January 1975 that he began hosting "Wheel of Fortune", after having been invited by the show's creator Merv, and Chuck spent the following six years focused solely on hosting the game-show.
The following years saw him host numerous shows, including "Love Connection" between 1983 and 1994, "Home & Family" from 1996 to '98, and "The Dating Game" between 1997 and 1999. Chuck also hosted his own talk-show "The Chuck Woolery Show" in 1991, but it was cancelled after only a couple of months.
In 2003, he hosted the staged production show "The Price Is Right LIVE!"
Since 2012, Chuck has been hosting the radio commentary show "Save Us, Chuck Woolery", and since 2014 has been co-hosting the podcast "Blunt Force Truth" together with Mark Young.
Acting credits
Chuck gained recognition in 1974, with his portrayal of the main character Victor Spivak in the adventure movie "The Treasure of Jamaica Reef", directed by Virginia L. Stone, and which also starred Stephen Boyd and David Ladd. It follows a group of people searching for a Spanish Galleon which had sunk two centuries earlier.
A couple of Chuck's following roles were in the 1978 romantic comedy movie "A Guide for the Married Woman", the 1980 episode "The Great 5K Star Race and Boulder Wrap Party: Part 2" of the mystery crime series "CHiPs", and the 1982 sports comedy movie "Six Pack".
In 1989, Chuck played a supporting character in the crime comedy movie "Cold Feet", directed by Robert Dornhelm, and which starred Keith Carradine, Sally Kirkland and Tom Waits. It follows two men and a woman who have stolen jewels, while one of the men has now taken them for himself, and is running across the country from his former partners; the film won a Romy Gala Award for Best Cinematography.
Chuck has appeared in only a couple of other movies and TV series, while his three most recent roles have been in the 2004 episode "My Cake" of the comedy series "Scrubs", the 2009 episode "Do Over" of the comedy series "Drop Dead Diva", and the 2010 episode "Love Rollercoaster" of the animated adventure comedy series "The Cleveland Show" (voice role).
Wife and children
Chuck has married four times. He exchanged vows with his first wife Margaret Hayes in 1961, and they divorced 10 years later; Chuck and Margaret had a son and daughter together, but their son Chad died when he crashed his motorcycle in January 1986.
Chuck married the American actress Jo Ann Pflug in 1972, in a large ceremony attended by many of their friends and family members; Jo gave birth to their daughter Melissa, but Jo and Chuck divorced in 1980.
In 1985, Chuck married the non-celebrity American Teri Nelson, who gave birth to their sons Michael and Sean, before Chuck and Teri divorced in 2004.
He exchanged vows with his fourth wife Kim Barnes in 2006, and they have since been together.
As of March 2022, Chuck's married to his fourth wife Kim Barnes, and has at least five children, as it's speculated that he has more.
Hobbies and interesting facts
Chuck's a philanthropist, while he mostly volunteers in ministry.
He supports the Republican Party, and is a gun rights activist.
Chuck initially believed that coronavirus wasn't real, and that the Democratic Party, media and doctors were all lying about it. He changed his mind after his son had tested positive for COVID-19.
Although Chuck today prefers to stay at his home in Kentucky, he was once passionate about travelling, and his career has taken him all around the world.
He likes to watch movies starring his favorite actor Bruce Willis, such as "Pulp Fiction", "The Fifth Element" and "Armageddon".
Donald Trump tweet
After Chuck had tweeted about the coronavirus being nothing but a big lie on 12 July 2020, the now-former US President Donald Trump retweeted Chuck's claims.
Age, height and net worth
Chuck's age is 81. He has short brown hair and blue eyes, his height is 6ft 2ins (1.9m) and he weighs around 190lbs (85kgs).
As of March 2022, Chuck's net worth stands at more than $10 million.
General Info
| | |
| --- | --- |
| Full Name | Chuck Woolery |
| Net Worth | $15 million |
| Date Of Birth | March 16, 1941 |
| Height | 1.88 m |
| Profession | Game Show Host, Talk show host, Actor, Singer |
| Education | Eastern Kentucky University, Morehead State University |
| Nationality | American |
Family
| | |
| --- | --- |
| Spouse | Kim Woolery, Teri Nelson, Jo Ann Pflug, Margaret Hays |
| Children | Melissa Woolery, Chad Woolery, Katharine Woolery, Michael Woolery, Cary Woolery, Sean Woolery |
| Parents | Katherine Woolery, Dan Woolery |
| Siblings | Sue Woolery |
Accomplishments
| | |
| --- | --- |
| Music Groups | The Avant-Garde |
| Nominations | Daytime Emmy Award for Outstanding Game Show Host |
| Movies | The Treasure of Jamaica Reef, A Guide for the Married Woman, Bass Fishing: The Basics with Chuck Woolery |
| TV Shows | Love Connection, Wheel of Fortune, Lingo, Scrabble, The Dating Game, The Home and Family Show, Greed, New Zoo Revue, The Price Is Right, The Big Spin, Think Like a Cat, Chuck Woolery: Naturally Stoned |
Social profile links
Marks
| # | Marks / Signs |
| --- | --- |
| 1 | Hand sign language before each commercial break of two digits |
Quotes
| # | Quote |
| --- | --- |
| 1 | At the time I thought my career was on the rise. I had no idea it was Wheel of Fortune that was on the rise. The show escaped cancellation multiple times while I was hosting, so I wanted financial security in case NBC decided to dump it. Looking back at it, I let my ego get in the way of my decision making and it was a terrible mistake. I'm happy for the success Merv (Griffin) has had with the show. I have no idea if the show would become a huge hit if I stayed on board. |
| 2 | [Of his current residence]: It's just like Venice Beach, California right in the middle of Texas. It's a very eclectic, interesting place. I like it. |
Facts
| # | Fact |
| --- | --- |
| 1 | As of 2016, he is the first game show emcee to have hosted four long-running shows. |
| 2 | In Hollywood taping a new season of Lingo (2002) on the Game Show Network (GSN) cable network. [August 2005] |
| 3 | While in the hospital, he tried to commit suicide. |
| 4 | Is politically libertarian conservative. |
| 5 | Is one of the founders of the political action committee Restart Congress, along with, among others, Michigan's 41st Secretary of State, Terri Lynn Land. |
| 6 | With Jo Ann Pflug, he appeared alongside Bill Cullen and his wife Ann Mocamber along with Allen Ludden and his wife Betty White on Tattletales (1974) in 1974. |
| 7 | He, alongside Bob Eubanks and Jamie Farr, was one of the three rotating hosts of the $250,000 Game Show Spectacular at the Las Vegas Hilton, until the show closed in April 2008. |
| 8 | According to himself, when his show Love Connection (1983) was canceled, of the roughly 22,000 couples who met on the show, there were a total of 29 marriages, 8 engagements, and 15 children. |
| 9 | His idols when he was very young were Bill Cullen and his ex-brother-in-law Tom Kennedy. |
| 10 | Received a letter from Bob Barker who wanted to expressed his condolences on one of Woolery's three sons, Chad, who died in an motorcycle accident in 1986. |
| 11 | At one point, he was going to be a guitarist and singer. |
| 12 | Friends with: Michele Lee, Vicki Lawrence, Betty White, Bob Barker, Bob Eubanks, Bob Goen, Bill Cullen, Richard Dawson, Jim Lange, Jim Perry, Tom Kennedy, Geoff Edwards, Wink Martindale, Bill Rafferty, Peter Tomarken, Merv Griffin, Mark Goodson, Alex Trebek, Pat Sajak, Pat Finn, Monty Hall, Regis Philbin and Dick Clark. |
| 13 | Ranked #8 as GSN's Top 10 Game Show Hosts of All Time. |
| 14 | Had appeared on Match Game/Hollywood Squares Hour (1983), just a few days before he began hosting Scrabble (1984) for NBC. |
| 15 | Spent two years in the U.S. Navy. |
| 16 | In the mid-1960s, he moved to Nashville, Tennessee, to become a musician. |
| 17 | Went to high school with future basketball player Harold Sergent. |
| 18 | Missed a week's worth of episodes of Wheel of Fortune (1975), because he was in the hospital, hence, Alex Trebek subbed for him. |
| 19 | Best known by the public as the host of Wheel of Fortune (1975), Love Connection (1983), Scrabble (1984) and Lingo (2002). |
| 20 | Graduated from Ashland High School (now Paul G. Blazer High School) in Ashland, Kentucky, in 1959. |
| 21 | Made a successful comeback with Love Connection (1983), after a two-year absence on television. |
| 22 | Spokesman, "Generation America". |
| 23 | Had a quadruple heart bypass operation on September 23, 1996. |
| 24 | Father, with Margaret Hayes, of Cary, Katherine and Chad, who died in a motorcycle accident in 1986 at age 19; father, with Jo Ann Pflug, of daughter Melissa; father, with Teri Nelson, of sons Michael and Sean. |
| 25 | Before he was a game show host, he was a singer and an actor. |
| 26 | His longest lasting game show is Love Connection (1983). He hosted that show for 11 years (1983-1994). He hosted Scrabble (1984) on NBC for 7 years (1984-1990, 1993) and was the first host of Wheel of Fortune (1975) (1975-1981) before he left after a contract dispute with creator Merv Griffin (Pat Sajak took over and still is the host today). Woolery's most recent game show outputs were a short lived syndicated revival of The Dating Game (1997) from 1998 to 2000 and the big money game show Greed: The Series (1999) on FOX from 1999 to 2000. Starting in August of 2002, Chuck has been hosting Lingo (2002) on Game Show Network (GSN). |
| 27 | A new version of Love Connection (1983) was attempted from 1998-1999. Comedian Pat Bullard took over the hosting from Woolery. Though it retained the original format, viewers unfamiliarity with Bullard and late night time slots in most markets hindered the show, and it ceased production after only one season. |
| 28 | Over 2,000 episodes of Love Connection (1983) were taped in the 11 years he hosted the show (1983-1994), making it one of the longest lasting game shows in syndication. |
| 29 | Former son-in-law of David Nelson. |
| 30 | In addition to writing the #40 hit "Naturally Stoned" by the duo "The Avant-Garde", he was one half of the duo, along with Elkin Thomas Fowler (better known as Elkin 'Bubba' Fowler). |
| 31 | Has eight children. |
| 32 | Wrote 1968 hit (Billboard #40) "Naturally Stoned" by studio group Avant-Garde. |
| 33 | Worked 39 days per year while hosting Love Connection (1983). |
| 34 | On September 23, 1996, Woolery underwent quadruple-bypass heart surgery in Los Angeles. |
| 35 | Attended Eastern Kentucky University in Richmond, KY. |
Pictures
Movies
Actor
| Title | Year | Status | Character |
| --- | --- | --- | --- |
| Drop Dead Diva | 2009 | TV Series | Dream Judge / Host |
| Scrubs | 2004 | TV Series | Chuck Woolery |
| Hey, Hey, It's the Monkees | 1997 | TV Movie | Manager |
| Romance Theatre | 1982 | TV Series | |
| Six Pack | 1982 | | T.V. Commentator #2 |
| $weepstake$ | 1979 | TV Series | Tyler |
| A Guide for the Married Woman | 1978 | TV Movie | Tennis Pro |
| Sonic Boom | 1974 | Short | Pilot Rogers |
| The Treasure of Jamaica Reef | 1974 | | Victor Spivak |
| Love, American Style | 1973 | TV Series | Mr. Thompson (segment "Love and the Cozy Comrades") |
| New Zoo Revue | 1972 | TV Series | Mr. Dingle |
Soundtrack
| Title | Year | Status | Character |
| --- | --- | --- | --- |
| Dolly | 1976 | TV Series performer - 1 episode | |
Self
| Title | Year | Status | Character |
| --- | --- | --- | --- |
| Fox and Friends | 2012-2016 | TV Series | Himself |
| Cavuto on Business | 2014 | TV Series | Himself (segment "B Side") |
| The Cleveland Show | 2010 | TV Series | Himself |
| Don't Forget the Lyrics! | 2008 | TV Series | Himself |
| Meow Mix Think Like a Cat Game Show | 2008 | TV Movie | Himself - Host |
| Pioneers of Television | 2008 | TV Mini-Series documentary | Himself |
| Lingo | 2002-2007 | TV Series | Himself - Host |
| Dancing with the Stars | 2007 | TV Series | Himself |
| The Insider's Guide to Winning Game Show Millions | 2007 | TV Movie documentary | Himself - Host |
| Greatest Game Show Moments | 2007 | TV Movie | Himself - Host |
| I Love the 80's 3-D | 2005 | TV Series documentary | Himself |
| World Poker Tour | 2005 | TV Series | Himself |
| On-Air with Ryan Seacrest | 2004 | TV Series | Himself |
| Hollywood Squares | 2002-2004 | TV Series | Himself - Panelist |
| Chuck Woolery: Naturally Stoned | 2003 | TV Series | Himself |
| I Love the '80s Strikes Back | 2003 | TV Series documentary | Himself |
| The Most Outrageous Game Show Moments 4 | 2003 | TV Movie | Himself - Host |
| Pyramid | 2002 | TV Series | Himself - Host |
| The Test | 2001 | TV Series | Himself - Panelist |
| Kiss the Bride | 2001 | TV Movie | Himself - Host |
| Greed: The Series | 1999-2000 | TV Series | Himself - Host |
| Biography | 1999 | TV Series documentary | Himself |
| TV Land's Ultimate Fan Search | 1999 | TV Movie | Himself - Host |
| The Dating Game | 1998 | TV Series | Himself - Host |
| The Magic Hour | 1998 | TV Series | Himself |
| Home & Family | 1996-1997 | TV Series | Himself - Host / Himself - Co-Host |
| Maury | 1996 | TV Series | Himself |
| Sister, Sister | 1996 | TV Series | Himself |
| Melrose Place | 1995-1996 | TV Series | Himself |
| Late Night with Conan O'Brien | 1994 | TV Series | Himself |
| One on One with John Tesh | 1992 | TV Series | Himself |
| Late Night with David Letterman | 1991 | TV Series | Himself - Guest |
| The Chuck Woolery Show | 1991 | TV Series | Himself - Host |
| Scrabble | 1984-1990 | TV Series | Himself - Host |
| Donahue | 1989 | TV Series | Himself |
| Cold Feet | 1989 | | Himself |
| The Pat Sajak Show | 1989 | TV Series | Himself |
| 227 | 1989 | TV Series | Himself |
| The New Hollywood Squares | 1987-1988 | TV Series | Himself - Center Square / Himself |
| It's Garry Shandling's Show. | 1987 | TV Series | Himself |
| Playboy: Playmate Playoffs | 1986 | Video documentary | Himself - Host |
| Hour Magazine | 1986 | TV Series | Himself |
| The Big Spin | 1985 | TV Series | Himself - Host (1985) |
| Match Game/Hollywood Squares Hour | 1984 | TV Series | Himself - Panelist |
| Love Connection | 1983 | TV Series | Himself - Host |
| Wheel of Fortune | 1975-1981 | TV Series | Himself - Host |
| CHiPs | 1980 | TV Series | Himself |
| Macy's Thanksgiving Day Parade | 1979 | TV Special | Himself |
| The $1.98 Beauty Show | 1978 | TV Series | Himself / judge |
| The Jim Nabors Show | 1978 | TV Series | Himself |
| 4th Annual Daytime Emmy Awards | 1977 | TV Special | Himself |
| Dinah! | 1975-1976 | TV Series | Himself |
| Music Hall America | 1976 | TV Series | Himself |
| Celebrity Sweepstakes | 1975-1976 | TV Series | Himself |
| Dolly | 1976 | TV Series | Himself |
| The Mike Douglas Show | 1975 | TV Series | Himself - TV Game Show Host |
| The Magnificent Marble Machine | 1975 | TV Series | Himself |
| Celebrity Bowling | 1975 | TV Series | Himself |
| Your Hit Parade | 1974 | TV Series | Himself / Host |
| Tattletales | 1974 | TV Series | Himself |
| The Merv Griffin Show | 1973 | TV Series | Himself |
| The Tonight Show Starring Johnny Carson | 1972 | TV Series | Himself |
| The David Frost Show | 1970 | TV Series | Himself |
| Playboy After Dark | 1969 | TV Series | Singer |
Awards
Nominated Awards
| Year | Award | Ceremony | Nomination | Movie |
| --- | --- | --- | --- | --- |
| 1978 | Daytime Emmy | Daytime Emmy Awards | Outstanding Host or Hostess in a Game or Audience Participation Show | Wheel of Fortune (1983) |
Source:
IMDb
,
Wikipedia