• Bradley Steven Perry is a 20-year-old Caucasian actor from Thousand Oaks, California, USA.
• He is best known for his role as Gabe Duncan in Disney Channel's "Good Luck Charlie" and has 22 acting credits to his name.
• He has been linked to several actresses, including Ryan Newman, Genevieve Hannelius and Sabrina Carpenter.
• Bradley's net worth is estimated to be over $2 million.
• He is active on social media and has over 2 million followers on Instagram.

Known for movies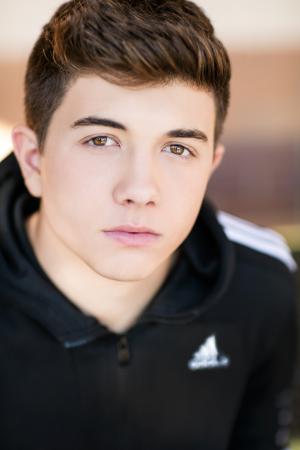 Who is Bradley Steven Perry?
Born under the sign of Sagittarius on the 23rd of November 1998, in Thousand Oaks, California USA, Bradley Steven Perry is a 20-year-old Caucasian actor. He is perhaps best known to the world for his significant presence across media outlets and especially on the TV screen, through the almost two dozen roles he has had since 2007, the most famous of which is as Gabe Duncan in Disney Channel's comedy drama family TV show entitled "Good Luck Charlie".
https://www.instagram.com/p/BlWIQ03nhkf/
Early Life and Education: Growing up in Southern California
Bradley was brought up where he was born by his father Emery Emanuel and his mother  – name unknown – both also of unknown professions. It is important to mention that, unlike what some sites suggest, including the Internet Movie Database (IMDB), Bradley's mother is not The Band Perry pop country singer named Kimberly Perry. The latter did star with him in "Good Luck Charlie: Return to Super Adventure Land" in 2011, but they aren't blood relatives.
Bradley is the youngest of four children, and the only son, with sisters Caitlin, Jesse and Lee Perry. As for his education, seeing as he began acting at the age of nine, he is one of the rare actors who received on-set homeschooling simply due to a lack of time to attend school caused by work. However, later on he did pass the required tests for high school matriculation at Oak Park High School in California in 2017. It looks like Bradley also decided to further his studies by pursuing a degree in college, but to this day the exact institution he's in remains a mystery.
Career: An early bird
Perry passed his first audition when he was nine years old, and thus landed a role in "Choose Connor", which was his film debut, and in a short film called "Magnificent Max". His TV series debut arrived in 2008, when he starred as Charlie in "Without a Trace". In 2009, it seems as though his recognition began to grow, since he was seen in four titles, the most popular of which is the comedy drama by Walt Becker entitled "Old Dogs". After a year's break, in 2010 he passed his most significant audition yet and landed the role of Gabe Duncan on Disney Channel's wildly popular family comedy drama TV series entitled "Good Luck Charlie", in which he appeared as one of the three siblings of the new unexpected baby whom the show is centered around. Hence, being as vital to the cast as he was, Bradley stayed for its entire duration, in all 97 episodes through 2014. Meanwhile, he also found time to both study and act in more titles, and 2011 therefore meant two more titles for him, one of which was the film adaptation of the said show, entitled "Good Luck Charlie, It's Christmas!"
Bradley's last seven years so far
In 2013, he starred in a Disney Channel mini-series – "Disney Channel 365" – as well as in an episode of "Jessie" as Gabe Duncan again, just as in "Good Luck Charlie". At that point, he also started down the road of another Disney Channel franchise, this time as Kaz in "Mighty Med", where he appeared in 44 episodes until 2015. As his biggest project came to a close, in 2014 he was seen in a short video named "Disney Channel's Circle of Stars: Do You Want to Build a Snowman", and as Jack Parker in "Pants on Fire" – a family comedy in which he had the lead role. After finishing "Mighty Med", in 2015 he starred in "Lab Rats" as the same character. In 2016, he was seen again portraying Kaz, in 16 episodes of the popular "Lab Rats: Elite Force". In the same year, he also took the role of Zevon in "Descendants: Wicked World", for six episodes until 2017. In 2018, his visage braved three episodes of "WTH: Welcome to Howler" as Barrett, and in 2019, he showed-up as Alec in a single episode of "Schooled".
Career summary
For now, Bradley has a total of 22 acting credits – it doesn't appear as though he is currently involved in any filming, however, one of the main reasons for his absence from Hollywood could well be that he is still in college, and as a student, he doesn't have as much free time as he had when he was shooting "Good Luck Charlie". Steven is expected to eventually return to the screen, and maybe even grab another role this year, depending on other obligations.
Love Life: Who is he dating? Does he have a girlfriend?
As for Bradley's earliest known romantic involvements, even though he began as a child star, there appears to be substantial information regarding this part of his life, as he was never concerned about hiding such details. He was first connected to actress Ryan Newman from "The Thundermans" in 2010, but at the age of 12, no relationship was confirmed. In 2011, actress Genevieve Hannelius who appeared in "Good Luck Charlie" became his first confirmed girlfriend, but they dated only for a couple of months, broke up in the same year.
From giving me an opportunity to direct, to making friends for life, I will miss working with all of you. Hope everyone enjoyed our show? pic.twitter.com/qqvulBDNWX

— Bradley Steven Perry (@bradley_s_perry) October 23, 2016
After being single for three years, Bradley started a relationship with actress and singer-songwriter Sabrina Carpenter, who was seen as Maya Heart in another Disney Channel production named "Girl Meets World". As both were actors in the same production, fans were elated when the two started posting details about their relationship on social media. However, they ended their union in 2015 for then-unspecified reasons, and then the disappointed audience began to investigate what really happened. According to a Twitter post by a fan of their relationship, it seems as though Bradley was the one to break it off, seeing as Sabrina's father promptly deleted him from Instagram and Twitter.
Bradley's love life after Sabrina
In late 2016, Bradley was seen with a multitude of other girls who were thought to be his potential new partners. One of them is Disney Channel's Sarah Gilman, whom everyone thought was simply a good friend of Bradley's, that is until he posted a picture with her with the description 'Ma Boo'. After Sarah made a similar post with the same description, the fans were practically certain that the two were in a relationship, but to no avail, as neither of them has ever confirmed it. Later on, Bradley was thought to be dating Paris Berelc, who co-starred with him in "Lab Rats: Elite Force", but her mother publicly denied these rumors on social media, saying they were simply friends. Since then, Bradley is not thought to have dated anyone. As of right now, he is considered single.
What is Bradley Steven Perry's Net Worth?
Have you ever considered what the net worth of Bradley Steven Perry would amount to around the middle of 2019? It has been estimated by some of the most authoritative sources that the current total of Bradley's accumulated net worth is well over $2 million, made by lending his young acting talent to various titles throughout this career so far, most famously for portraying Gabe Duncan in Disney Channel's comedy drama entitled "Good Luck Charlie". Seeing as his career is barely at its beginning, Bradley is very likely to earn a lot more in the years to come.
Body Measurements: What is his height?
When it comes to his physical specifications, Bradley Steven Perry is 5ft 7ins (170cm) tall, and weighs approximately 165lbs (75kg). His shoe size and vital statistics remain unknown, though his body shape is generally described as regular. His eyes as well as his hair are light brown, and he's of a mostly fair complexion.
Social Media Presence
Being an actor in 2019, Bradley is, like most of his colleagues, expected to nourish a close and active relationship with his dedicated audience. This habit serves to exponentially maximize the profits his future projects can turn upon their release, through Bradley and the other actors expanding the grasp of their popularity on social media and thus contributing to their own income. It looks as though Perry understood how this concept works from a very early age, as he has been deeply involved with keeping his fans posted about what he's up to, and one could say that he enjoys the fame thoroughly. His Facebook page has over 200,000 fans, his Twitter almost 820,000, and his Instagram more than 2.1 million followers.
General Info
| | |
| --- | --- |
| Full Name | Bradley Steven Perry |
| Net Worth | $2 million, $2 million |
| Height | 1.7 m, 1.7 m |
| Profession | Child actor, Child actor |
| Nationality | American, American |
Family
| | |
| --- | --- |
| Parents | Kimberly Perry, Kimberly Perry |
Accomplishments
| | |
| --- | --- |
| Movies | Pants on Fire, Good Luck Charlie: It's Christmas!, Sharpay's Fabulous Adventure, Peacock, Old Dogs, Opposite Day, Pants on Fire, Good Luck Charlie: It's Christmas!, Sharpay's Fabulous Adventure, Peacock, Old Dogs, Opposite Day |
| TV Shows | Mighty Med, Good Luck Charlie, Mighty Med, Good Luck Charlie |
Social profile links
Facts
Pictures
Movies
Actor
| Title | Year | Status | Character |
| --- | --- | --- | --- |
| Speechless | 2017 | TV Series | Donald |
| Lab Rats: Elite Force | 2016 | TV Series | Kaz |
| Disney Best Day Ever | 2016 | TV Mini-Series | |
| I Didn't Do It | 2015 | TV Series | Dr. Scott Gabriel |
| Mighty Med | 2013-2015 | TV Series | Kaz |
| Lab Rats | 2015 | TV Series | Kaz |
| Pants on Fire | 2014 | TV Movie | Jack Parker |
| Good Luck Charlie | 2010-2014 | TV Series | Gabe Duncan |
| Disney 365 | 2013 | TV Mini-Series | |
| Jessie | 2013 | TV Series | Gabe Duncan |
| Good Luck Charlie, It's Christmas! | 2011 | TV Movie | Gabe Duncan |
| Sharpay's Fabulous Adventure | 2011 | Video | Roger Elliston |
| Old Dogs | 2009/I | | Soccer Kid |
| Who Shot Mamba? | 2009 | | David |
| Opposite Day | 2009 | | Security Guard |
| The Goods: Live Hard, Sell Hard | 2009 | | Young Don Ready (uncredited) |
| Without a Trace | 2008 | TV Series | Charlie |
| Magnificent Max | 2007 | Short | Georgie Rosenthal |
| Choose Connor | 2007 | | School Boy |
Director
| Title | Year | Status | Character |
| --- | --- | --- | --- |
| Lab Rats: Elite Force | 2016 | TV Series 2 episodes | |
Self
| Title | Year | Status | Character |
| --- | --- | --- | --- |
| Disney Best Day Ever | 2016 | TV Mini-Series | Himself |
| XDXtra | 2016 | TV Mini-Series | Himself |
| Disney 365 | 2016 | TV Mini-Series | Himself |
| Disney Jr. Field Trip | 2016 | TV Mini-Series | Himself |
| Radio Disney Music Awards | 2015 | TV Special | Himself |
| Teens Wanna Know | 2014 | TV Series | Himself - Guest |
| Star Wars Rebels Spelling Bee: Bradley Steven Perry | 2014 | TV Movie | Himself |
| Win, Lose or Draw | 2014 | TV Series | Himself / Himself - Panelist |
| Nickelodeon Kids' Choice Awards 2013 | 2013 | TV Special | Himself |
| Disney 365 | 2011-2013 | TV Series documentary | Himself |
| Disney XD XTRA | 2013 | TV Series | |
| Chelsea's Channel | 2012 | Video short | Himself |
| Piper's Picks TV | 2012 | TV Series | Himself - Guest |
| Piper's QUICK Picks | 2012 | TV Series | Himself - Guest |
| Wipeout | 2012 | TV Series | Himself |
| 80th Annual Hollywood Christmas Parade | 2011 | TV Special | Himself |
| Extreme Makeover: Home Edition | 2011 | TV Series | Himself |
| 79th Annual Hollywood Christmas Parade | 2010 | TV Movie | Himself |
Awards
Nominated Awards
| Year | Award | Ceremony | Nomination | Movie |
| --- | --- | --- | --- | --- |
| 2012 | Young Artist Award | Young Artist Awards | Best Performance in a TV Series - Supporting Young Actor | Good Luck Charlie (2010) |
| 2011 | Young Artist Award | Young Artist Awards | Best Performance in a TV Series (Comedy or Drama) - Supporting Young Actor | Good Luck Charlie (2010) |
Source:
IMDb
,
Wikipedia