• Alison Haislip is a successful actress, correspondent and producer.
• She began her acting career in 2004 and started working in G4 as a correspondent in 2007.
• She contributed to several TV shows including "The Voice" and "Attack of the Show".
• She has appeared in several films, such as "Coffee", "Hotties" and "Believers Among Us".
• Alison is very secretive about her personal life; she mentioned a boyfriend in a tweet in February 2020.

Known for movies
Short Info
| | |
| --- | --- |
| Net Worth | $500 thousand |
| Date Of Birth | February 6, 1981 |
| Fact | Hosts "The Daily Feed With Alison Haislip" on G4TV's "Attack of the Show." [April 2008] |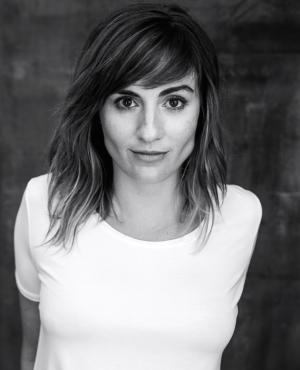 'Actress. Host. Funny Person.' This is how Alison Haislip describes herself on the main page of her official website. Known for her contribution to well-known shows such as "Attack of the Show" and "The Voice", the actress, correspondent and producer 'has done it all', as they say on the About section of the page. Find out in the followings why she is appreciated in the TV and film world, and whether her personal life is at least as successful as the professional one.
Short bio
She was born in Tewksbury Township, New Jersey on 6 February 1981, in a normal American family and showed her artistic talent from childhood. She was already singing when she was only three years old, and at the age of 12 discovered another big passion – acting. No information is available about her parents and siblings, but she reportedly attended Voorhees High School in New Jersey. She then continued her academic development at Boston College, from where she graduated with honors specializing in theatre. Because her ambition and expectancies were high enough, she continued improving her acting skills at the British American Drama Academy in London, England, and after finishing this last course, moved to Los Angeles to begin her acting career.
Beginning of the acting career
It is never easy to begin a new life and constantly work to achieve success. However, Alison made herself known in the film industry starting in 2004, when she had her first acting role in "Coffee". This was followed by some other minor roles in movies, including "Hotties" (2004), "Believers Among Us" (2005), "Indigo Hearts" (2005), and 'Wasted" (2006).
At that time she was also working at Third Stop as a bartender to make a living, and wondering what life would be preparing for her.
G4 experience
Coincidentally, the patron of the place she was working in was a G4 employee, and he recommended her to try entering the television world, because she would do a great job – this helped her become a G4 employee in October 2007. Her first project at this TV channel was "Attack of the Show!", in which she worked part-time as a correspondent. In 2008 she hosted "The Feed", and from 2009 to 2011 co-hosted the "American Ninja Warrior" show with Blair Herter. She also contributed from behind the scenes to a series of other TV shows, including being a reporter for "BattleBots" in the sixth and seventh season.
Parallel to her work in the studio, she wanted to be closer to her G4 fans, and in September 2008 started to update them with everything she was doing through short five-six minutes long vlogs. She approached a lot of themes in them, and sometimes even had guests.
A new beginning at NBC
In the beginning of Spring 2011, Alison announced that she was leaving G4 for NBC, and more importantly, was going to be part of the "The Voice" production team. During the first season of the show, she was the Twitter and backstage correspondent from the V Room, where she could talk with competitors, feel their emotions, and share them with the others. Unfortunately, in the following season her place was taken by Christina Milian.
In NBC years she was also a host for "The Morning After" 'til 2014. Another longtime project of hers was the series "The Science of Doctor Who" in which she was a commentator. Whether it was the season "Best of the Doctor" (2011), "Best of the Christmas Specials" (2011), "The Women of Doctor Who" (2012) or the last The Destinations of Doctor Who (2012), her pleasant voice made the series interesting for everyone.
Watch me DEFEND MY HOME STATE TO THE DEATH (and deliver awesome mobility news) in this ep of @RideTechNews…#Cars#escooters#DontMessWithJerseyhttps://t.co/86k4sqVg6g

— alisonhaislip (@alisonhaislip) June 27, 2019
Filmography
Because the screen liked her, she tried her luck and skills in filmography, too. Her debut was early in her life, back in 2004, playing Jane in the indie film "Coffee". It was followed by minor roles in "Hotties" (2004), "Believers Among Us" (2005), and "Into the Arms of Strangers" (2007). The year 2009 was the year of an interesting project, as she appeared in three short movies – "New Moongasm – A New Moon Parody", "Hi. I'm Joel Rush.", and "Love Automatically", the latter being also directed by her.
Despite changing channels in 2011, she didn't pause her acting career, and portrayed Jennifer in "Division III: Football's Finest" (2011), Amanda in "Waking" (2013) and Martha Wayne in "Untitled Movie Theater Project" in both movies from 2011 and 2014.
Among her latest projects are "Dead Night" (2017), "The Baby Moon" (2017), and "Chatter" (2018).
https://www.facebook.com/alisonhaislipofficial/photos/a.1586159941691106/2015545338752562/?type=3&theater
Personal life
When it comes to telling about her personal life and romantic relationships, Alison is always very secretive. There are no reported relationships she has had, however, earlier this year she mysteriously mentioned her boyfriend in a tweet, saying 'My boyfriend, who does not watch football, just Googled "NFL cup" to look up the score of the Super Bowl. #SuperBowl'. From February 3, when this message was posted, no other details about her relationship have been given to the media.
Alison still lives in Los Angeles.
General Info
| | |
| --- | --- |
| Full Name | Alison Haislip |
| Net Worth | $500 thousand |
| Date Of Birth | February 6, 1981 |
| Height | 1.7 m |
| Profession | Journalist, Television producer, Actor |
| Education | Boston College |
| Nationality | American |
Family
Accomplishments
| | |
| --- | --- |
| Movies | Indigo Hearts, Into the Arms of Strangers, The Indian, The Donner Party, Division III: Football's Finest, Heart of Now, Screwed, Waking, Mega Shark vs. Kolossus, Chatter, Freshwater, Free Lunch |
| TV Shows | Attack of the Show!, I Hate My 30's, The Voice |
Social profile links
Facts
| # | Fact |
| --- | --- |
| 1 | Alison Co-hosts the "Half Hour Happy Hour with Alison and Alex" Podcast with Alex Albrecht and button pusher Tom "Super Volcano" Krajewski. |
| 2 | Hosts "The Daily Feed With Alison Haislip" on G4TV's "Attack of the Show." [April 2008] |
Pictures
Movies
Actress
| Title | Year | Status | Character |
| --- | --- | --- | --- |
| Applecart | | filming | Jenni Whitmore |
| Tales of Titans | 2017 | TV Series | JJ Baberams |
| The Babymoon | 2017 | | Dustin Bieberton |
| Awesometacular with Jeremy Jahns | 2017 | TV Series | Det. Tarlow (segment "Movie Police") |
| Saturn Returns | 2017 | | Johanna |
| The Concessionaires Must Die! | 2017 | | Martha Wayne |
| NCIS: Los Angeles | 2016 | TV Series | Nicole Ross |
| Con Man | 2015-2016 | TV Series | Faith |
| What's News? | 2016 | TV Series | Harley Quinn |
| Stitchers | 2016 | TV Series | Jessica Grey |
| Kingdom Geek | 2016 | TV Series | |
| Robot Chicken | 2016 | TV Series | |
| Freshwater | 2016 | | Claudia Mosley |
| Chatter | 2015 | | Carolyn Terry |
| Titansgrave: The Ashes of Valkana | 2015 | TV Series | Kiliel |
| Impress Me | 2015 | TV Series | Allison Haislip |
| Never Let This Go: Right Now | 2015 | Video short | Jane |
| Mega Shark vs. Kolossus | 2015 | | Ali |
| Sons of the Devil | 2014 | Short | Jennifer |
| Bones | 2014 | TV Series | Alexis Sherman |
| Team Unicorn | 2014 | TV Series | Blue Unicorn |
| NCIS | 2014 | TV Series | Navy Lt. Commander Hannah Banks |
| Rabid Weight Loss | 2014 | Short | Dr. Savannah Wiseman |
| Spooked | 2014 | TV Series | D.J. |
| Saber | 2014 | TV Series short | Jedi Master Cindy |
| Shameless | 2014 | TV Series | Doctor Voljek |
| The Team Unicorn Saturday Action Fun Hour! | 2014 | TV Series | Colbalt |
| The Blade Runner Holiday Special | 2013 | Short | Pris |
| Raptor Raptor | 2013 | TV Series | Arlene P. Weinercannon XIV |
| Free.Lunch | 2013 | Short | Sophie |
| Cause of Death | 2013/II | Short | Girlfriend |
| Screwed | 2013 | | Patty |
| MyMusic | 2013 | TV Series | Present Nerd |
| It's Not Porn... | 2013 | Short | Hot Girl 1 |
| Dolphin Rape PSA | 2013 | Short | |
| Franklin & Bash | 2013 | TV Series | Mandy |
| Zach Stone Is Gonna Be Famous | 2013 | TV Series | Carrie |
| Leading L.A. | 2013 | Video | Christy |
| Waking | 2013/I | | Amanda |
| The Morning After | 2013 | TV Series short | Hersel - host |
| Royal Records | 2013 | TV Movie | Chloe Walker |
| Fan Wars | 2012 | TV Series | Juror |
| The Flipside | 2012 | TV Series short | |
| Would Ya Hit That? | 2012 | Short | Bartender |
| Battleground | 2012 | TV Series | Ali Laurents |
| 4 Points | 2012 | TV Series | |
| Women for Eli Manning | 2012 | Short | |
| I Hate You, Andrew | 2011 | Short | Mara |
| The Naked Gun: I.C.U.P. | 2011 | Video Game | Ellen |
| Division III: Football's Finest | 2011 | | Jennifer |
| Cathedral | 2011 | Short | Jessica |
| ACME Hollywood Dream Role | 2011 | TV Series | |
| The Further Adventures of Edmund and Pablo | 2010 | TV Movie | Meghan |
| Heart of Now | 2010 | | Jamie |
| Last Moments of Relationships | 2010 | TV Series | Girlfriend |
| The Etiquette Ninjas | 2010 | Video | |
| CES '10: Attack of the Show Live from the 2010 Consumer Electronic Show | 2010 | TV Movie | |
| Trading Eights | 2010 | TV Series | Hildy Russell |
| Untitled New York Project (U.N.Y.P.) | 2009 | Video short | Kate |
| The Donner Party | 2009 | | Mary Graves |
| LilyDidIt Halloween Style | 2008 | TV Movie | Alison |
| Reno 911! | 2008 | TV Series | Bride |
| The Indian | 2007 | | Shelby |
| I Hate My 30's | 2007 | TV Series | Jessica |
| Into the Arms of Strangers | 2007 | | Marie |
| Joe Lies | 2006 | Short | Marilyn |
| Wasted | 2006 | | Mahdis |
| Unseen | 2005 | Video short | |
| Indigo Hearts | 2005 | | Jennifer |
| Believers Among Us | 2005 | | Courtney |
| Hotties | 2004 | | Liz |
| Coffee | 2004 | Short | Jane |
| Internet Date | 2004 | | Angela |
Producer
| Title | Year | Status | Character |
| --- | --- | --- | --- |
| Kingdom Geek | 2016 | TV Series producer - 1 episode | |
| 4 Points | 2012 | TV Series producer - 15 episodes | |
Music Department
| Title | Year | Status | Character |
| --- | --- | --- | --- |
| Team Unicorn | 2014 | TV Series lead singer - 1 episode | |
Self
| Title | Year | Status | Character |
| --- | --- | --- | --- |
| Unlocked: The World of Games, Revealed | 2016 | TV Series documentary | Herself |
| Celebs React | 2016 | TV Series | Herself |
| TableTop | 2012-2016 | TV Series | Herself - Guest |
| BattleBots | 2015-2016 | TV Series | Herself - Sideline Reporter / Herself / Herself - Interviewer |
| Screen Junkies Movie Fights | 2014-2016 | TV Series | Herself |
| Clash of Karts Mario Kart 8 | 2015 | TV Movie | Herself - Host |
| Movie3Some | 2015 | TV Series | Herself |
| Titansgrave: The Ashes of Valkana | 2015 | TV Series | Herself |
| Winter Is Coming Live | 2015 | TV Series | Herself - Host |
| Super-Fan Builds | 2014-2015 | TV Mini-Series | Herself - Host |
| The 2nd Annual Geekie Awards | 2014 | TV Special | Herself - Presenter |
| Video Games: The Movie | 2014 | Documentary | Herself |
| TakePart Live | 2014 | TV Series | Herself - Guest |
| That Internet Show | 2014 | TV Series short | Herself |
| Chaotic Awesome | 2014 | TV Series | Herself |
| The Morning After | 2012-2014 | TV Series short | Herself - Host / Herself - host / Herself |
| Talking Marriage with Ryan Bailey | 2014 | TV Mini-Series short | Herself |
| AXS TV's Super Party Super Special | 2014 | TV Movie | Herself - Host |
| The Screen Junkies Show | 2013 | TV Series | Herself |
| 17th Annual PRISM Showcase | 2013 | TV Special | Herself |
| The Geekie Awards | 2013 | TV Special | Herself - Host |
| Pop Innovators Presents: Steve Jobs | 2013 | TV Movie documentary | Herself |
| Save Stan's Twitter: Alison Haislip | 2013 | Video short | Herself |
| Big Morning Buzz Live | 2012-2013 | TV Series | Herself - Panelist |
| Attack of the Show! | 2008-2013 | TV Series | Herself / Herself - Correspondent / Herself - Road Report / ... |
| Cocktails with Stan | 2012 | TV Series | Herself |
| The Destinations of Doctor Who | 2012 | TV Movie documentary | Herself |
| The Timey-Wimey of Doctor Who | 2012 | TV Movie documentary | Herself |
| 4 Points | 2012 | TV Series | Herself - Host |
| The Women of Doctor Who | 2012 | TV Movie documentary | Herself |
| The Science of Doctor Who | 2012 | TV Movie documentary | Herself |
| Nerdist: Course of the Force | 2012 | TV Mini-Series | Herself |
| Chris Hardwick's All-Star Celebrity Bowling | 2012 | TV Series | Herself |
| 16th Annual Prism Awards | 2012 | TV Special | Herself - Host |
| The Voice | 2011 | TV Series | Herself - Correspondent |
| American Ninja Warrior | 2011 | TV Series | Herself - Sideline Reporter |
| 1st Look | 2011 | TV Series | Herself - Interviewee |
| Comic-Con 2011 Live | 2011 | TV Movie | Herself - Floor Reporter |
| NerdHQ | 2011 | TV Series | Herself - Panelist |
| What's Trending | 2011 | TV Series | Herself |
| The RadNerd Show | 2011 | TV Series | Herself - Guest |
| Ninja Warrior 24 All Star Preview Special | 2010 | TV Movie documentary | Herself |
| Comic-Con 2010 Live | 2010 | TV Movie documentary | Herself |
| Spotlight: Sony | 2010 | TV Movie | Herself |
| E3 '10 Live | 2010 | TV Series | Herself - Floor Reporter (2010) |
| Ninja Warrior 23 All Star Preview Special | 2010 | TV Movie | Herself |
| Inside KA by Cirque Du Soleil | 2010 | TV Movie documentary | |
| Barclaycard World Freerun Championship 2009 | 2009 | TV Movie | Herself |
| The Real Cool Club | 2009 | TV Series | Herself |
| Comic-Con '09 Live | 2009 | TV Movie | Herself |
| Spotlight: Microsoft | 2009 | TV Movie | Herself - Host |
| Fighters Only World Mixed Martial Arts Awards 2009 | 2009 | TV Special | Herself - Host |
| Comic-Con '08 Live | 2008 | TV Movie | Herself |
| E3 2008 Live | 2008 | TV Movie | Herself |
| E3 '08 Live: Preview Show | 2008 | TV Movie | Herself |
Archive Footage
| Title | Year | Status | Character |
| --- | --- | --- | --- |
| Attack of the Show! | 2011-2012 | TV Series | Herself |
Awards
Nominated Awards
| Year | Award | Ceremony | Nomination | Movie |
| --- | --- | --- | --- | --- |
| 2013 | Streamy Award | The Streamy Awards | Best Female Performance: Drama | Battleground (2012) |
Source:
IMDb
,
Wikipedia