• Canadian actor who gained stardom from roles on "The Tudors", "Survival of the Dead", and "Shadowhunters"
• Attended Mount Royal College Conservatory of Music and Speech Arts in Calgary, Alberta
• Appeared in "Narc" (2002), "Saw III" (2006), "The Best Years" (2007), and "Reign" (2013-2015)
• Starring in "Star Trek: Discovery" (2019) and "Tainted" (2020)
• In a relationship with film writer Gabriella de la Torre

Known for movies
Short Info
| | |
| --- | --- |
| Date Of Birth | June 19, 1971 |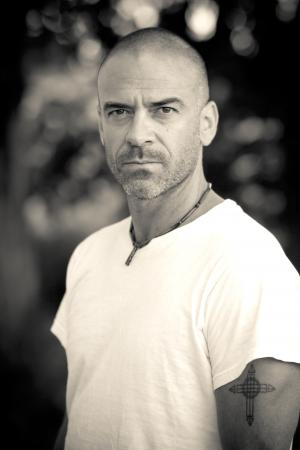 Who is Alan van Sprang?
Alan van Sprang is a Canadian actor, who achieved stardom as Sir Francis Bryan in the TV drama series "The Tudors" (2009), then as Sarge in the horror film "Survival of the Dead" (2009) and as Valentine Morgenstern in the fantasy drama series "Shadowhunters" (2016-2018), among other roles he has acquired in his career.
Alan van Sprang Biography- Age, Childhood, and Education
Alan van Sprang was born on the 19th June 1971, in Calgary, Alberta Canada; he is the son of Emile van Sprang, a famous musician who was a member of the band Stampeders; there is no information about his mother, but he has two sisters.
Interested in the performing arts from an early age, after high school Alan honed his skills by enrolling at Mount Royal College Conservatory of Music and Speech Arts, Calgary, Alberta, from which he graduated in 1992.
Career Beginnings
Alan's career began in the mid- '90s, with a couple of minor roles in such TV series as "Robin's Hoods" (1994), then "Viper" (1997). In 2001 he joined the cast of the TV action-drama series "Earth: Final Conflict", while in 2002 he portrayed Michael Calvess in the crime-drama film "Narc", starring Ray Liotta, Jason Patric, and Chi McBride.
Alan pretty much struggled in the next few years to obtain any major role, making only brief appearances in such projects as the television film "Evel Knievel" (2004), and as Brubaker in the horror film "Land of the Dead" (2005). In 2006 he secured the lead role in the short-lived TV drama series "11 Cameras", and also appeared in the horror-thriller film "Saw III", starring Tobin Bell, Shawnee Smith and Angus Macfadyen.
Rise to Stardom
His career saw an improvement in the years that followed, as he first played Lee Campbell in the TV series "The Best Years" (2007) and then got the role that changed his career for the better, as Sir Francis Bryan in the TV series "The Tudors" (2009). His great portrayal of Sir Francis Bryan created new possibilities for him and the same year he starred in the horror film "Survival of the Deadimprovement.
In 2011 he was very busy by starring in the TV crime-drama series "King", and two years later he started portraying Henry de Valois in the TV series "Reign". Until 2015 he featured in 25 episodes of the award-winning series, which made him very popular. In 2015, Alan had the lead role in the action-adventure comedy film "Cheerleader Death Squad", starring alongside Gia Mantegna and Abbie Cobb.
Most Recent Endeavors
From 2016 to 2018, Alan had yet another profitable role, as Valentine Morgenstern in the TV fantasy action-drama series "Shadow Hunters: The Mortal Instruments", making an appearance in 25 episodes of the award acclaimed series, which only added to his popularity and wealth. In 2019 Alan acquired a new role, as he joined the "Star Trek: Discovery" cast, playing Leland in eight episodes of the Primetime Emmy Award-winning series.
He is now working on the crime-drama thriller film "Tainted", in which he will star alongside John Rhys-Davies and Shawn Roberts. The film is currently in post-production and is awaiting its release. Alan has also acted on stage, working with Calgary's Shakespeare Theatre and Theatre Calgary, having stints of three and five years.
Alan van Sprang Net Worth, Height, Weight, and Appearance
The popular Canadian actor's on-screen success has contributed significantly to his wealth.
What!!!!!????? New York??!!! I friggin love New York!!!! Hey, isn't that where the show took place?? Hmmmmm maybe I can pop into that institute for a little visit. #Shadowhunters. https://t.co/i5OCcyADZp

— Alan Van Sprang (@alanvansprang) November 26, 2019
According to sources, his net worth is estimated at around $1 million as of early 2020. Alan van Sprang is known for his height and good looks overall; he stands at 6ft 1in (1.85m) tall, while he weighs around 176lbs ~ 80kgs. His vital statistics are unknown, but he has an athletic figure. He has dark brown hair and brown eyes.
Alan van Sprang Personal Life, Marriage, Dating, Children, Trivia
Alan van Sprang has a rich history of dating; back in the early 2000s, he was in a relationship with actress/choreographer Sarah Robichaud with whom he has a son, Logan Joseph, born on the 1st August 2002.
The two were together until 2006 when things started turning sour, and the couple broke up. Alan continued with his love life and began a romantic relationship with Sarah Jarvis, but that ended in 2018. Since then, Alan has been in a relationship with film writer Gabriella de la Torre, who is best known to the world for working on the film "How To Fall" (2017) – They haven't talked publicly about their plans for the future.
Alan is very active on social media platforms, including Instagram, which he has used to talk with his fans, informing them about his newest career endeavors and details from his love life.
General Info
| | |
| --- | --- |
| Full Name | Alan van Sprang |
| Date Of Birth | June 19, 1971 |
| Profession | Actor, Actor |
| Nationality | Canadian, Canadian |
Family
| | |
| --- | --- |
| Children | Logan Joseph Van Sprang, Logan Joseph Van Sprang |
| Parents | Emile Van Sprang, Emile Van Sprang |
Accomplishments
| | |
| --- | --- |
| Movies | Immortals, George A. Romero's Survival of the Dead, Phantom Punch, Would Be Kings, Diary of the Dead, Saw III, Land of the Dead, Confessions of an American Bride, The Gospel of John, Do or Die, Narc, Steal This Movie!, Carpool, Black Fox III: Good Men and Bad, Evel Knievel, Rush of Fear, Immortals, ... |
| TV Shows | King, The Tudors, 11 Cameras, Earth: Final Conflict, Reign, The Best Years, King, The Tudors, 11 Cameras, Earth: Final Conflict, Reign, The Best Years |
Social profile links
Quotes
| # | Quote |
| --- | --- |
| 1 | When I had my full head of hair, I was playing a lot of bad guys, but sometimes I was losing them to the guys who looked more like they did heroin or whatever. So I shaved it off for a bit. My first job out in the show 'Crash and Burn' I played a priest. And ironically enough I've been playing good guys across the board. |
Pictures
Movies
Actor
| Title | Year | Status | Character |
| --- | --- | --- | --- |
| Shadowhunters: The Mortal Instruments | 2016-2017 | TV Series | Valentine Morgenstern Valentine morgenstern |
| Beauty and the Beast | 2015 | TV Series | Bob Hall / Agent Bob Hall |
| Reign | 2013-2015 | TV Series | King Henry II |
| Pirate's Passage | 2015 | TV Movie | Immigration Officer (voice) |
| Cheerleader Death Squad | 2015 | TV Movie | Stone |
| Saving Hope | 2013 | TV Series | Thomas Ford |
| The Listener | 2013 | TV Series | Shane Dent |
| CollegeHumor Originals | 2013 | TV Series | |
| The L.A. Complex | 2012 | TV Series | Eric |
| King | 2011-2012 | TV Series | Derek Spears |
| Immortals | 2011 | | Dareios |
| Rookie Blue | 2011 | TV Series | Patrick Murphy |
| Being Erica | 2009-2010 | TV Series | Jody |
| Pay in Full | 2010 | | Sergei |
| Cra$h & Burn | 2009-2010 | TV Series | Father Benedito |
| Flashpoint | 2009 | TV Series | Donald Mitchell |
| Survival of the Dead | 2009 | | Sarge |
| Guns | 2009 | TV Mini-Series | John Willison |
| The Tudors | 2009 | TV Series | Sir Francis Bryan |
| Phantom Punch | 2008 | | Nico Orso |
| ReGenesis | 2006-2008 | TV Series | Jack Bowden |
| Would Be Kings | 2008 | TV Mini-Series | Gary Coyle |
| Diary of the Dead | 2007 | | Colonel |
| Shutter | 2007 | Short | Lukas |
| The Best Years | 2007 | TV Series | Lee Campbell |
| A Taste of Shakespeare | 2003-2007 | TV Series | Cassio Macduff |
| Saw III | 2006 | | Chris |
| 11 Cameras | 2006 | TV Series | Bruce |
| Degrassi: The Next Generation | 2005 | TV Series | Leo Davies |
| Devil's Perch | 2005 | TV Movie | Jake |
| 1-800-Missing | 2005 | TV Series | Will Sheperd |
| Land of the Dead | 2005 | | Brubaker |
| Wild Card | 2005 | TV Series | Stevie |
| Confessions of an American Bride | 2005 | TV Movie | Mitchell Stone (as Allan Van Sprang) |
| G-Spot | 2005 | TV Series | Alan |
| Paradise Falls | 2004 | TV Series | Johnny Brice / Johnny |
| Anonymous Rex | 2004 | TV Movie | Raal |
| Metropia | 2004 | TV Series | Detective Dunlap |
| Evel Knievel | 2004 | TV Movie | John Derek |
| The Newsroom | 2004 | TV Series | George's Replacement |
| Puppets Who Kill | 2004 | TV Series | Ted's Partner |
| Playmakers | 2003 | TV Series | |
| In the Dark | 2003 | TV Movie | Lawrence Taylor |
| Rush of Fear | 2003 | TV Movie | John 'J.J.' Gillis |
| The Visual Bible: The Gospel of John | 2003 | | Judas Iscariot |
| Starhunter | 2003 | TV Series | Jimmi Zavras |
| Mutant X | 2003 | TV Series | Rae Larkin |
| Bliss | 2003 | TV Series | Mr. Leonides |
| Do or Die | 2003 | TV Movie | Tink |
| Veritas: The Quest | 2003 | TV Series | Javier |
| Adventure Inc. | 2002 | TV Series | Paul Ziglen |
| Monk | 2002 | TV Series | Leonard Stokes |
| Earth: Final Conflict | 2001-2002 | TV Series | Howlyn |
| Mentors | 2002 | TV Series | Harry Houdini |
| Soul Food | 2001-2002 | TV Series | Dr. Caldwell |
| Narc | 2002 | | Michael Calvess |
| Earth Angels | 2001 | TV Movie | Lucas |
| Stolen Miracle | 2001 | TV Movie | Darryl Courmier |
| Drop the Beat | 2001 | TV Series | Cary |
| The Uncles | 2000 | | Alan Rossi |
| Code Name: Eternity | 2000 | TV Series | Brady |
| D.C. | 2000 | TV Series | Dr. Ben |
| Best Actress | 2000 | TV Movie | Billy Walsh |
| Steal This Movie | 2000 | | David Glenn |
| Traders | 2000 | TV Series | |
| PSI Factor: Chronicles of the Paranormal | 1999 | TV Series | Griffin |
| La Femme Nikita | 1999 | TV Series | Carl Peruze |
| Power Play | 1999 | TV Series | Hamilton |
| The City | 1999 | TV Series | |
| The Industry | 1998 | TV Series | Jeremy Black |
| Highlander: The Raven | 1998 | TV Series | William Kenworth |
| Viper | 1997 | TV Series | Karl Warrick |
| Masterminds | 1997 | | Happy Boy #7 |
| Carpool | 1996 | | Kirk |
| Conundrum | 1996 | TV Movie | Ted Baum |
| Closer and Closer | 1996 | TV Movie | Interviewer #2 |
| Black Fox: Good Men and Bad | 1995 | TV Movie | Longbaugh, Dunn Gang |
| Dangerous Intentions | 1995 | | Marshall Cameron |
| Robin's Hoods | 1994 | TV Series | Carl Rossi |
Miscellaneous
| Title | Year | Status | Character |
| --- | --- | --- | --- |
| Revisited | 1998 | Short child wrangler | |
Source:
IMDb
,
Wikipedia